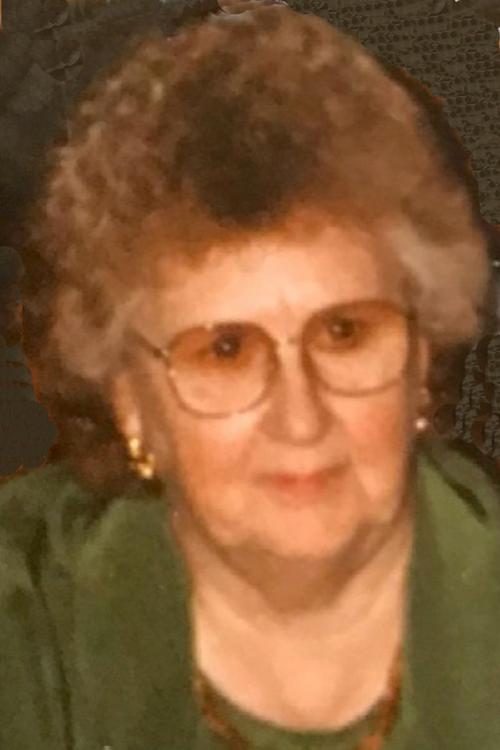 CASPER - Beatrice Jean "Betty" Rife, age 90, passed peacefully on May 1, 2021 at Meadow Wind in Casper, Wyoming. She was born May 29, 1930 in Gering, Nebraska to George and Alma (Driscoll) Knight. Betty was one of three children in the family and was raised in Torrington, Wyoming.
She graduated high school in 1948 and later married her high school sweetheart, Ramon "Buz" Rife in Torrington on February 6, 1949. Buz and Betty lived a nomadic lifestyle and moved often with their four children; Craig, Merry, Earl and Ramon "Pepper" Jr. Together they moved all over the state of Wyoming to Colorado and even Alaska for a short time always ready for a new adventure or to try a new career. They enjoyed many adventures and were married through thick and thin for more than 40 years until Buz passed away in 1990.
One of the most memorable adventures of Betty's life was the cabin she and Buz built from used lumber just outside of Albany, Wyoming. The Hide-a-Doe cabin as it was known to many had quite the naming story and housed many Labor Day festivities with close friends and family. More than one wedding was held at the mountain retreat along with many winter hideaways. Fond memories of the bear rug, many Christmas seasons, fishing trips and treasure hunts were always special times to Betty and her loved ones who shared adventures at the cabin.
Betty had many careers in her lifetime. She ran a bar with Buz, she worked for a veterinarian and also worked for an insurance company; however, her time working for the Mountain Bell Company was her favorite. Over the many years, she held several positions in the Bell system. She was an old-time switch board operator, an office clerk and was one of the first women in the company to hold a "man's job" when she oversaw the transportation department or when she connected new phone service wires within the Mountain Bell phone framework. She retired from the company in the early 1980's.
After her retirement, she became a loyal QVC viewer and often shopper of any new kitchen gadget being sold! She loved to spend time in the kitchen cooking and baking. She was her own worst critic and had been known to throw away entire pies because she didn't think they were good enough to be eaten by her loved ones. It later became a family joke when a dish didn't turn out as expected to "pull a Betty" and just throw it in the trash! Betty loved to quilt and made each of her grandchildren a quilt that was given at each of their weddings. She belonged to several quilting clubs and over the years made hundreds of quilts and generously gave them away to friends and family. It wasn't uncommon for her to be working on four or five different quilts at the same time. They ranged from simple patchwork quilts to hand appliqued elegant designs with great detail. Each was special to her, made with love and proved to be the perfect hobby after retirement.
While Betty was often outspoken and could have a red-head temperament, she was also known to enter any and all sweepstakes and made great plans of how she would spend her winnings. Although she didn't ever win a big sweepstakes, she lived a life full of love and adventure for almost 91 years.
She was preceded in death by her parents, George and Alma; her husband, Buz; her best friend and sister, Rosie; and grandchild, Christopher.
She is survived by her brother, Guard Knight; four children, Craig Rife of Sioux Falls, SD, Merry Miller of Manville, WY, Earl Rife of Pocatello, ID, and Ramon "Pepper" Rife of Dallas, TX; 15 grandchildren, Eric, Jamie, Blake, Daren, Miles, Levi, Ty, Garrett, Brianna, Marshall, Ramon "Trey", III, Sylvia, Patty, and Jacob; along with 25 great-grandchildren; and many nieces, nephews, and close family and friends.
Graveside services will be held at 11 a.m. on Thursday, May 6th at the Valley View Cemetery in Torrington, WY.
In lieu of flowers, a memorial donation may be made to the First Wyoming United Presbyterian Church in Torrington in Betty's honor.
Colyer Funeral home is in charge of arrangements.
The Miller/Rife family would like to extend our gratitude and special thanks to the staff at Meadow Winds for the excellent, loving care she received during her time as a resident.