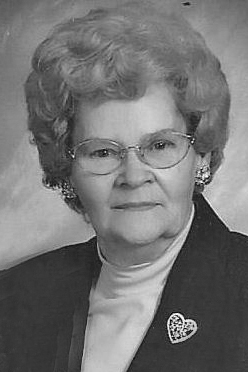 Funeral services will be held for Edna Joan Clapp Garrett, 87, at 1:30 p.m. Friday, December 27, 2013 at the College Heights Baptist Church. Pastor Mike Cooper of College Heights Baptist Church will officiate. Interment will follow in Memorial Garden Cemetery.
Ms. Garrett died December 20, 2013 in Casper.
She was born May 28, 1926 in Salt Creek, Wyo. to Otto and Esta (Ball) Clapp.
On Oct. 15, 1948, Edna married Carl E. Garrett at the First Baptist Church in Casper.
After 40 years of working in the trucking industry as office manager, Edna retired on January 30, 1987. She enjoyed spending time with family and high school friends and volunteered at the Casper College/Western History Center.
Survivors include her sister, Mary Elaine Hoshaw of Casper; brother, Russell Otto Clapp of Denver, Colo.; and Leo Mark Clapp of Casper; and numerous nieces and nephews.
Edna was preceded in death by her parents; her husband, Carl Garrett on December 13, 2002; son, Jeffery Earl Garrett on December 1992; two sisters, Esta Bernice Clapp Cuilla and Nellie Wyoma Clapp Whitehead and three brothers, William Washington Clapp, Donald Lee Clapp and Byron Harold Clapp.
Memorial contributions may be made to College Heights Baptist Church or to a charity of the donor's choice.
Sandra Loraine Barber, 56, of Casper ascended into Heaven on Saturday, December 21, 2013 after a long and courageous battle with ovarian cancer.
She was born in Casper on October 1st, 1957 to Loraine Barber and the late Richard Barber. Sandra graduated from high school in 1976 and later attended Casper College for one year. She was employed by Wal Mart for the last six years until the time of her death.
She is survived by a son, Timothy Barber of Michigan; grandchildren, Dusty and Garrett also of Michigan; mother, Loraine Barber; sister, Rebecca Barber and Diane Glazier, all of Casper; two brothers, Thomas Barber and Michael Barber, both of Michigan; four nephews, two nieces, two aunts, and an uncle.
She was preceded in death by her sister, Deborah Vandamme; father; grandmother and great grandparents.
At her request no services are being planned. Cremation had taken place.
In lieu of flowers, donations may be made to Central Wyoming Hospice or Rocky Mountain Oncology.
Friends may call at 1021 South Willow to offer their condolences if they wish.