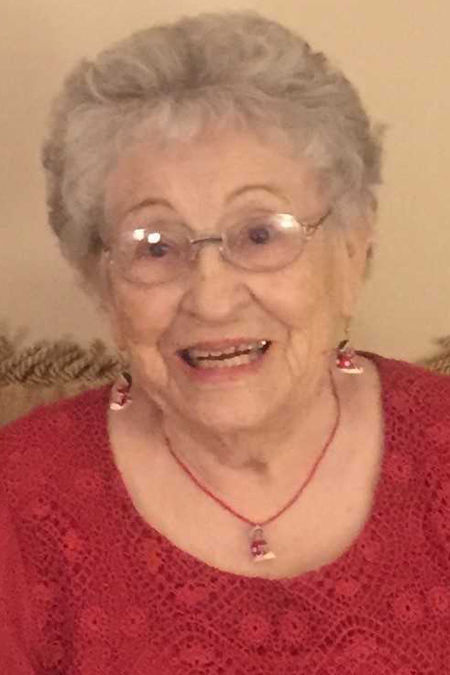 CASPER—Surrounded by the peaceful solace of a life well lived, Emma (Cisneros) Hawley of Casper, WY entered into her eternal rest on March 17, 2020. Emma will be greatly missed by her beloved family, friends and all those touched by her deep and charitable faith.
Emma, the fifth of eight children, was born July 11, 1925 in Mora, NM to Benjamin and Maclovia Cisneros. In the 1930s, her family moved to Wyoming, where her father homesteaded 640 acres in the Big Horn Mountains, and her mother tended to the needs of family and community. She graduated from Riverton High School, established her residence in Casper, then after a 36 year career with the Wyoming Oil and Gas Commission, as a Fiscal Control Auditor, Emma retired in 1988.
1st Lt. Charles William Hawley and Emma married on July 19, 1957. Their life was filled with children, social gatherings, fishing and camping trips, picnics, cross country drives, sporting events, crossword puzzles and the all-encompassing family stories. Charles passed away in 1990.
After retirement, Emma thrived by helping raise grandchildren and great grandchildren, attending computer classes, learning to swim, and being the treasurer of her Mother Cabrini Circle, whose mission to give without limit or reserve, she honored. Having enormous empathy, she offered comfort to many family friends in dire need, giving loving guidance, often washing their clothing and providing meals. She welcomed everyone at her table. Emma always had a warm meal ready, even if it was 2:00 am, and rarely would you see her sitting.
Emma loved to visit the holy places-those special chapels, shrines and cemeteries that dot our nation. With devotion, she placed flowers in remembrance at all of her departed loved ones' resting spots. In later life, her children drove her everywhere, so she could continue to pay homage to the Lord.
She taught her children strong work ethics, fairness, to protect and serve those less fortunate, and to stand up for what was good and right, even if you were the only one standing. She then ended her day by praying a Rosary for each child.
She was our mother, grandmother and friend who gave us hope for things not yet seen. May the Lord grant Emma eternal rest and let perpetual light shine upon her.
Emma leaves a legacy of faith, love and service to community to her seven children, Luella (Lowell) Hinderliter, Alice (Marvin) Boleng, Willa Perea, Debbie Willcox, and Charles (Susan) Hawley, all of Casper, WY and Anita (Patrick) Kuharski, Sacramento CA. Her son, Jeffery Hawley preceded her in death in 2014.
Emma also leaves behind 18 grandchildren, 32 great-grandchildren and 22 second great-grandchildren.
Condolences may be sent to The Hawley Family, 2940 Knollwood, Casper, WY 82604
In lieu of flowers, please donate in memory of Emma Hawley to: Seton House (setonhousecasper.org) or Central Wyoming Hospice and Transitions (cwhp.org)
Due to the COVID-19 Emergency, the services will be limited.
Visit Emma's guest book on the Newcomer's website (newcomercasper.com).
Funeral Liturgy Services to be announced at a later date.
To plant a tree in memory of Emma Hawley as a living tribute, please visit Tribute Store.
Obituaries Newsletter
Sign up to get the most recent local obituaries delievered to your inbox.