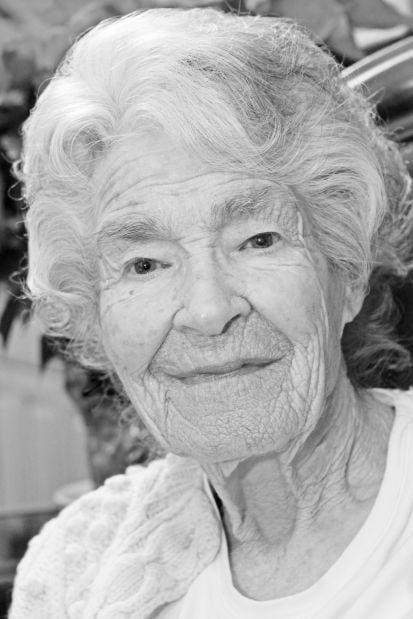 Jane Matteson Love passed January 16 in Laramie. Jane was born in Providence, RI, December 28, 1914 to Alys and Archibald Matteson. She received her BS degree in geology from Bryn Mawr College in 1936 and an MS in geology from Smith College in 1938. She spent her junior year studying geology at the University of Wyoming, where she met John David Love. They married in 1940 and spent the next 62 years dividing their time between their homes in Laramie and Jackson, Wyoming. Together they wove a life of scientific accomplishments, family, friends, and travel around the world. While Jane would say she played a supportive role to David's career, her contributions were integral to his fieldwork and publications. She did fieldwork on the Boysen Reservoir area, authored a bibliography on Wyoming coal, and co-authored with David several roadlogs of the geology of Wyoming, as well as editing David's 212 publications and eight books. In a non-geologic capacity, she edited a volume of poems by Dr. Wilson O. Clough, UW poet and scholar. In addition, she provided meals and lodging for thousands of visiting scientists, authors, families, and friends, all the while raising four children and getting them launched on careers of their own. She took delight in her seven grandchildren, encouraging them to lead adventurous lives of their own.
In Laramie, Jane served in various capacities as a 4-H, Brownie, and Cub Scout leader. She served on the board of the Albany County Library, and organized a coupon drive which raised money to purchase and restore the historic Ivinson Mansion in Laramie. In 1982 she received the Lions Club Laramie Community Service Award for her many contributions to the community. She was a member of PEO Chapter E.
You have free articles remaining.
David and Jane were also active in the Jackson Hole community, where land they donated to the Jackson Housing Trust provided affordable housing for teachers, police officers, nurses, and other public servants.
She is survived by her son, Charles of Rock Springs, David and wife, Jane of Socorro, NM, daughter, Barbara and husband, Steve Cutcliffe of Bethlehem, PA, son-in-law, Claude Froidevaux of Laramie, and grandchildren, Ben Froidevaux of Neuchâtel, Switzerland, Zoe Froidevaux and husband, Dondi DeMarco of New York City, Rachel Froidevaux and husband Lyle Darrah of Mead, CO, Jordan Love and husband, Matt Loftus of Charlottesville, VA, Raleigh Love, of Buffalo, NY, Daniel dePeyer and wife, Jacqueline (Cecil) of Bailey, CO, and Nicolas dePeyer of Phoenix, AZ, and one great-grandson, John Patrick Loftus of Charlottesville, VA. She was pre deceased by her husband, David and eldest daughter, Frances Love Froidevaux.
She will be lovingly remembered by her family and countless friends, whose lives she will continue to influence in myriad ways. Funeral services will be held at the United Presbyterian Church in Laramie Saturday, January 19, at 1:00 pm.
Contributions in her memory can be made to the Ivinson Mansion, the Albany County Library, or to a charity of choice.
To plant a tree in memory of Jane Love as a living tribute, please visit Tribute Store.