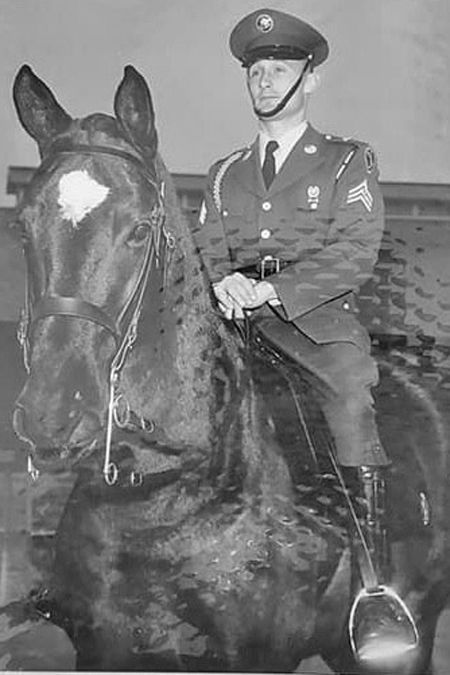 EVANSVILLE—Joe Melvin Middleton was born on October 27, 1936 on the Middleton homestead 63 miles north east of Douglas Wyoming. He was the fifth born child to James O. and Marie Middleton. There was always work to be done on the ranch, even for youngsters. The Boys in the Middleton family and the Miller Family shared the country school between the two ranches. Joe graduated in 1954 from Douglas High School.
Joe was drafted into the Army in 1959. He served in The Honor Guard Company, First Battle Group, and Third Infantry at Fort Myer, Virginia. In the Casson Section, he served in almost every funeral conducted for members of the U.S. Military or the U.S. Government officials who was buried at Arlington National Cemetery from 1959-1962. This was something that he was extremely proud of.
After he came back to Wyoming, he worked at Middleton Construction with his brothers. He was in Casper on New Year's Eve 1966 and met Susan Taylor. They were married March 3, 1967. Sue had a young son named Calvin that Joe raised from that point on. Joe and Sue moved to Albuquerque, New Mexico. Joe built the N.M. Valley Livestock Sale Barn in 1967. In 1968, they had a son, Todd Middleton. In 1970, they sold the Sale Barn and moved to Bassett, Nebraska for two years. Joe then bought a ranch North of Newell, South Dakota. They moved to town after a few years and had several businesses from a café to a 3/2 bar, but the most well known is the J&S Stop and Shop on the edge of town. In 1981, they adopted a little girl named Bernie Jo.
After the divorce, he lived in Powder River, Wyoming, where he met Mary Strand. He moved in with her at her ranch in Evansville, Wyoming. Their relationship lasted well over 30 years. Over the years he bred and raised bucking horses up until his passing.
He was involved with Douglas High School Rodeo, Casper College Rodeo Team, Old Timers Rodeo Circuit, and the Rocky Mountain Rough Riders Association. Rodeo and cowboy life is what he loved most. He kept everything simple from the way he dressed to how he lived.
On May 5, 2020, after a courageous battle with cancer, he passed away in Wyoming, the state that he loved so much with family around him.
"As you travel on the merry go round of life, ups, downs, good times, and bad, laugh and cry, honest with family and friends, But especially with "yourself"
"When you step off, you can say it's been one hell of a ride"
To plant a tree in memory of Joe Middleton as a living tribute, please visit Tribute Store.
Obituaries Newsletter
Sign up to get the most recent local obituaries delievered to your inbox.