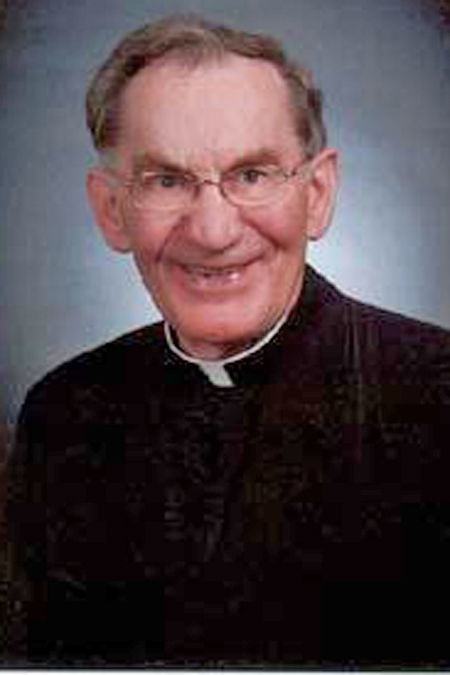 CASPER—After recurrent illnesses and miraculous healings during his retirement years, Monsignor O'Neill went home to God on March 18, 2019.
Monsignor was born in Bantry, County Cork, Ireland to James and Jane (O'Sullivan) O'Neill on August 8, 1929, the ninth of thirteen children, the second boy.
Monsignor received his early education in the local schools and graduated from Saint Fachnas High School, Skibbereen in June, 1948.
Following graduation, he entered Saint John's Seminary in Waterford to study for Priesthood and was ordained a priest at the Waterford Cathedral on June 17, 1954. It was his lifelong desire to serve as a missionary priest in an area of greatest need. He was accepted by the then Bishop of Cheyenne, Bishop Newell, to serve the people of Wyoming.
In the years of his Priesthood Monsignor ministered to people at Saint
Patrick's, Kemmerer/ Jackson: 1954-1955; Saint Mary's Cathedral, Cheyenne: 1955-1958 and 1964-1983; Saint Joseph's, Cheyenne: 1958-1959 and 1962-1964; Corpus Christi, Newcastle: 1959-1962; Saint Anthony's, Casper: 1983-1998; Saint Patrick's, Casper 1998: until his final retirement.
Monsignor served as Vicar-General of the diocese, 1973-1994, under two Bishops: Bishop Newell and Bishop Hart. He was named a Prelate of Honor to Pope Paul VI with the title Monsignor on February 20, 1974.
You have free articles remaining.
In his retirement years Monsignor ministered to the sick, the aged, and the shut-ins of Wyoming, northern Colorado, and eastern Nebraska by means of the Sunday TV Mass for fifteen years. He was named "Hidden Hero" by The Catholic Extension Society of America for his TV ministry.
Monsignor chaired the Diocesan Centennial Celebration the weekend of August 8, 1987, attended by some 40 Bishops from throughout the United States, more than one hundred priests and religious, and five thousand people from Wyoming. He also chaired the Diocesan Synod — a three year process for the assessment of the pastoral needs of the Church in Wyoming. He retired in 1998 due to ill health and took up residence at Saint Patrick's.
Monsignor often said that he has been truly blessed by the very, very many good, holy, and saintly people whom he has met and whom he has been privileged to serve... that he has received so much more than he has given... that he is deeply indebted to Bishop Newell, Bishop Hart, Bishop Ricken, Bishop Etienne and Bishop Steven for their goodness and for their confidence in him... that he is so very grateful, too, for his brother priests, deacons, religious, and all the good people that he has befriended. He said that he is grateful above all for his saintly parents and for his brothers and sisters, nieces and nephews, and their families and for their strong support. Monsignor said that he has enjoyed being a priest.
Surviving Monsignor is one brother, Dan of New York; one sister, Sister Pauline, SM, Provincial of the Marist Sisters in England; 35 nieces and nephews; 70 grand-nieces and nephews; and nine great grand-nieces and nephews.
Monsignor was preceded in death by his good parents; three brothers, Patrick, Michael, and John; seven sisters, Ann Gair, Mary and Kitty O'Neill, Jean McGee, Eileen O'Driscoll, Peggie Kéohane, and Bridie Keane; two nieces and three nephews.
Visitation will be Thursday, March 21, 2019 from 6-7 PM at St. Patrick's, Casper followed by office of the Dead and Vigil Service. Funeral Mass will be Friday, March 22, 2019 at 10:30 AM at St. Patrick's with most Reverend Bishop Steven Biegler DD STL, as Principal Celebrant and the priests of the diocese as concelebrants. Interment will follow at Highland Cemetery. Reception will follow Funeral Services at Saint Patrick's Gym. All are welcome.
Memorials in honor of Monsignor may be made in care of your local parish to Saint Joseph Society for Retired Priests; Saint Anthony Tri-Parish School, Casper; Catholic Extension Society of America" sponsor of the TV Mass.
Until we meet again, God bless you and thanks to all and for all!
To plant a tree in memory of James O'Neill as a living tribute, please visit Tribute Store.