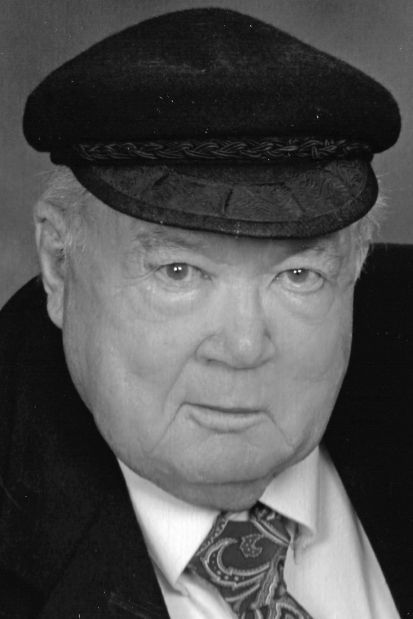 Wayne L. Bundy died on April 7, 2014 at Central Wyoming Hospice surrounded by loved ones. He had been in declining health for several years. He was the first child of Laurence and Mary Alice (Jones) born in Casper on January 28, 1934. He graduated from Natrona County High School with the class of 1952 and attended Casper College for two years when classes were held on the top floor of NCHS. He then completed his education in Laramie at the University of Wyoming, graduating with a degree in business. He and Joanne Breckenridge were married in 1953. Two daughters were born to this marriage, Leslie and Kirsten. They later divorced. Wayne and Dale (Cline-Canepa) were married in 1981 at the First United Methodist Church in Casper and would have celebrated their thirty-third anniversary on April 9.
Wayne was active in the Boy Scouts earning the Order of the Arrow and Eagle Scout ranks. Wayne's love of boats started at an early age. He and his Dad built his first boat in their garage. Wayne worked in his Dad's service station as a young man. Following college and a brief stint at Prairie Publishing as a salesman, he acquired his own Conoco Station. When the Conoco franchise would not allow him to sell boats, he started his own boat business with the creation of Bundy's Marine on the property on CY Avenue where he started selling boats from a tin shack. Eventually he built the commercial building which still exists today and became a retail store for boats, snowmobiles, RVs, motorcycles and related products and, of course, ski equipment - rental and retail. Bundy's Marine and Ski was a well known and popular establishment for many years.
Wayne was a strong downhill skier beginning at an early age and continuing well into his later years. He enjoyed teaching Leslie and Kirsten to ski and skiing with them. He was involved in the design and performance evaluations at different times with various ski equipment manufacturers from board surface preparation to innovative development of better bindings and boots.
In the early years of selling snowmobiles, Bundy's sponsored a racing team called "Bundy's Bombadiers". The team raced and won all around the country. Bundy's was the designated high altitude test dealership for Skidoos. It was also the Mercury Marine dealer for many years and was the high altitude testing site for the Mercury motors as well. He worked closely with the founder of Mercury Motors at his private lake in Florida in the development of superior marine motors, inboard and outboard. Family members were always an integral working part of the business with the boats, the motorcycles and the ski side.
Bundy's Marine moved to the hangar of the old airport in Bar Nunn where Wayne continued working until his retirement. Wayne, Les, Steven, and Dale, worked endless hours refurbishing and remodeling the hangar. Bundy's was always a family business as Mother Dale, Kari, Son Dale and Steven worked side by side for many years in all phases of the business. Occasionally, the in-laws, nieces and nephews also pitched in as needed.
Wayne loved Wyoming - whether he was skiing or fishing or cutting wood or just enjoying the beauty of an area. He was involved with The Alcova Boat Club for many years. Wayne's love of Yellowstone Park started at a very young age when his family would go camping there. When Leslie and Kirsten were young, it was RV camping. These camping trips continued on through the years with each generation … with the trip eventually becoming a boat ride across the lake and a camp in the wilderness area for a week. Wayne also loved Jackson - again, to ski or to fish or just to take a boat out on the Lake for a glorious ride.
Wayne loved to dance. He loved going to the baseball, softball, and soccer games - whatever the kids were playing at the time. He loved to go the UW football games. He loved "Boodreau" and he loved "Ollie". He delighted in talking about his "harem" - his wife, daughter Kari, and sister-in-law Robbie who were his caregivers the past few years. Special thanks to them for the care that allowed him to remain at home until the very end.
Wayne was preceded in death by his parents, his brother-in-law Mel Josephson, brother-in-law Bill Cline and his son, Steven Canepa.
He is survived by his wife, Dale; his children, Leslie Murtagh, Kirsten(Robb) Hall, Kari (Les) Wadsworth, Dale (Tiffine) Canepa, and Marie Yates; grandchildren, Dani (Eric) Anderson, Colin Murtagh, Trudy Pancratz, Cole, Dylan and Stevie Lyn Wadsworth, Alyssa Canepa, Mathieu, Noah, Daniel and Adam Yates and Jack Canepa; great-grandchildren, Makenzie, Kelsy and Logan Anderson; sister, Ellen Josephson; brother-in-law, Click (Joy) Cline; sister-in-law, Robbie Cline-Humble; numerous nieces and nephews and extended family members.
Rest well, Skipper! We will all just keep turning to the right! You are greatly missed!
Services are at 2:00 pm, Friday, April 11 at the First United Methodist Church in Casper with a gathering at the family home following. Interment will follow at a later date in the family plot in Lovell, WY.
Memorials may be made to Boy Scouts of America or Central Wyoming Hospice.
On-line condolences may be offered at the Newcomer Funeral Home website.