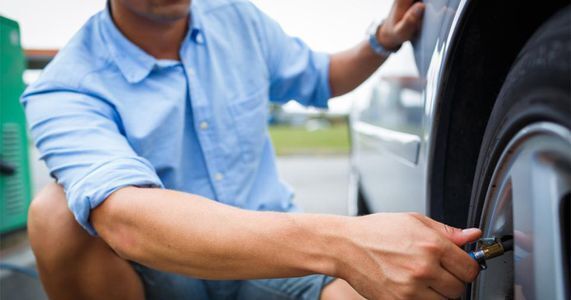 Tires that are properly inflated degrade slower and extend the life of a vehicle's suspension components. Moreover, steering with the correct tire inflation secures safety and optimizes the operation of a vehicle. Low air pressure causes uneven tire wear, poor vehicle handling and increases the potential for a flat. It also affects fuel efficiency. Gas stations often offer automatic air compressors but many show inaccurate pressure readings, cost money or have rigid time limits. Having a portable tire inflator will help car owners stay in the most control of a vehicle's performance and its overall lifespan.  
Portable tire inflators (also known as tire air pumps) provide car owners with quick, easy access to tire inflation year-round. On new cars, optimal tire pressure is commonly listed on a sticker inside of the driver's door and it's measured in pounds per square inch, or psi. The owner's manual is also a good resource. The psi rating on the tire sidewall is the maximum inflation level. If the tire is filled to that level, the ride quality will be affected. Maintaining tire pressure is especially important in extreme weather. Air contracts when temperatures drop, so a tire's pressure declines 1 to 2, for every 10-degree Fahrenheit dip. On the other hand, as temperatures rise in the summer, air pressure increases.
Some tire inflators are more portable that others. This list focuses on heavier-duty portable air pumps versus our Best Mini Tire Inflator list, which is primarily centered on smaller, more compact units under 5 pounds. This list comprises larger air compressors that might be better suited for larger trucks or large SUVs or in the garage. Our reviews focus primarily on dedicated tire inflators (which just do one thing only), as well as one combination unit that has the capacity to also jump start your car's battery. 
Best For Adventurers: ViAir Portable Air Compressor
Why We Picked It:
Viair's portable air compressor offers a back-to-basics pump with an analogue gauge and power that comes directly from the vehicle's battery via clamps. It's fairly compact, weighing only 4.5 pounds and stretching 10.75 inches long. It comes with a 16-foot air hose, which makes it suitable for filling up tires on a hitched trailer or other recreational vehicles like ATVs. It also will fill 33-inch truck tires in 5 minutes. Its max pressure is 150 psi. It's fairly loud but is fast for its size. It comes with a carrying bag made of durable material so it can be stored in a truck bed or inside a larger SUV as it won't take up much real estate.
Pros: 
Slender proportions
Long air hose
Simple, straightforward operation
Cons:  
Cannot pre-set tire pressure
Loud
Only one power source available
---
Best Fast Inflation On All Tire Types: GSPSCN Tire Inflator Heavy Duty Double
Why We Picked It:
This compressor's double-cylinder motor increases inflation power and efficiency. It only takes 1.5 minutes to inflate a standard vehicle tire size (200/70-R18). Its heavy-duty design is weighs more than others (6.6 pounds), but it can be paired with larger vehicles such as SUVs, trucks, vans, RVs, trailers and motorcycles. The key to safety is redundancy: This inflator operates faster via clamps connected to the car's battery or, as a second option, the 12-volt socket. Instead of a digital display, the design features a pressure dial for reading psi. The inflator includes a battery clamp, three nozzles, 11.5-foot air hose and 11.5-foot 12-volt lighter cable. Rubber feet beneath the compressor provide stability while reducing vibration in use.
Pros: 
Works with a swath of heavy-duty vehicles
Fast inflation time
Includes durable portable bag for inflator and accessories 
Cons: 
Pricey
Heavier weight
Car battery clamps are low-quality and lack jagged teeth for grip
---
 Best For Big Tires: Tirewell 12V Tire Inflator
Why We Picked It:
The Tirewell double-cylinder inflation pump is strong and can handle heavier-duty tires, but inflation times can take a bit longer (up to four minutes per one all-terrain tire in testing).The device is a heavier 8.3 pounds and comes with rubber feet that provide stability while the machine is on. Some of the metal fittings can get hot, but the compressor itself stays cool. This is a good choice for off roaders that need to let air out of their tires before heading off the pavement. The compressor can operate via a 12-volt socket or the car battery via provided clamps. Some vehicles owners with larger, lifted vehicles might find the included power cord too short if powering from the battery and inflating the tire furthest from the engine. The included 16-foot extension hose alleviates this issue, however. The device also includes a dual-section carry case. 
Pros: 
Compatible with heavy-duty vehicles
Ideal for off roaders
Quiet and stable while in use
Cons:  
More expensive option
Can be slower to fill larger tires
Power cord that connects compression to the battery is too short
---
Best Inflator For Storage At Home Or In The Car: Kensun Portable Air Compressor Pump
Why We Picked It:
The Kensunis fairly lightweight at 4 pounds, but it's handle is what makes it super portable. Its simple rectangular design stretches less that one foot in length and 6.7 inches in height. It comes with a near 10-foot power cord that plugs into the wall for use at home and a 9-foot cord that plugs into a vehicle's 12V outlet. It's easy to operate by pushing the AC or DC button, depending on power source. Its max pressure is 100 psi, though the pressure gauge reads 120 psi. The screw on connector for tire inflation fits snugly, but it's best reserved for sedans or smaller SUVs as well as motorcycles. It performs masterfully on bikes and comes with an adapter that will fit most valves. It works on other inflatables and balls. It's a good garage tool or can be packed inside the accompanying bag and stored in the trunk. However, its lack of an integrated LED light will make topping off in the dark during a roadside emergency slightly more challenging than other options.
Pros:
Long AC and DC cords
Compact size
Intuitive operation
Cons:
No LED light
No pre-set function
Expensive for limited functions
---
Best Combination Tire Pump and Car Battery Jumper: Utrai Jstar Five
Why We Picked It:
Utrai's all-in-one unit is robust enough to handle the two most common roadside emergencies: flat tires and a dead battery. Despite its 4-pound weight, it has a massive 24,000 mAh battery that can easily jump start large-engine cars. Its max pressure is 150 psi, so it can handle larger tires as well as watercraft, air mattresses and balls. It lasts up to 40 minutes, but needs to be stopped in intervals to allow for cool down (manufacturer recommends every 8 minutes). It also can serve as a shop lamp or central lighting on a camp excursion because it has a built-in 5-watt LED light. With the right adapter, it can charge smartphone and other devices via a cigarette lighter socket. It comes with jumper cables, chargers and a storage bag. 
Pros: 
Multifunctional
Bright LED light
Device charging capability
Cons:  
Bulkier than dedicated air compressors
Might be overkill for most needs
Pricey
---
METHODOLOGY 
In order to determine the best [product type] for your vehicle, we considered the products most accessible to the widest swath of consumers in the U.S., which also includes performance, price and value. We also considered a broad range of end-user ratings and evaluations by multiple testers.
To determine the ideal options for your vehicle tires, Forbes Wheels evaluated five of the highest-rated and most popular portable air compressor tire inflators on the market. These portable tire inflators offer a range of suitable power for various tires and vehicles from sedans to trucks and trailers. They were rated based on functionality, durability, efficacy, ease of transport and use, weight and price. All of the compressors are lightweight—between 4 and 10 pounds—and are ideal for home or vehicle storage. The models range in cost from $65 to $130. We also considered a broad range of end-user ratings.
FAQ
Why is it important to maintain proper tire pressure?
Beyond the obvious need to keep a tire from going flat, maintaining tire pressure is an important safety consideration that ensures safe handling, with the added benefit of improved fuel economy.
Is a combination tire pump and battery jumper a good idea?
While a plethora of tire inflators are available, purchasing a combination air pump and battery jumper can add piece of mind to road trips or serve multiple needs at campsites, particularly when there's an off roading or overlanding element. Though bulkier and heavier than standalone tire pumps, these combination units are a good idea for those seeking ultimate peace of mind.
Are battery-powered tire pumps a good idea?
Using a battery-powered tire pump can bring added convenience, but be sure the product includes an option to draw power from the car battery or cigarette adaptor as a backup, as portable batteries can discharge over time.
Can I use a car tire pump for other purposes?
Yes; most car tire inflators include adaptors for bicycle tire valve stems and balls. Many battery-powered units also include USB outlets to charge accessories. 
What other extras comes with tire inflators?
Most battery-powered units incorporate built-in LED lights, which can be handy during night time emergencies or to illuminate small print on the side of tires. Also look for carrying cases, which will keep the compressor's cables from unspooling and protect the unit from damage.