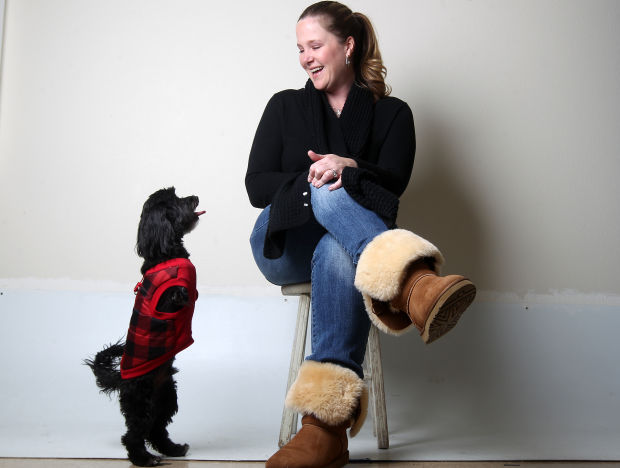 CHEYENNE — During the past six years, Black Dog Animal Rescue has helped place hundreds of dogs with loving families.
But the rescue's founder, Britney Wallesch, said that while she has encountered plenty of dogs with unique situations, she's never seen anything quite like Roo.
"It's not unusual at all for us to get special-needs dogs in, but we've never had a dog with this particular special need," Wallesch said.
Roo, a 1-year-old black and white poodle/shih tzu mix, recently came to Black Dog Animal Rescue from the Laramie Peak Humane Society in Douglas. By all accounts, he's a healthy, active, happy dog, despite the fact that he was born without his two front legs.
"There's a couple inches on each side — one side is a little longer than the other, but it's only two inches," said Emilee Intlekofer, who, along with her husband, Casey, have taken Roo in as his foster parents. "He hops, really, is what he does. That's where his name comes from — like a kangaroo."
Even with his missing legs, Intlekofer said, Roo has actually been easier to handle than some of the 21 previous dogs she has fostered. While he's not yet fully housebroken, she said she believes he can be, with practice. He also requires no special handling for eating or drinking and can get around just fine, with the exception of stairs.
"I have to carry him up and down stairs," Intlekofer said. "But I've never seen him just fall over. He can go from lying down to standing up really quickly."
She said Roo is also quick to attach to people and gets along well with other dogs.
"I've had harder cases, like separation anxiety and things like that," Intlekofer said. "Roo's not difficult, he's just different. He's real cuddly and sweet, his tail's always wagging, and he doesn't feel sorry for himself, so I don't want anyone else to feel sorry for him either."
Tameka Davis, the executive director of the Laramie Peak Humane Society, said Roo came to her about a month ago from a young couple who got him from a friend but weren't sure they could handle his needs.
"Right when he got here, he went into foster care with one of our employees," Davis said. "I know she had a hard time giving him up. He's so cute, and he's just a sweetheart; whoever gets him is going to be really happy."
Davis said that, based on Roo's quick attachment to his foster families, she believes he may have been bounced around from one family to another frequently early on in his life. Wallesch agreed, adding that the ideal adopting family would be one that can devote some extra time and attention to him.
"We're going to be looking for an owner that probably has experience with special-needs or handicapped dogs," Wallesch said. "We want to make sure whoever takes him home understands there's the possibility other things could come up later in his lifetime as a result of this."