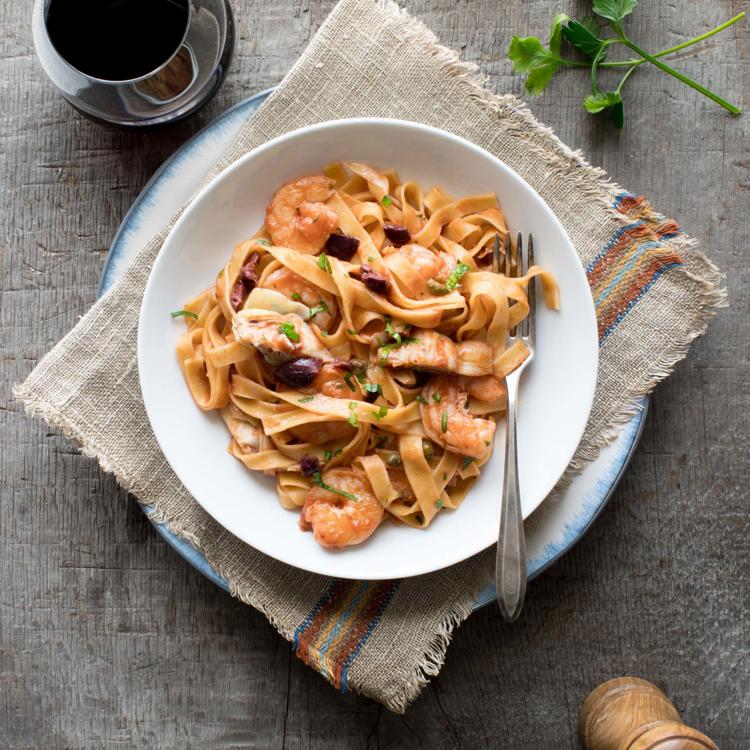 Use refrigerated fresh pasta, which cooks faster than dried, to get this dinner on the table lickety-split! Traditional puttanesca gets a makeover by adding shrimp for extra protein and artichoke hearts to boost the vegetable servings (and the fiber!). If you can't find frozen artichoke hearts, substitute canned artichoke hearts.
Quick Shrimp Puttanesca
8 ounces refrigerated fresh linguine noodles, preferably whole-wheat
1 tablespoon extra-virgin olive oil
1 pound large shrimp, peeled and deveined
1 (15-ounce) can no-salt-added tomato sauce
1 1/4 cups frozen quartered artichoke hearts, thawed (8 ounces)
1/4 cup chopped pitted Kalamata olives
1 tablespoon capers, rinsed
1/4 teaspoon salt
You have free articles remaining.
1. Bring a large pot of water to a boil. Cook linguine according to package instructions. Drain.
2. Meanwhile, heat oil in a large skillet over high heat. Add shrimp in a single layer and cook, undisturbed, until browned on the bottom, 2 to 3 minutes.
3. Stir in tomato sauce. Add artichoke hearts, olives, capers and salt. Cook, stirring often, until the shrimp is cooked through and the artichoke hearts are hot, 2 to 3 minutes longer.
4. Add the drained noodles to the sauce and stir to combine. Divide among four pasta bowls. Serve hot.
Recipe nutrition per serving: 390 Calories, Total Fat: 8 g, Saturated Fat: 1 g, Cholesterol: 241 mg, Carbohydrates: 43 g, Fiber: 8 g, Total Sugars: 4 g, Added Sugars: 1 g, Protein: 37 g, Sodium: 629 mg, Potassium: 778 mg, Folate: 95 mcg, Calcium: 145 mg
By Katie Webster, EatingWell
(EatingWell is a magazine and website devoted to healthy eating as a way of life. Online at www.eatingwell.com.)
Satisfy your cravings
With our weekly newsletter packed with the latest in everything food.