This recipe was inspired by a rainy weekend and a longing for travel. A handful of years ago, I spent two weeks touring Vietnam. I thought I was already familiar with Vietnamese cuisine – St. Louis has a wealth of amazing family-run Vietnamese restaurants – but dining in Vietnam was a revelation. The flavors were more vibrant and fresh than anything I'd had in the States. So, when I found myself on a drizzly weekend with homemade chicken stock, some rice noodles and a bunch of herbs on hand, I decided to make myself some pho-inspired chicken soup.
Now, this recipe does not resemble in any way the pho you'd enjoy at a Vietnamese restaurant, let alone in Vietnam itself, but it does have an aromatic, soul-satisfying broth and lots of slurp-able noodles. When I made this soup originally, I was searching through my fridge for some additional ingredients and found miso paste along with some eggs, which are wonderful complements to the other ingredients.
If you have homemade stock, use it. Otherwise, something from the grocery store will work well. The anise, cinnamon and pepper that infuse the broth lend lovely aroma, while the miso adds body and depth of flavor. Once the broth is ready, the rest comes together very quickly. The egg is soft cooked – I like mine at about the six-minute stage, but you can cook yours longer if you'd like. And I just used a rotisserie chicken from the grocery store here, but you could certainly poach chicken breasts and thighs in the broth as it's being infused with the spices and then shred the meat.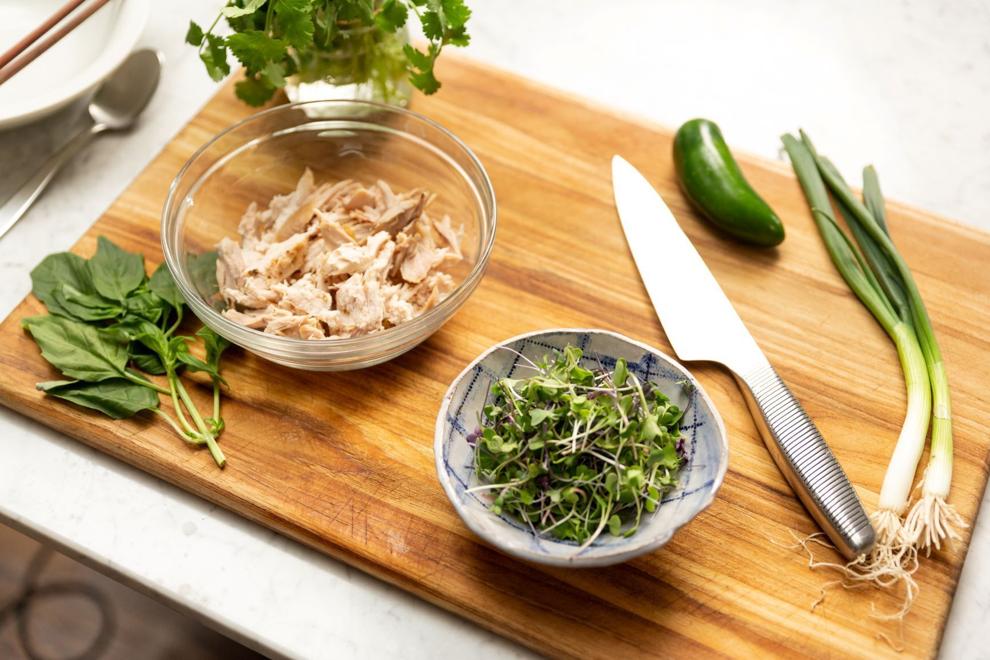 Fresh herbs abound in Vietnamese cuisine, so do not skimp on the basil and cilantro, adding in fresh mint as well if you'd like along with a handful of sprouts. The mix of those fresh ingredients with the hot broth and savory chicken and eggs make for a comforting and nourishing meal.
Chicken-Miso Soup with Sprouts and Herbs
Recipe by Catherine Neville
8 cups chicken broth
2 star anise pods
1 stick cinnamon
5 peppercorns
2 Tbsp yellow miso
3 or 4 eggs
1 cup cooked, shredded chicken
1 package rice noodles, softened in warm water
1 jalapeño, thinly sliced
handful sprouts (sesame, radish, mung bean, etc.) or microgreens
fresh Thai basil
sprigs fresh cilantro
other herbs as you wish: chives, mint, etc.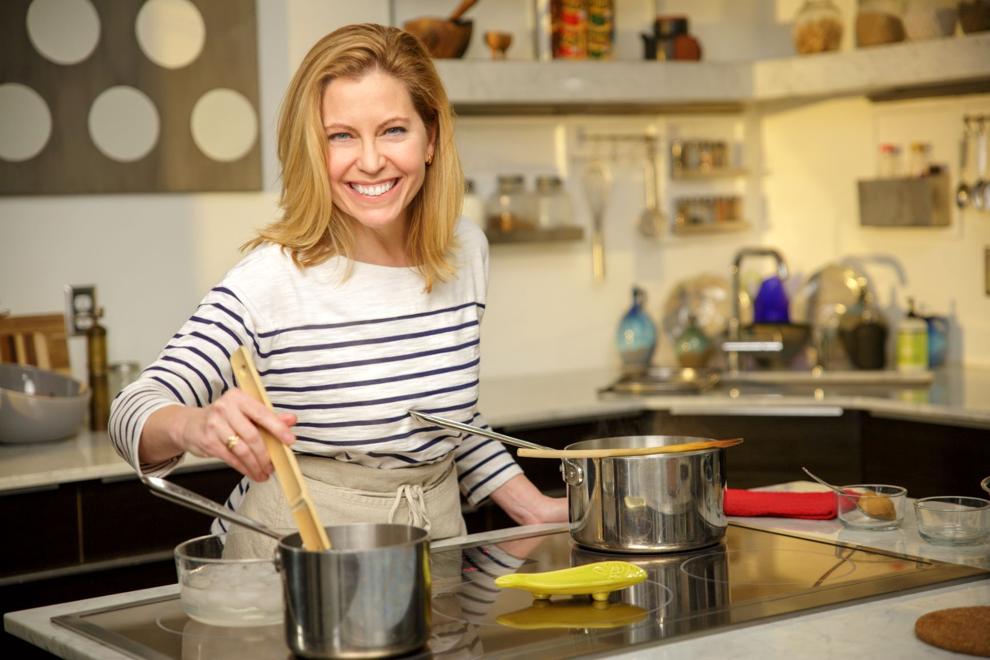 | Preparation | In a large saucepot, heat chicken broth until simmering and add star anise, cinnamon and black peppercorns. Simmer until fragrant, about 15 minutes, and then remove the spices. Stir in miso and keep warm on a low burner.
Bring small pot of water to a gentle boil. Add eggs and cook for 6 minutes, removing eggs to ice water bath to cool. Carefully remove shells from the soft-cooked eggs.
In large bowls, evenly portion chicken and softened rice noodles. Ladle hot broth overtop and then garnish with sliced jalapeño, sprouts and herbs. Carefully cut each egg in half, adding a half or two to each bowl. Serve piping hot.