These bars are incredibly easy to make and endlessly adaptable to whatever fruit is in season. The one downside? You really need to wait until they are fully cooled until you cut and serve them. If you are a patient person with a taste for fruity, nutty treats, this recipe is for you.
The crust and the crumble on top of these bars are essentially the same – you reserve about a cup of the crust and add in some sliced almonds to sprinkle atop the strawberry filling. I used almonds because they marry with strawberries particularly well, but you could sub in chopped pecans, walnuts, hazelnuts or even peanuts if you'd like.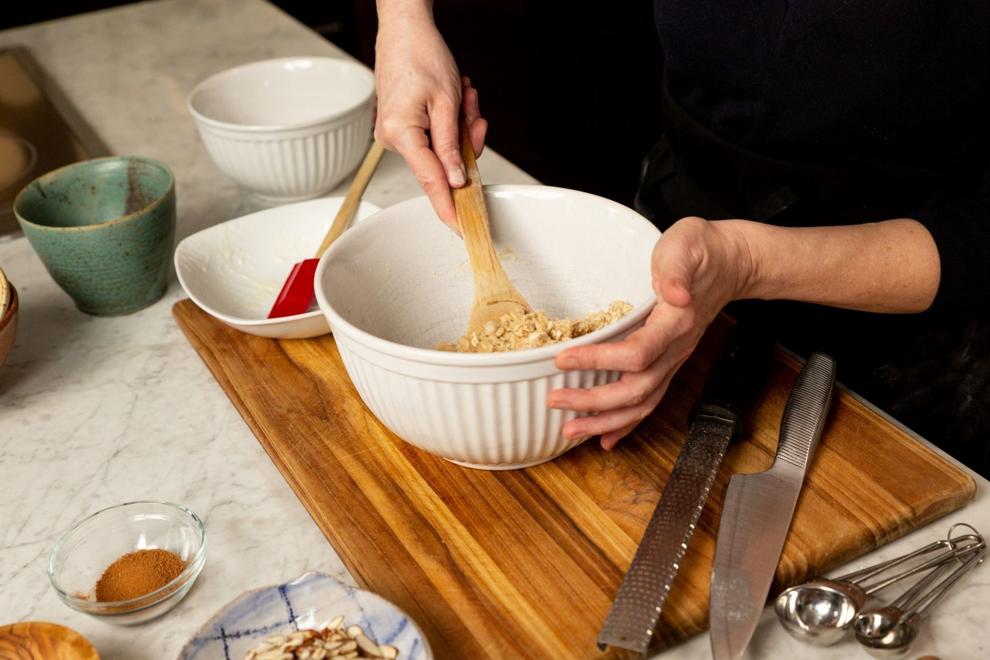 And because this recipe series is celebrating spring, I used beautiful in-season strawberries – but, like the nuts, feel free to improvise based on your taste and what's in season. Just use the measurements provided in the recipe that follows and try making these with peaches, blueberries, figs or even apples.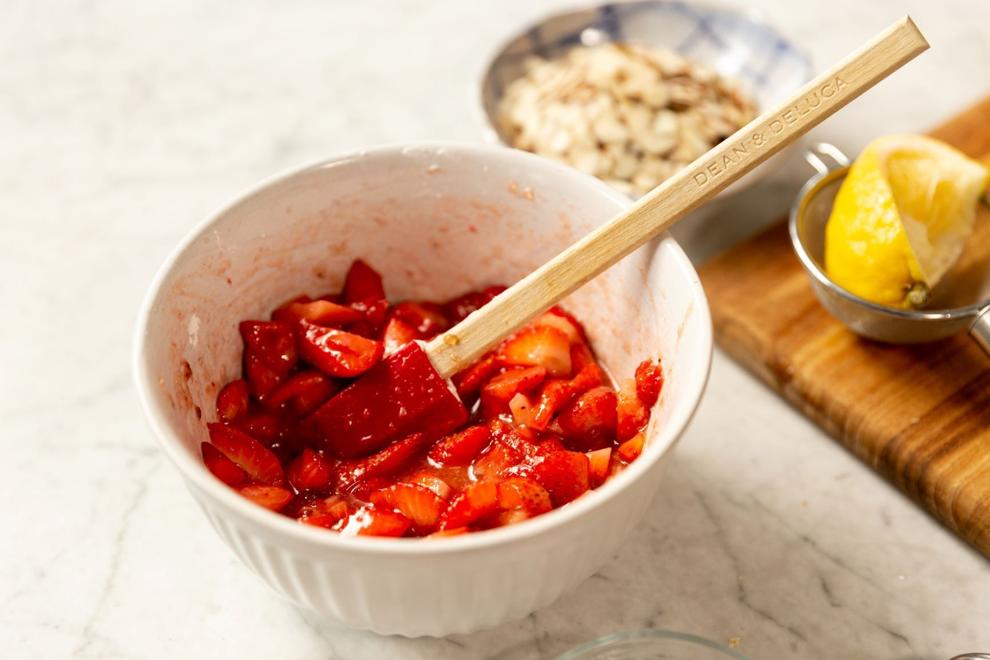 Now, about that hour-long wait until the bars are completely cooled. Yes, you could jump the proverbial gun and dig in while they're still warm, but the crust won't hold together and you'll have a bit of a mess on your hands. A delicious mess, but a mess nonetheless.
So, be patient and wait until you can slice into the fully-cooled crust, then serve these beautiful bars with strong, hot coffee for breakfast, a mid-day snack or even a fun, handheld dessert.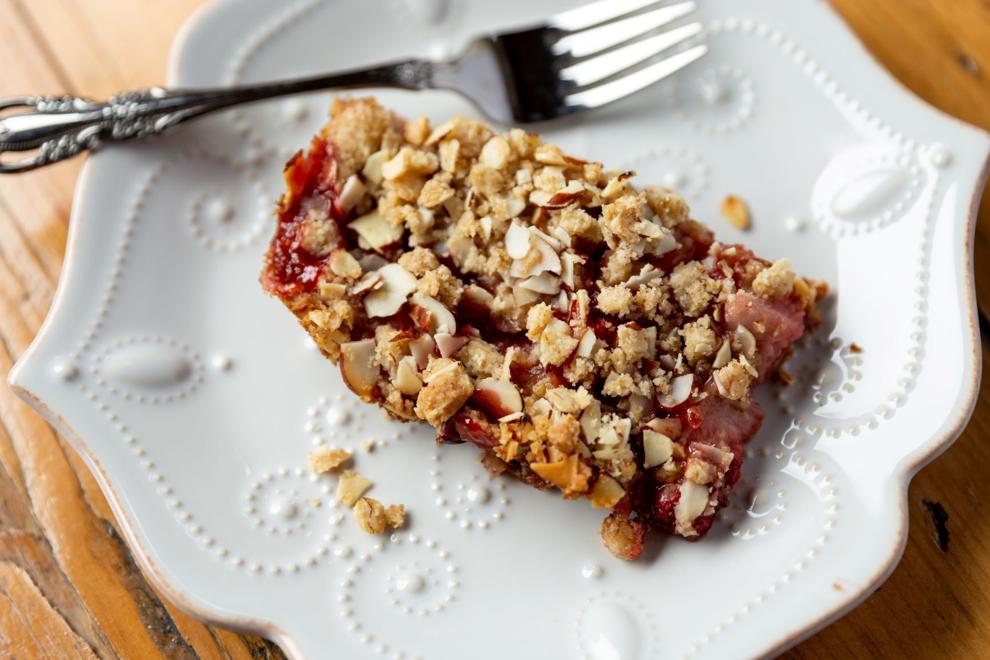 Strawberry-Almond Crumble Bars
Recipe by Catherine Neville
¾ to 1 cup all-purpose flour
¾ cup rolled oats (not instant)
½ cup sugar, divided
¼ cup dark brown sugar
¼ tsp salt
2 tsp cinnamon, divided
½ cup unsalted butter, melted
2 cups chopped strawberries
2 Tbsp strawberry preserves
2 Tbsp fresh lemon juice
½ tsp freshly grated nutmeg
2 tsp corn starch
¼ cup sliced almonds
| Preparation | Preheat oven to 350°F. In a medium bowl, mix flour, oats, ¼ cup sugar, brown sugar, salt and 1 teaspoon cinnamon thoroughly. Gradually add in melted butter, mixing until clumps form when you squeeze some of the mixture in your hand. Set aside while you make the filling.
In another medium bowl, evenly toss strawberries with the remaining ¼ cup sugar and then stir in preserves, lemon juice, remaining 1 tsp cinnamon, nutmeg and corn starch. Mix until well combined.
Grease an 8-by-8-inch baking dish with butter. Pour all but about a cup of the oat mixture into the dish and press firmly to form a crust. Don't be shy! Press hard and evenly to ensure that a good crust will form. Next, top evenly with the strawberry mixture. Add the almonds to the reserved cup of oat mixture and then crumble on top of the strawberries.
Bake for about 20 to 30 minutes, until the top is golden and bubbly. Cool the bars completely before slicing – if you try to slice into the bars before they're entirely cool, the filling won't be set and the crust will not be firm. It will taste good, but it won't hold together, so try to be patient and allow enough time to cool before cutting into bars. Store in an airtight container.