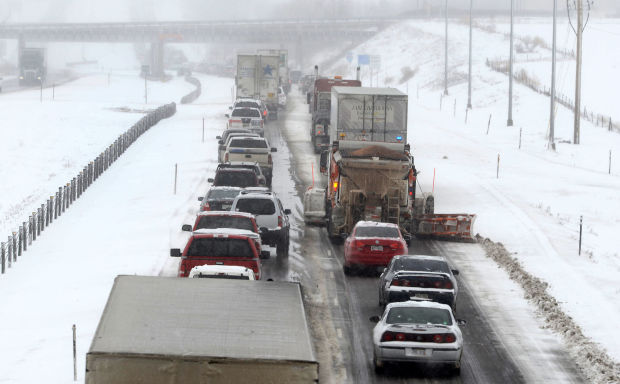 Now he commutes daily to and from Cheyenne.
"I'm usually at my desk from my house in 32 minutes," he said.
Marsh is part of a growing number of people who live in northern Colorado but work in Cheyenne. According to newly released U.S. Census Bureau data, nearly three times as many Weld and Larimer county (Colorado) residents commute to Laramie County for work as Laramie County residents commute to the Colorado counties.
A university of Wyoming economics professor said that if the Colorado residents lived in Wyoming, Wyoming's economy would benefit. However, Randy Bruns, the CEO of Cheyenne LEADS, the economic development organization, said it's fruitless for employers to force their workers to live in Wyoming. He said energies would be better spent trying to make Cheyenne a more desirable place to live.
For Marsh, who started his job with the education department on March 1, the decision to move to Colorado was made in consideration of his mother-in-law, who had cancer and mental health issues. Marsh and his wife knew that if they were leaving Madison, Wis., his mother-in-law would come along, he said. The medical staff at St. Mary's Hospital in Madison, where his mother-in-law was getting treated for cancer, found oncologists at Banner Health in northern Colorado. That helped make the decision of where they would move, he said.
"If it would have only been my wife and myself, we would have moved to Wyoming," he said.
The newly released data came from the Census Bureau's American Community Survey, which studied commuting trends from 2006 to 2010. It found 1,653 workers from Larimer and Weld counties commuted to Laramie County to work. On the other hand, only 569 Laramie County residents traveled to the two Colorado counties during that time period.
In 2000, a similar number of Colorado and Wyoming residents traveled to the other state for work: 447 residents from the two Colorado counties traveled to Laramie County and 434 Laramie County residents traveled to the two Colorado counties, said Wenlin Liu, principal economist for the Wyoming Economic Analysis Division.
You have free articles remaining.
Liu had a word of caution about the commuting study: It's not an apples-to-apples comparison. Up until 2000, the U.S. Census Bureau asked questions about communing once a decade in the national census. Commuting questions were on the "long form," distributed to roughly one of every six families that asked more detailed questions than the short form, which focused on basic demographic information such as age, race and sex. But the Census Bureau has abandoned the long from, which only took a year to complete, in favor of the American Community Survey, which takes five years to complete, Liu said.
Anne Alexander, an economics professor at the University of Wyoming, said Wyoming's economy would be even stronger if the Colorado commuters lived in the Cowboy State.
"They would spend more of their paychecks, if they lived here, on their mortgage and groceries," she said. "But to me it's a good sign that there are jobs here."
Bruns, the Cheyenne LEADS CEO, doesn't want to blame the workers who choose to live in Colorado. He thinks that maybe the problem could be with Cheyenne.
After all, the commuters are choosing to pay state income taxes in Colorado on wages earned in Wyoming, which doesn't have a state income tax, he said. They're choosing to spend hours on the road, which means time away from family and their personal lives.
"They're making that choice for some reason," Bruns said. "We need to understand why they are making that choice. And is there something that we as a community should be doing to be a community of choice?"
Marsh, who is an assessment supervisor at the Education Department, doesn't find the commute from Colorado or the income taxes in the Centennial State too burdensome. He has lived in Chicago and central California and has experienced worse commutes and taxes, he said.
Liu, of the Wyoming Economic Analysis Division, said Wyoming's economy has been robust in the past decade. The state even fared better in the recession of 2008 and 2009 than other states.
In Laramie County, jobs were created with the data centers for Green House Data and Microsoft, the National Center for Atmospheric Research supercomputer, and the Cheyenne Logistics Hub at Swan Ranch development that connects to local railroads, Liu said.
Overall, Wyoming's economy is healthy, relative to other states, Liu said.
"Our unemployment rate has been a lot lower," he said. "We're the first lowest, or sometimes the second lowest, in the unemployment rate."