Turkey trivia to dazzle your Thanksgiving guests
Just in time for the Thanksgiving holiday, here are some facts about turkeys that you may not have known.
Source: National Wild Turkey Federation
A few facts about the iconic American bird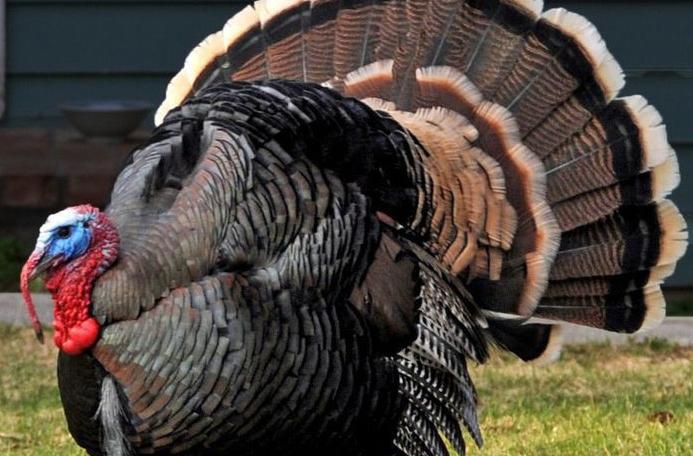 Range
There are wild turkeys, and established wild turkey hunting seasons, in every state in the U.S. except Alaska.
Species
There are two species of wild turkeys: the American wild turkey and the ocellated turkey.
There are five subspecies of the American wild turkey: Eastern wild turkey, Osceola or Florida wild turkey, Gould's wild turkey, Merriam's wild turkey, and Rio Grande wild turkey.
Sound
Turkeys communicate through up to 28 different vocalizations, from gobbling to a high-pitched "kee kee," to clucks, purrs, yelps and cackles.
Gender jargon
Male turkeys are called toms or gobblers. Female turkeys are called hens. Very young turkeys are called poults. Juvenile males are called jakes. Juvenile females are called jennies. A group of turkeys is either called a rafter or a flock.
Speed
Turkeys may look off-kilter — tilting their heads and staring at the sky — yet they're fast. In a poultry race, they can clock more than 12 miles per hour, beating chickens by 3 mph. The eastern cottontail leaves them both in the dust as it zig zags away from danger at 18 miles per hour.
Weight
Adult hens average 10 to 12 pounds for most subspecies, and adult gobblers average 18 to 22 pounds.
Weird beards
What's with a turkey's "beard?" Scientists do not yet know why male American wild turkeys have beards or why some hens do, too.
Population
When the National Wild Turkey Federation was founded in 1973, there were approximately 1.5 million wild turkeys in North America. After 40 years of effort that number has reached a historic high of about 6.7 million turkeys. However, today, turkey numbers are down and are estimated at between 6 and 6.2 million birds.
Droppings
Turkey droppings tell a bird's sex and age. Male droppings are j-shaped; female droppings are spiral-shaped. The larger the diameter, the older the bird.
Feathers
An adult turkey has 5,000 to 6,000 feathers on its body.
Moves
Tom turkeys aren't the only ones that swagger and fan their tail feathers to woo mates and ward off rivals. Some hens strut, too.
Diet
Young turkeys — poults — scarf down insects like candy. They develop more of a taste for plants after they're four weeks old.
Place in history
Move over, American bald eagle. Ben Franklin called the wild turkey a "bird of courage" and thought it would make a better national symbol.