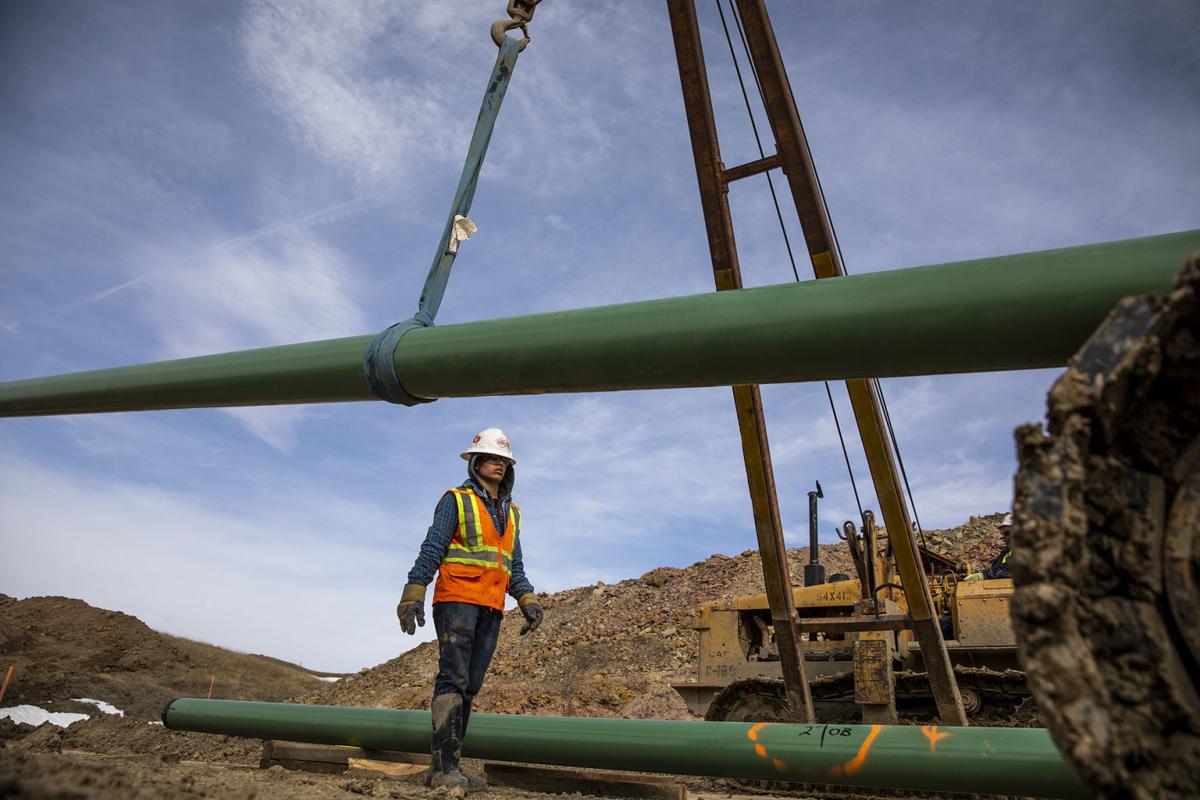 GILLETTE — After years of delays, some frustration and even legislation, the Madison Pipeline is finally pumping water.
Mayor Louise Carter-King was eager to make the announcement Tuesday that well 11 of the new Madison Pipeline project is open and ready to serve the city of Gillette and its many regional customers.
Utilities Director Mike Cole said that well 11 — if needed this summer — can provide the city with an additional 2 million gallons of water.
As early as 2016, the city had planned to have water from the new Madison wells available on June 1, 2017.
In March 2017, the City Council was told by city staff that permits for the first two wells — 11 and 12 — had not been received, less than three months before the water was supposed to flow. Not having those permits delayed the project by at least six months at the time.
The city then had to spend about $65,000 for reverse osmosis treatment equipment to increase water capacity in the summer of 2017. The city used Madison money that already was on-hand to pay for the equipment.
At the time, the worst case scenario included the new wells would be online by the 2018 irrigation season.
There are five wells that complete the Madison Pipeline Project. Wells 11 and 12 were scheduled to be tested, pumped and ready to go by February 2018. They will give Gillette an additional 4 million gallons of capacity per day, a more than 33 percent increase from the 13 million gallons it provides now.
Wells 13 and 15 were scheduled to come online next with well 14 coming last because of difficulties cementing the space between the casing strings and borehole of the well.
Then the amendment was submitted.
Sen. Ogden Driskill, who represents parts of Campbell, Crook and Weston counties, introduced an amendment to the state's water bill that would have allowed up to 200 Crook County water customers to use up to 1 million gallons of water per year for livestock and other uses.
About the same time, residents in Crook County filed official complaints with the Department of Environmental Quality about unsafe pH levels found in the water near the Madison formation.
The DEQ then shut down the progress of the Madison pipeline project and the Regional Extension Project for further testing.
After more than a year of back and forth, the DEQ found no substantial evidence that the drilling of the Madison Pipeline had anything to do with abnormal pH levels in Crook County wells.
City Administrator Patrick Davidson said Tuesday night that DEQ will issue its own press release later this week celebrating the Madison wells opening but also totally clearing the city of Gillette and its contractors of any wrongdoing involving the fracking and drilling of the Madison.
After a contentious meeting with the Wyoming Water Development Commission and the Select Water Committee, and more resolutions and amendments, the city and Driskill came to an agreement in the fall.
Instead of 200 taps, the city will allow five taps in Crook County to hook onto the Madison for the use of livestock.
Those taps are limited to 40,000 gallons of water per month for domestic use and 80,000 gallons per month for livestock use during the city's peak water season of June through September.
The bill also says Crook County residents have to be charged the same amount as Gillette residents and that if Crook County were to start a water district, that district would be allowed to hook onto the Madison.
All of those costs would be put on landowners and water users in Crook County.
Cole said that well 12, which was scheduled to come on board with well 11, is just a few weeks away from being completed, tested and ready to serve customers as well.
Carter-King spent time Tuesday thanking a long list of people who made the Madison Pipeline project possible, including former mayors of Gillette, former and current state legislators as well as former city council members.
She also thanked the public for passing the capital facilities tax in 2011 that helped raise $75 million of the total $217.6 million project.
While the Madison Pipeline news is good for the city, Carter-King pointed out Tuesday that it's a bit ironic to get the additional water capacity during a season where Gillette hasn't needed it yet.
The city's peak water day has yet to exceed 6 million gallons per day in this year due to a wet spring and early summer.
Last year's peak day was 9.3 million gallons used on June 14.
In a press release Wednesday morning, Carter-King stressed the need to conserve as much water as possible during irrigation season.
"While having access to more water is a good thing, we do ask that our residents continue to respect our water as the precious resource that it is," she said. "Using our water wisely today will ensure that it will be there for us tomorrow."
Be the first to know
Get local news delivered to your inbox!