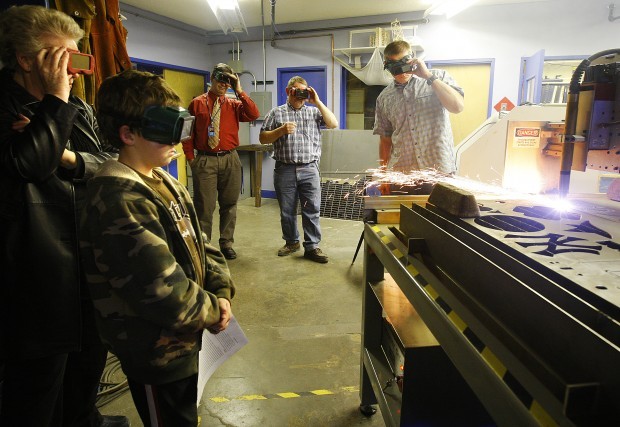 After a few clicks of the mouse, the machine came alive.
The mechanical arm of the plasma cutter jerked to the side, then blasted the sheet of mild steel below. The heat cut through the metal. Sparks flew across the sheet and onto the floor.
James Bisiar, 11, stood still, watching the machine cut out the numbers of his house address like a hot knife through butter. Jon Vance, metal tech teacher at CY Junior High School, pulled the numbers out of the sheet with a pair of pliers. Bisiar stared intently while Vance cooled the metal under running water.
Bisiar used a computer to tell the machine how and where to cut. The Computer Numeric Control plasma cutter is one tool students will be able to use at the new CY Junior High School building.
The building was designed so core subjects will be taught next to career exploratory classes. The new school is expected to open in August 2010 and can hold up to 750 students. Actual enrollment won't be known until after the district's online enrollment period ends in February.
The school curriculum will include core classes and vocational electives tied to career areas called exploratory pathways -- architectural construction and communications, industrial and engineering technology, agriculture and natural resources and human services.
"Metal shop can be a lot of fun, but if you're having experience in laser technology and plastics, it won't be a hobby," Principal Dean Braughton said. "It will be something to learn and build on."
All students will enroll in language arts, math, science, social studies and physical education. Sixth-grade students will explore all career areas during six-week courses, and each will be able to take a music or world language course. Seventh-grade students will spend nine weeks in areas of their choice, and eighth-grade students will take semester-long courses.
Course activities are called learning modules and were purchased from DEPCO LLC. Materials, equipment and software for the modules cost more than $400,000. The purchase includes future upgrades in technology.
"The software they have with these machines are unreal," teacher Rockie Phillips said. "With the equipment we have, they can create just about everything."
Modules include: CNC lasers, CNC plasma cutter, pneumatics, hydroponics, hospitality and tourism, robotics, CAD technology, rocketry, culinary arts, engineering, textiles and apparel, aquaculture, plastics technology, forestry, global positioning system, graphic design, marketing and digital audio and video production.
Students will choose the modules they want to complete in a specific course. Students could use skills from multiple courses to complete larger projects after several rotations, Phillips said.
Demonstrations of the plasma cutter will be offered at 4 p.m. and culinary arts and GPS at 6:30 p.m. Dec. 14, meeting first in the school library. Additional demonstrations will be provided during an open house at 6:30 p.m. Jan. 12.