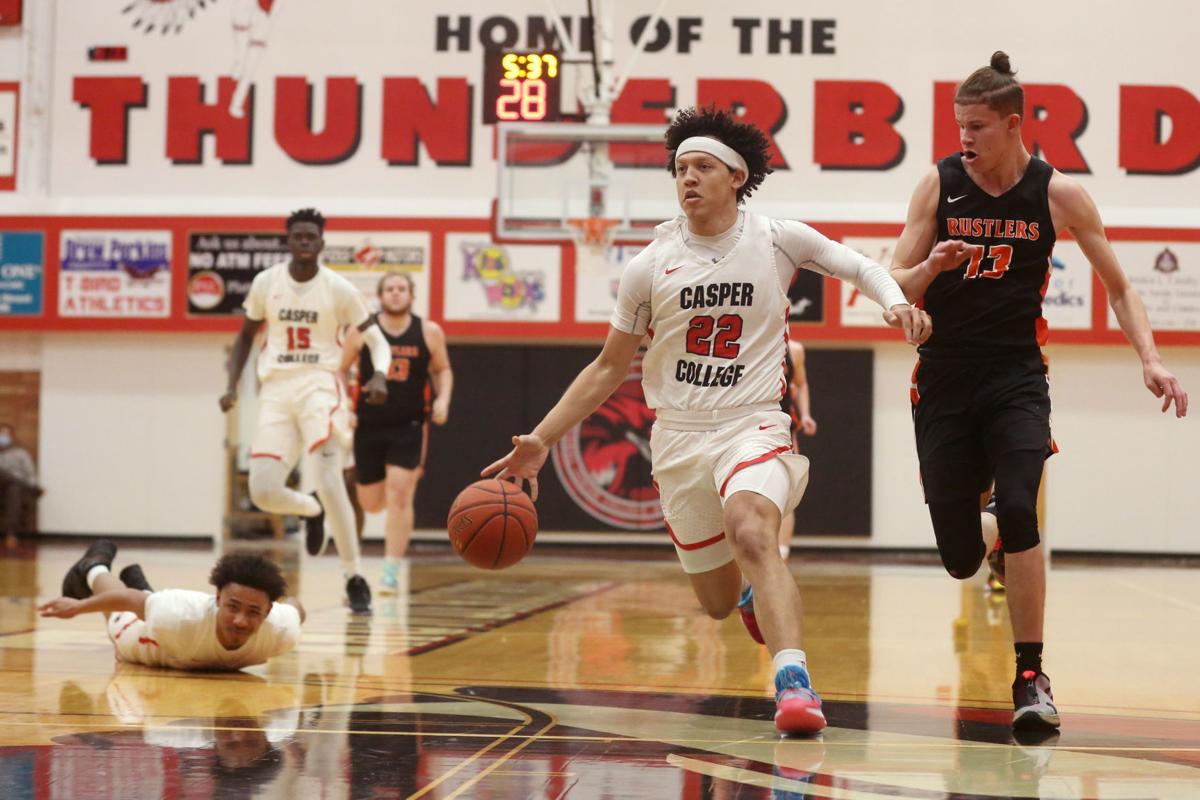 The Casper College men's basketball team knows its next game could very well be its last. The Thunderbirds plan on delaying that possibility as long as possible.
The T-Birds (12-8) already survived one such do-or-die game, defeating Central Wyoming College 95-83 on Saturday in a play-in game for the Region IX Tournament. Their next chance to keep their season alive comes Thursday when they face Northeastern Junior College (12-5) in the Region IX quarterfinals on Thursday in Cheyenne.
"At this point it's up to these guys with how they want to finish this season," Casper College head coach Shaun Gutting said. "We're a team that if we're right and playing together, other teams are going to have a hard time with us. But if we're not we can be easy to beat. That's one of the things I'm excited about because I know it can go in either direction."
The T-Birds had been trending in the right direction, winning five of six games heading into a March 24 home game against Central Wyoming College. The Rustlers ended that momentum with a 98-64 victory, although the T-Birds responded with a 105-89 victory over Northwest College to end the regular season before Saturday's all-important win against CWC.
"We still have the same hunger and we definitely have a chip on our shoulder because we have something to prove," redshirt freshman guard Davion McAdam said. "A lot of people are counting us out, so we're trying to prove a point that Casper College is still the best team in Region IX."
The T-Birds will be without leading scorer John Hart (16.7 points per game) on Thursday, although he is expected to be back with the team if it advances. But they do welcome back sophomores Traizon Byrd (14.5 points per game) and Dion Ford (9.0 points and team-leading 6.3 rebounds per game) back after their recent two-game suspension. Those two, along with sophomore guards Trey Boston (15.6 points) and Dathan Satchell (10.9) and sophomore center Peter Turay (7.8) and McAdam (7.3) will be expected to pick up the scoring slack in Hart's absence.
Casper College and Northeastern JC split their two games in the regular season, with the T-Birds winning 81-77 on Jan. 28 and the Plainsmen prevailing 78-64 on Feb. 10. The T-Birds, who average 90.2 points per game, are at their best when they can push the pace. Gutting knows that won't be easy against the Plainsmen, who allow just 69.3 points per contest.
"They don't give up easy baskets and that's why they've been able to grind out wins," Gutting stated. "This is a team that is not going to let us run, so we're going to have to match their intensity if we want to grind out a win."
Leading the attack for NJC is 6-foot-6 sophomore guard Dalton Knecht, who has already signed with Northern Colorado. Knecht is third in the nation in scoring at 22.9 points per game. He had 34 in the Plainsmen's win over the T-Birds earlier this season.
"It all starts and finishes with him," Gutting said. "He's the catalyst for their entire team, but everybody else is really tough and fits their roles well, which makes them hard to beat."
The T-Birds like to think they're a tough out as well. They know a season of ups and downs comes down to this weekend.
"We've got three more games to show we've got what it takes to win a championship," McAdam said.
Follow sports editor Jack Nowlin on Twitter @CASJackN