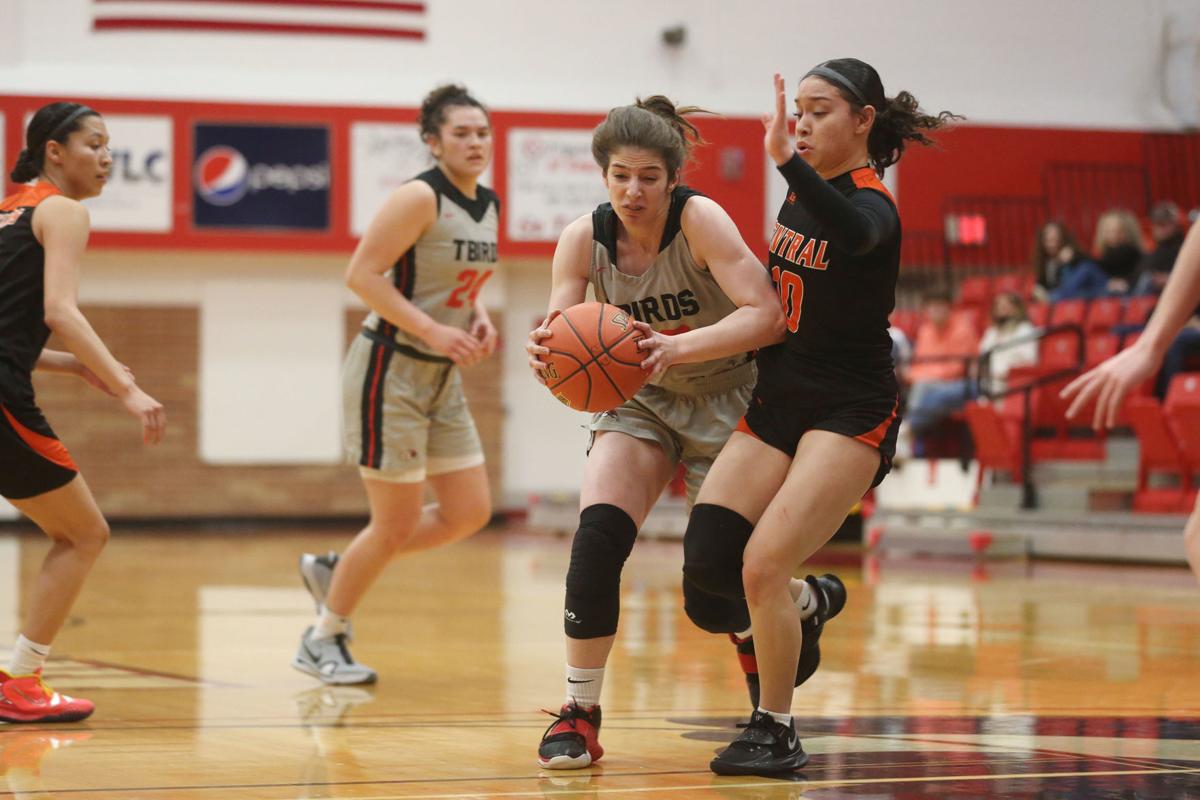 The Casper College women's basketball team enters this weekend's Region IX Tournament in La Junta, Colorado, as the team to beat. The Thunderbirds (20-0) were ranked No. 3 in the National Junior College Athletic Association's final regular season Top 25 and have won 35 consecutive games dating back to last season.
The T-Birds face Northeastern Junior College, a team they have already defeated twice — 78-39 on Jan. 11 and 95-43 on Feb. 11 — this season, in Thursday's quarterfinals. A win would likely pit them against No. 15 Western Nebraska Community College in the semifinals, with host and South sub-region champ Otero Junior College the favorite to emerge from the other side of the bracket.
Don't expect the T-Birds to look too far ahead, though.
"Our mindset has to be to win Thursday," Casper College head coach Dwight Gunnare said, "and then win Friday and then win Saturday."
At stake is a trip to the National Junior College Athletics Association Division I Championship later this month in Lubbock, Texas.
"We have a big target on our backs and everybody wants to take us down," sophomore wing Kammie Ragsdale said after a recent practice. "Teams aren't just going to roll over and let us win. We have to fight like dogs and cats to get it done."
The T-Birds have been in this position before. Like this year's team, the 2011-12 team entered the Region IX Tournament as the North sub-region champs and ranked No. 3 in the nation.
That season ended in disappointment, however, when Northeastern JC upset the T-Birds in the Region IX semifinals to deny them a trip to the NJCAA Championship. At the time, only teams that won their regional championship qualified for the national tournament. Since then, however, in addition to the regional champs, eight at-large teams also are invited.
So even if the T-Birds fail to win the Region IX title, they have a good chance of finishing the season in Texas. Gunnare insisted the players haven't even talked about that option.
"We've got something in our back pocket," he said, "but if we're counting on that … sometimes those things get taken out of your back pocket. The only comment is on winning the tournament. We always want to win the game we're playing."
The T-Birds have done that in mostly impressive fashion all season.
Casper College is one of the top offensive teams in the nation. It leads the country in field-goal percentage (47.2%), is second in 3-point shooting percentage (41.3%), third in free-throw percentage (75.5%) and fifth in scoring at 84.5 points per game.
"All of us are shooters," Ragsdale said. "Once we get hot, we're hot."
Ragsdale and fellow sophomores Natalia Otkhmezuri and Kobe King-Hawea were all named to the All-Region IX North team on Tuesday. Freshman guard Joseana Vaz was selected to the all-defensive team.
The 5-foot-11 King-Hawea, who has already signed with the University of Texas, leads the T-Birds in scoring (15.4) and rebounding (6.3) while the 5-8 Otkhmezuri averages 15.1 points per game and shoots 52.5% from behind the arc.
The T-Birds have plenty of other options. Vaz (9.9 points per game), freshman guard Sofie Hauge (8.9), Ragsdale (8.3) and freshmen bigs Belen Morales Lopez (7.6) and Kate Robertson (6.0) have all had double-digit games this season.
"This team is pretty loaded and we don't have anyone that other teams can really pick on," Ragsdale said. "Even if you shut down one of us, there are four others that can shoot and score. All 12 of us can contribute.
"It's fun to have that depth and still have that same intensity. There's no drop-off because we hold each other accountable."
Defensively, the T-Birds are allowing just 51.4 points per game (No. 5 in the nation) while limiting opponents to 24.2% 3-point shooting (No. 11).
If the T-Birds finish as Region IX champs for the third time in four years there's a good chance sophomore guard Marija Bakic could be back in the rotation. The 5-9 Bakic started the first 11 games, but has been sidelined with a foot injury since late February.