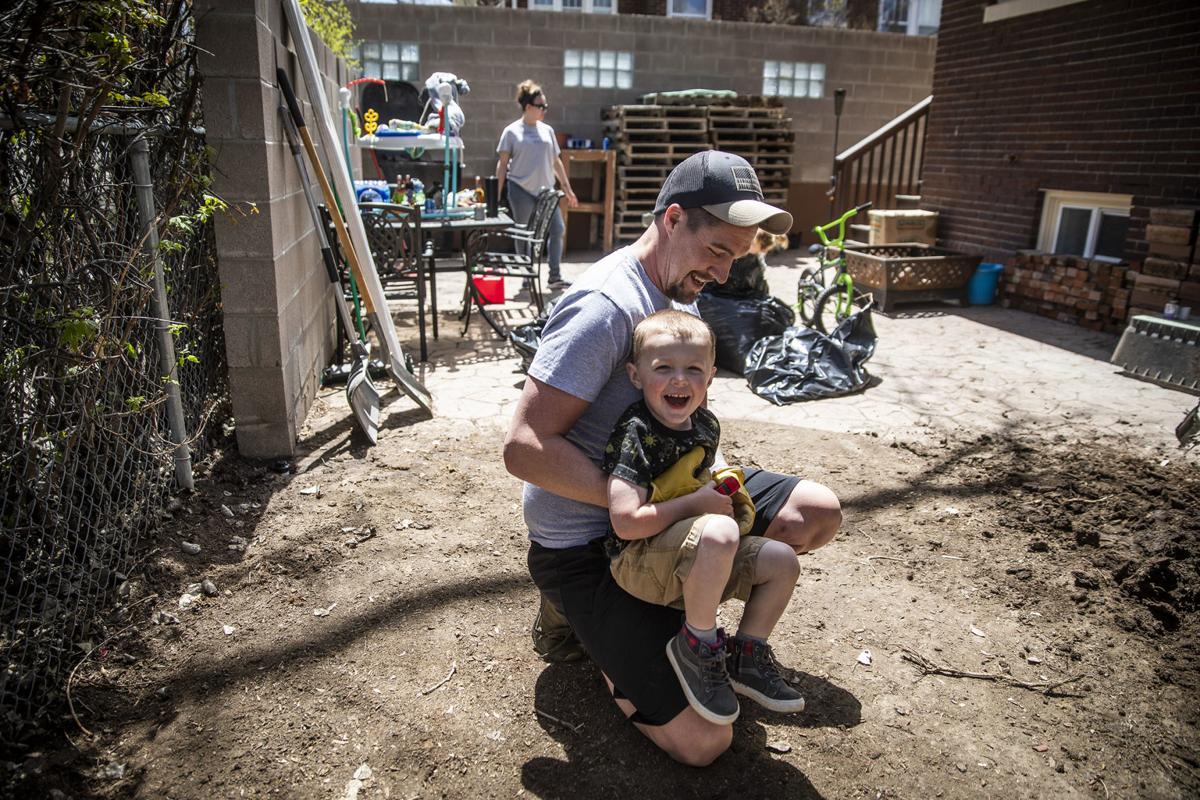 From his living room couch, Jake Carlson can see trees speckling his neighbors' yards. He can watch friends walk up his brick stairs and cars crawl down his suburban east Casper street.
His couch once rested against the bottom frame of the living room's four windows. When he sat down to watch TV, he did so with the street at his back. It is a quiet street in a quiet neighborhood and carries little traffic, but it is a street nonetheless. When car doors slammed, he'd crane his neck to look.
Not nervous, he says, just distracted.
This winter, after months of slammed car doors, Carlson hauled the couch away from the windows. He had pushed it halfway across the living room's carpeted floor when his wife, Tiffany, came upstairs to discover his interior decorating decision.
It was the latest in a series of changes the 28-year-old retired cop has made as he adjusts to civilian life a year removed from a shooting that nearly killed him.
When he wants to see out the window now, he doesn't have to turn his head.
On May 6, 2018, Carlson pulled into a parking lot about two miles from his idyllic home. It was midway through his last patrol shift.
He walked down a steep hill to assist Officer Randi Garrett on a traffic stop. When Carlson tried to grab the vehicle's owner, David P. Wolosin, 38, by the forearm, Wolosin drew a gun and shot Carlson four times. One of the 9 mm rounds tore through Carlson's external iliac artery, the vessel responsible for supplying blood to his leg.
Carlson returned fire and wounded Wolosin, who continued to shoot at the two officers as they ducked behind the car's wheels. Garrett rose from behind the front wheel of the car, shooting and killing their attacker.
Paramedics rushed Carlson to Wyoming Medical Center, and in the days following, he received more than 100 units of blood and blood products. His heart stopped multiple times on an operating room table. He spent more than a month in the hospital.
Carlson returned to work that fall before announcing his retirement in an early January email to the department. Physical and psychological challenges contributed to his decision.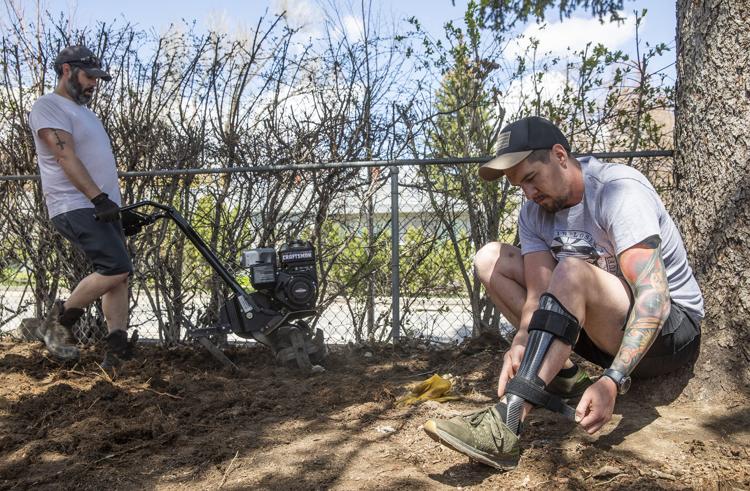 In a series of interviews last week, Carlson told the Star-Tribune the shooting still marks his life. He's struggled with vigilance bordering on paranoia, irritability and isolation at times. He knows the injuries he sustained will limit his life expectancy — he said he'll be happy if he lives to 60.
But it's not all bad: he's in his late 20s and retired. He'd expected to mourn the loss of his job, but he doesn't. He's still close with friends from the police department. And — despite the sometimes challenging aspects of his psychological recovery from the shooting — he's found a different perspective as he builds a new life.
"If I could go back and undo it, I don't know if I would," he said Tuesday. "Although there is a bunch of heartache and crappiness involved with it, I think, ultimately, it has improved our lives."
On Thursday, Carlson crouched on a concrete garage floor, stripping black paint off cabinet doors. A friend from the police force had recently bought a house and Carlson owed him a few favors. As he worked, Carlson's son, Zane, tried to dig a cinder block out of a nearby dirt patch.
The retired cop's posture did not give away the back injuries doctors have been treating with cortisone shots. He's been diagnosed with degenerative disk disease. Doctors have identified herniated disks in his spine.
He hasn't yet had surgery to correct the problem, but he said doctors have told him it's only a matter of time. The medical professionals couldn't pin the origin of his back problems down to the shooting; it may also be related to time spent jumping out of U.S. Army planes and rucking packs in Afghanistan before he joined the Casper Police Department.
The troubles with his vertebrae are the latest in a litany of challenges he's encountered since doctors discharged him after the shooting. He and Tiffany, who works as a sheriff's corporal at the Natrona County Detention Center, are trying to conceive a child but have thus far been unsuccessful, likely as a result of injuries Jake Carlson incurred when he was shot in the pelvis.
Although he received an outpouring of support following the shooting, not all of his newfound local fame has been entirely positive: when he spotted someone following him through Walmart, the Carlsons left their groceries behind and started shopping at a new store.
You have free articles remaining.
Last fall, when he was working for the police department, Carlson walked to the edge of a crosswalk and waited. It was in keeping with his typical routine at the time: wait until traffic had passed before stepping into the street. He couldn't shake the idea that a driver would accelerate and run him down. He hadn't been hit by a car before and it didn't seem like a sensible concern to him. But investigators haven't identified why Wolosin shot him, either.
The driver stopped and waved him across.
An initial aversion to seeking help for his psychological symptoms kept him out of counseling following the shooting. With Garrett's encouragement, he began seeing a counselor, whom he now checks in with on a monthly basis.
A series of changes to medication resulted in hives and lockjaw, but he's more than a month into a new prescription, which thus far hasn't bothered him. It's helped relieve some of the nervous apprehension he'd encountered when going outside. The irritability he felt while driving is gone, too. Crosswalks aren't a challenge.
The medication and counseling aren't solely responsible for the change, he says. Part of it comes with leaving behind the daily stress of work. Waking up to an alarm. Getting in on time. Planning time off.
He hasn't left the work behind entirely, however. Carlson now works on a contract basis for three local law-enforcement agencies — including the Casper Police Department — to help investigate the backgrounds of potential hires. Much of his free time is spent caring for his son, whose custody he shares with the boy's mother, and maintaining his home.
"All my friends call me Suzie Homemaker now," he said. "It's not bad."
Tiffany Carlson was concerned following the shooting that her appearance alongside her husband in the media would make her an easy target for incarcerated people trying to get a rise out of a jailer. That hasn't been the case. She said inmates are frequently familiar with the shooting and often sympathetic.
At work, she said, she's become more effective — more patient and understanding. And when she waited and watched nurses and doctors restore her husband to health, she started to see how much of it was out of her control.
"Me of all people understands that, you know, (stuff's) going on in life," she said. "And it's not always fun. And it's not always easy."
Her husband has come to a similar conclusion, but from a different perspective. When he headed over to his friend's house, prepared to strip paint from cabinets, he nonetheless described it as a vacation. He's playing with house money now.
"I've kind of taken on a new perspective of like: it can change in an instant," he said. "Tomorrow's not promised. I try to enjoy everything — and every day — that I can."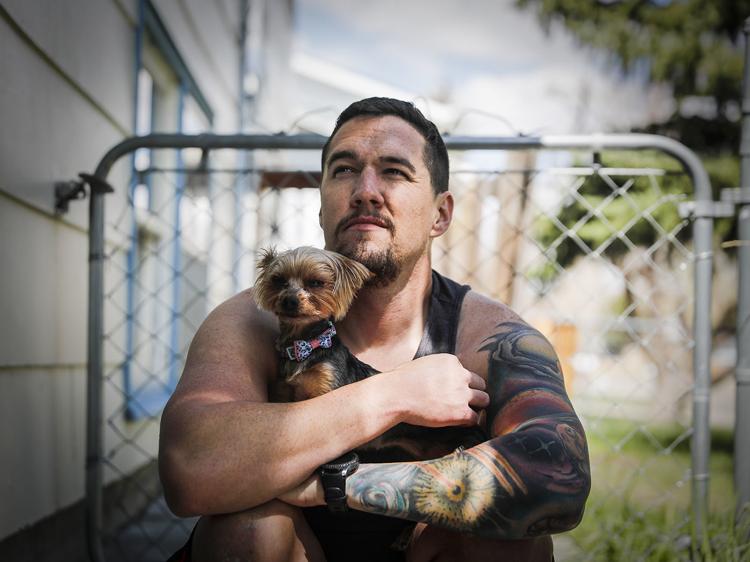 When Carlson got out of the Army, he had a hard time leaving the uniform behind. It's part of why he joined the police department. He signed up in 2015 expecting to serve for two decades, which under more typical conditions, is when a police officer becomes eligible to retire. Carlson, as a result of his injuries, took a medical retirement instead.
When he made the decision, he steeled himself for the possibility that he would have trouble adapting to a life outside of uniform. The change hasn't been as rough as expected — in part, he thinks, because of his connections with friends still in the department and his contract work. His three years on the force, meanwhile, pale in comparison to officers who've done police work for decades and have become more accustomed to police life.
"I think it makes it easier because I'm so young," he said. "I thought it would've been harder than it has been."
Friday, Jake and Tiffany — who had the day off work — visited family in central Casper to help with yard work. By mid-afternoon, the yard had been tilled. Jake and his brother, Aaron, stained a wooden tabletop, before taking turns pummeling it with a chain to impart a weathered look. Dogs did a lap around the patio before Jake took a moment to chat from a lawn chair.
Then the brothers got in a pickup, setting out in the sunshine for topsoil and more stain.
Carlson's retirement is constrained by certain conditions, including that he not take a full-time job. And he's not making any drastic changes just yet. The Carlsons said they plan to stay in Casper. They're looking at rescheduling their wedding ceremony, which had been set for about a month after the shooting and was thus postponed, for early next year. They'll keep trying to have a kid. And they'll visit Washington for national police week.
Aside from that, Jake Carlson doesn't have many hard and fast plans. He'd still like to open a Dunkin' Donuts, but he's in no hurry. He's got a whole life ahead of him.
Follow crime reporter Shane Sanderson on Twitter @shanersanderson
Be the first to know
Get local news delivered to your inbox!