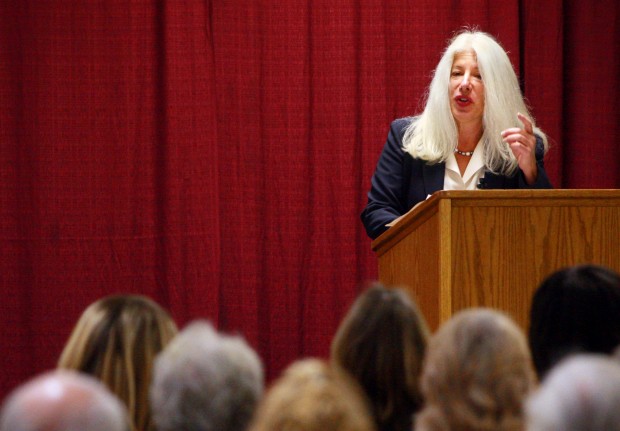 Casper resident Michelle Starkey emailed Rosa Koire after watching the California-based author and anti-U.N. Agenda 21 activist speak in YouTube videos.
"I sent her her airfare and asked her to come out," Starkey said.
And while lambasting smart growth and sustainable development as cogs in a wheel of government manipulation, Koire was met with spontaneous standing ovations and outbreaks of applause from the crowd of about 100 at the Parkway Plaza Hotel and Convention Center one Saturday night in October.
"We have been manipulated throughout our entire lives," Koire said during her visit to Casper on Oct. 27. "Throughout our childhood, throughout our schooling, throughout our media."
At play here, Koire says, is Agenda 21 — a non-binding United Nations agreement signed in 1992 by nearly 200 world leaders, including then-President George H.W. Bush. Agenda 21 supports sustainable use of natural resources and town planning as responsible policies for a population-heavy 21st century.
Where expert planners see economically and environmentally sound policies like comprehensive land use planning and streets complete with avenues for driving, biking and walking, Koire sees underhanded government orders standardizing the world to make it easier for an impending takeover.
Among the planning techniques rained on in Koire's lecture was the comprehensive plan, a common planning practice for cities nationwide. Koire decried a comprehensive plan as a "living document."
"That's a scary term. It means it can change at any time. It's a communitarian document," Koire said.
But Casper Planning Division planner Craig Collins sees neither malice nor sneaky government directives in Casper's Comprehensive Land Use Plan, which is actually due for a makeover soon and will involve public opinion from the get-go, he said.
"When we do our comprehensive plan updates, there's an extensive public process. I'm guided by public input from the beginning, if I'm doing my job correctly," Collins said. "[Planning] is not a one-size-fits-all approach. What works in San Francisco or New York doesn't necessarily work well in Wyoming. ... Balancing the community's interest with the private property rights is always the biggest thing."
As stewards of taxpayer dollars, planners "have a responsibility to manage growth to be fiscally responsible to our taxpayers," Collins said.
And because costs of providing law enforcement, emergency and road services increase the farther a person lives from the county seat or city center, rural living is simply more expensive, Collins said.
"Where people get confused on the Agenda 21 side is that they think we're trying to make everybody live that [urban] lifestyle. As a planner, we're not saying you can't live that [rural] lifestyle or have that acreage in the county. All we're saying is, that doesn't pay for itself."
Vice Mayor and City Councilman Paul Meyer was in the audience at Koire's speech, as were Natrona County Commission candidates Troy Bray and Linda Bergeron, school board candidate David Blaede and city council candidate Daniel Sandoval.
As the only elected official present, Meyer said he went to "hear their side," and because he thinks elected officials should be vigilant in keeping up on public opinion.
"My perspective, from where I sit, is development is going to occur," Meyer said. "I think it would be no fair to our citizens to not be engaged and try to make the best development we can."
While Meyer said he does not buy Koire's argument that urban planning trends these days come from a government greedy to control its citizens' lives — "I don't think Wyoming is under the influence of this federal thing they talk about," Meyer said — he did share the crowd's distrust of federal activity.
"We trust each other out here in Wyoming," Meyer said. "I don't have that same kind of trust for the federal government."
Fear of government infringement was palpable, but mostly ungrounded, at the Parkway Plaza Hotel. Besides references to Casper's recently proposed smoking ban as infringement on personal property rights, no real present-day threat from Agenda 21 was identified at the meeting. Conversation during a question-and-answer session after Koire's presentation drifted quickly to cameras installed in high-density downtown areas, Huxley-esque scenarios of population inventories and a general distrust of change.
"We're as concerned about Casper as anybody else is," Starkey said, adding she is a taxpayer "just concerned about where our taxes are going."
She collected donations at the back of the conference room that night, to help pay for Koire's plane ticket home.
Reach county reporter Leah Todd at 307-266-0592 or leah.todd@trib.com. Follow her on Twitter @leahktodd.