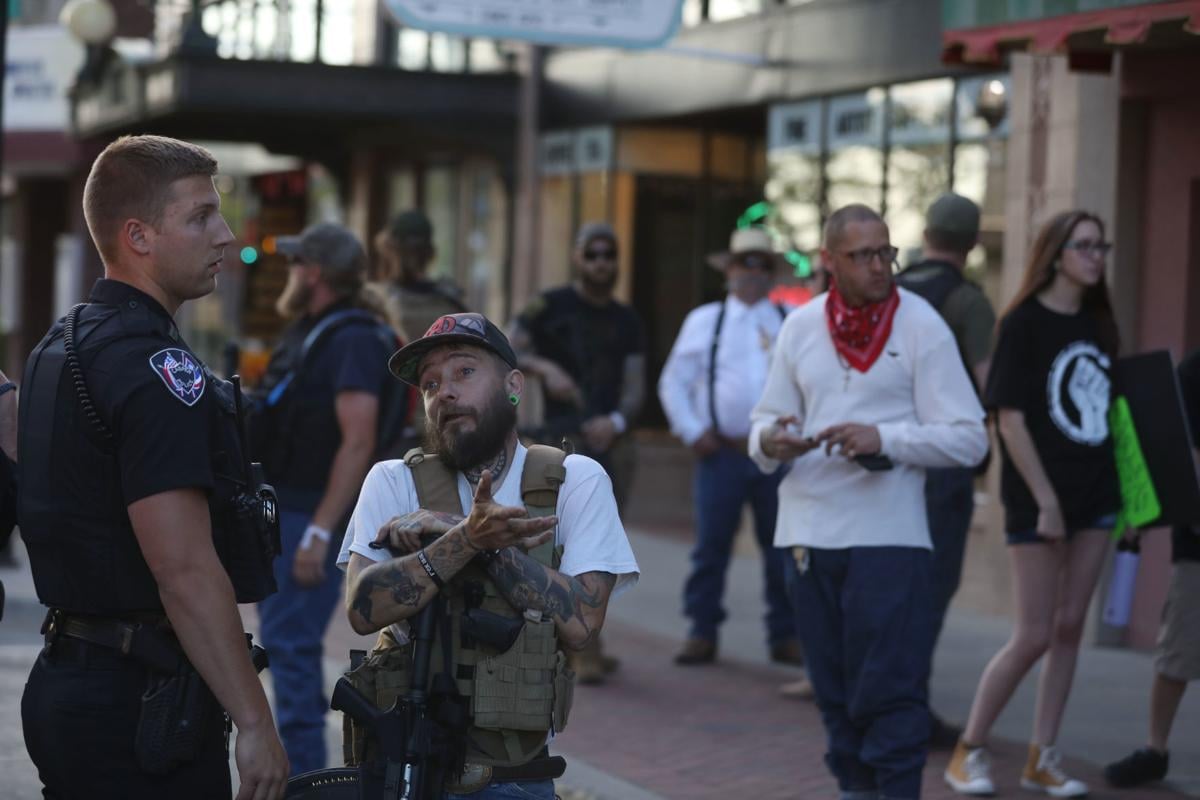 Casper saw multiple demonstrations against racism and police brutality last week, part of a movement of protests across the U.S. spurred by the police killing of a handcuffed black man in Minneapolis. Hundreds of Casperites marched through downtown Wednesday and Friday in solidarity with the national movement.
After the demonstrators went home each night, groups of armed men stayed to patrol Casper's downtown. They said they were there to protect private property given how protests in other cities had escalated from peaceful marches to businesses being broken into or set on fire.
The groups dotted nearly every intersection down the west part of Second Street, one of Casper's central roadways. The men openly carried a variety of firearms.
Casper City Council member Mike Huber took issue with the armed men, saying Tuesday during a work session that the presence of the armed men was a "smudge" on the event and that he felt the armed men were there to intimidate, adding, "The only thing I felt I needed protecting from was them."
Casper Police officers were present both Wednesday and Friday during the demonstrations, department spokesperson Rebekah Ladd said. Officers were also stationed downtown Wednesday and Friday evenings. Officers did intervene to deescalate verbal altercations between armed residents and other parties, Ladd said, adding those instances were resolved peacefully and no citations or arrests were made either night.
The Star-Tribune spoke with Natrona County District Attorney Dan Itzen to answer a handful of questions regarding Wyoming's laws governing the carrying of firearms in public.
What is open carry?
Open carry refers to the act of carrying an exposed weapon in public, Itzen said. It could be a handgun in a hip holster or a long gun strung across a person's chest. "Open carry" is not, however, a legal term in the state of Wyoming, meaning the term itself is not used nor defined in any state statute.
How is it different from concealed carry?
Concealed carry is the act of carrying a hidden firearm on your person. Itzen said under Wyoming's current statute, there is not a marked difference between concealed carry and open carry.
Do you need a permit?
You do not need a permit to carry a firearm in Wyoming, regardless of whether the weapon is exposed or concealed.
That said, residents must still be legally allowed to carry firearms under other laws. So, for example, the resident must still be 21 years or older and they can't have been convicted of a violent felony, even without a permit, as those are requirements laid out in other areas of statute.
If you don't need a permit, why are permits still issued?
Itzen named two primary benefits to having a concealed firearms permit. Permit holders are able to lawfully carry a concealed firearm in states that have reciprocity with Wyoming — meaning they've agreed that a permit in one state is valid in the other. Wyoming has reciprocity with more than 30 states, though some of those states impose restrictions on out-of-state licenses.
A permit also makes the process of purchasing firearms smoother, Itzen said. A permit exempts the holder from the federal background check requirement to purchase firearms, as the permit holder would have fulfilled the background check requirement when issued the state permit. That said, Wyoming does not require background checks to purchase firearms, so this only applies to federally licensed sellers.
Can anyone carry a firearm in public?
There are restrictions in Wyoming's concealed firearms law limiting the issuance of a permit to those who meet certain criteria.
To be issued a permit, a person must be at least 21 years old. They must be physically able to handle the weapon and they must be able to demonstrate a familiarity with the weapon, either through certifications or membership in a firearm club or the military.
Those who have been convicted of controlled substance violations or those who have been committed to rehabilitation facilities for controlled substance use face more restrictions when it comes to being granted a permit.
To be clear, you do not need a permit to carry a firearm in public, though if you are not at least 21 years old, or if you are a convicted felon, you are still not legally able to carry a weapon, regardless of the permit laws.
There is not a law that specifically addresses open carry in Wyoming. Itzen said there is no real difference in law between concealed and open carry in the state.
Are there laws about how people must handle their weapons while carrying them in public?
Yes and no. There are laws that govern behavior with a weapon. Itzen said someone behaving recklessly with a firearm could be considered criminally liable and charged with aggravated assault, as an example.
The statute that covers concealed carry specifically, however, does not impose many guidelines on behavior while handling a weapon, other than specifying areas where firearms are not allowed.
Itzen said it would be difficult to deem specific hypothetical situations legal or not.
He said almost every case is going to vary based on the facts of the situation, and so would be difficult to predict without knowing every detail of a case, which would happen through a law enforcement investigation.
"I don't think you can simply say, 'Here's a set of hypothetical facts. What's the answer?'" he said. "Every case is different, and it may be different in minuscule ways or it may be substantially different."
He said the charges in a specific case would fall to the discretion of the law enforcement officers who investigated it.
Many of the armed men patrolling Casper's streets last week said they were there to protect private property. What would have to take place to legally allow them to open fire?
Before a gun can be used in self-defense, Itzen said, a person has to be in fear of death or serious bodily injury.
He reiterated that it would be difficult to offer a legal opinion on a hypothetical because minuscule changes in the facts of a case can dramatically alter its trajectory.
However, property damage alone would not meet the standard for a self-defense argument.
Itzen said Wyoming's stand your ground laws, which address the use of firearms in cases of self-defense, have proven complicated in the courts. The only example he could offer for when it would be clearly lawful to fire a weapon at another person would be for the preservation of human life. State statute allows for the use of "deadly force" to prevent "imminent death or bodily injury" to themselves or another person, though the law contains a slew of caveats and legal considerations.
Are firearms allowed everywhere in Wyoming?
No, there is a list in statute clearly defining areas where firearms are not allowed.
Those areas are: law enforcement facilities; detention centers, jails or prisons; courtrooms; government meetings, including those of the state Legislature or its committees; and educational institutions, though there are stipulations in the law that allow firearms in some academic locations.
Where can you find more about open carry law?
Follow local government reporter Morgan Hughes on Twitter @morganhwrites
Be the first to know
Get local news delivered to your inbox!