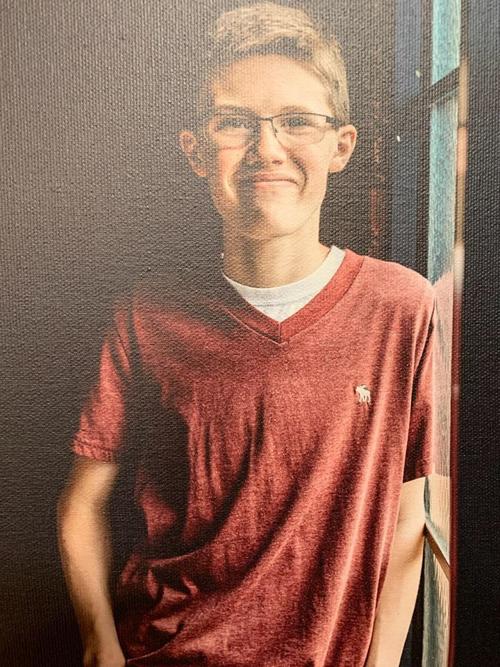 Authorities plan to continue their search for a Natrona County teenager who went missing five days ago, but asked volunteers to coordinate with officials before assisting in the effort.
An official with the Natrona County Sheriff's Office made the statements during a Friday morning news conference at the Hall of Justice in downtown Casper. Investigator Taylor Courtney's comments came one day after the boy's family asked on social media for volunteers to join in the search.
The missing child, Joseph "Joey" Peterson, 16, walked away from his family's home in the southeastern part of the county shortly before midday Sunday, just before a winter storm hit the area. So far, authorities have searched 228 square miles in rural southeast Natrona County.
"This is a search because we're trying to find Joey alive," said Natrona County sheriff's investigator Taylor Courtney. "And that's what we want to do."
Witnesses and trackers confirmed the direction that Peterson left home, the sheriff's office said. Investigators say they have not found any evidence to suggest the teen could have been abducted.
"To date we have investigated every lead that has been reported and we will continue to do so," Courtney said.
You have free articles remaining.
Authorities said they would respect the family's interest in recruiting volunteer searchers. However, Courtney said, those volunteers will be required to coordinate through a mobile command post in the area. The sheriff's spokesman said it was important that volunteers respect private property rights as they look for the boy. Coordination would also ensure any scents that police dogs might pick up aren't being interfered with and that nobody gets lost or goes missing while looking for the child.
Peterson has blond hair; is 5 feet, 9 inches tall; and weighs 120 pounds. He was last seen leaving the family house before noon on Sunday, when he wore a red hooded sweatshirt and pajama pants.
Sheriff's deputies were notified of Peterson's disappearance at 12:12 p.m. Sunday and arrived on scene at 12:31 p.m., according to the agency. The criteria for issuing an Amber Alert were never met.
U.S. Department of Justice guidelines state such criteria should include a reasonable belief by law enforcement that a child has been abducted.
Peterson did not leave the home with a cellphone. Authorities say he has high-functioning autism and is not self-sufficient.
On the night and morning following Peterson's disappearance, temperatures were well below freezing and snow fell for hours. By midday Tuesday, temperatures had climbed into the 40s and have fluctuated since.