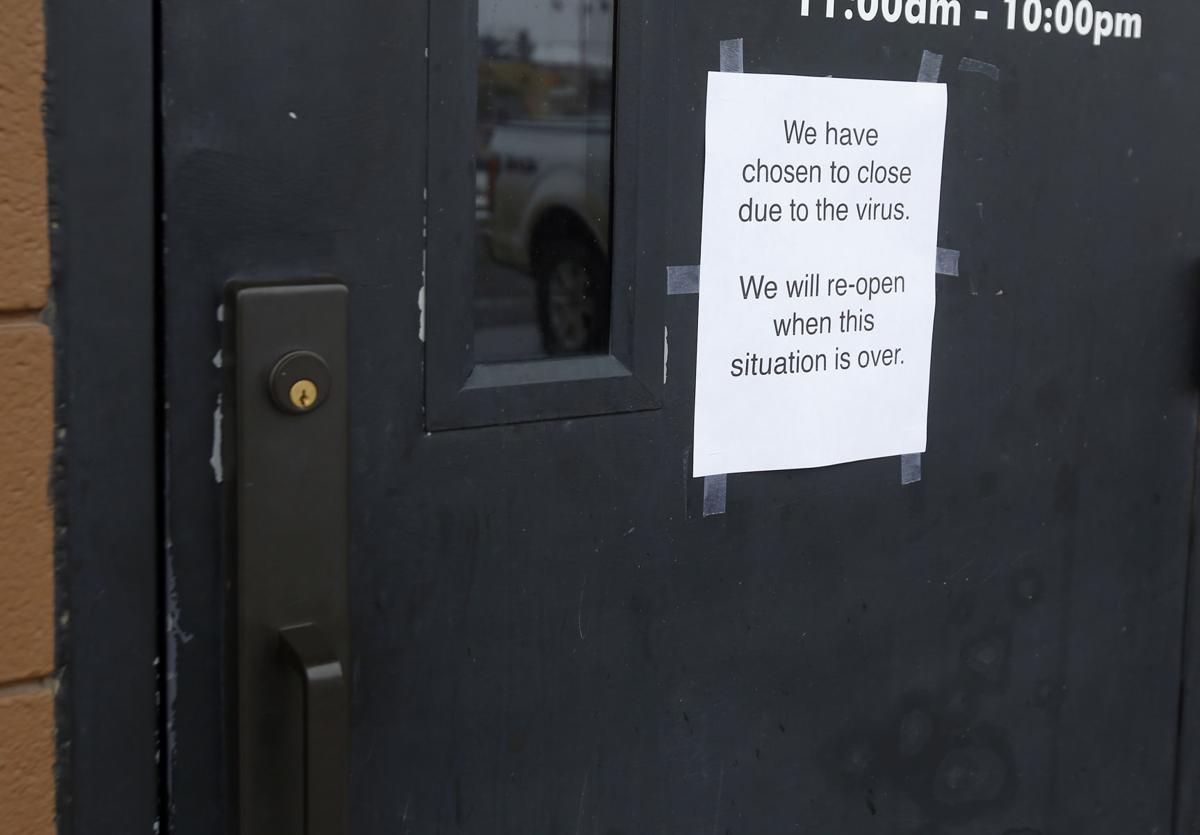 Crystal Borson and her employees unloaded a truckload of food on Monday, meant to stock the Philly's Steak N' Company restaurant located inside the Beacon Club in Mills.
What she'll do with the goods now, she can't say.
"I didn't foresee this happening," she said. "So I'm sitting on a lot of product."
Gov. Mark Gordon issued an order Thursday closing bars, gyms and most other communal spaces across the state of Wyoming through April 3, a response to the spread of coronavirus across the U.S.
In his announcement, Gordon wrote, "These are hard measures and they will be difficult for employees and businesses alike, but they are warranted."
The measure is meant to limit the spread of the virus, and hopefully reduce the burden on the state's health care system as providers work to treat the sick. The effort also follows guidance from national and state health officials, who have urged social distancing in recent weeks.
But while many local businesses say they understand the need for the unprecedented action, they worry for their employees, and for their businesses' ability to bounce back after the closures are lifted.
While restaurants are still able to operate, they've been limited to curbside pick-up and delivery only. No dine-in. Borson's restaurant is inside of the Beacon Club, and with bars ordered closed, she won't be able to keep her establishment going, either.
She said she had already been trying out delivery, using the service Door Dash, but she hasn't been getting enough orders for it to be worth staffing full shifts. She operates the restaurant herself, doesn't have insurance or a large savings to pad lost wages for the next two weeks. And she's particularly worried about her staff.
"We all have kids," she said.
But it's not just the next two weeks that are going to be a challenge for Borson. Her food budget has now been wiped clean, and she isn't sure she'll be able to reopen once the closure requirement has been lifted.
"We're just hoping it goes away fast," she said.
Concerned about staff
John Schmidt is worried, too. But not for his business. Schmidt owns Butch's Bar in Evansville. He said he's lucky enough to have some savings, and knows the patrons will be back once the closure requirement is lifted. But his staff has now been placed in limbo.
"We've got 20-some employees, most of which are single moms," Schmidt said. "I'm going to lose a lot of revenue, but they're going to lose their income."
He said he's planning to supplement those wages as best he can, but worries the closure will be enforced longer than the governor's anticipated April 3 date.
But despite the toll on his business and employees, Schmidt thinks the closure is a necessary precaution.
"We get pretty concentrated in here on Friday and Saturday nights," he said. "My only concern is that April 3 turns into April 30, turns into May 30, turns into June 30."
Gordon's order came suddenly. Dave Wilson, who owns the Hideaway Bar in Mills, was still trying to figure out Thursday afternoon when Gordon's order went into effect.
When the Star-Tribune contacted him Thursday afternoon to hear how he expected to fare amid the announcement, he was on the other line trying to figure out how soon he needed to shut down. He had time to share one anxiety, however.
"All my employees are servers," he said. "They can't get jobs anywhere else, everything is closed."
Gyms have also been ordered closed, and though many around the area have taken on mitigation measures in response to the coronavirus outbreak — sanitizing machines more frequently, for example — few have actually taken the step of closing down, though some, like Casper's Lifetime Fitness, have taken the step of canceling some classes.
Sebastian Quintero, the owner and sole employee of Iron Gym in Casper, said Thursday night while he understood the need for the closures to help protect public health, he said they could impact his ability to pay rent and provide for his family and would likely interrupt the training schedules of his clients — many of whom are preparing for bodybuilding competitions.
"Of course it's going to affect me, even if I don't have employees," he said. "It's my only income. Nobody was prepared for this."
How long?
Kelly Reyes, the co-owner of the Wooden Derrick Cafe in downtown Casper, was in dire straights Thursday afternoon as well.
As soon as she got word of the governor's order, she immediately flipped the sign on the restaurant's front door from "open" to "closed," and began to wonder what would come next. The restaurant has seen its foot traffic decline steadily in the days since the pandemic began to escalate and, throughout the week, Reyes gazed out the window at the slimming crowds and wondered what was next.
In a letter sent to Saudi Crown Prince Mohammed bin Salman on Tuesday, Wyoming Sen. John Barrasso urged Saudi Arabia to "assert constructive leadership in stabilizing the world economy."
"We've already been cutting back some staff as each day came along," she said. "But today's the day I've been waiting for. I just didn't know what was going to happen. But now, it's here, and now, we're not going to see any foot traffic at all."
They will still be able to make some money throughout the two-week closure, switching operations to delivery and curbside pickup until the restrictions end on April 3. But Reyes, who owns the business with her husband, Gabriel, said the impact on her and her eight employees — including three cooks, two dishwashers and several servers — could be substantial.
"It's going to impact my servers, it's going to impact my dishwashers, and it's going to impact our revenue," she said. "We have no idea of knowing how many takeouts we're going to get. That [announcement] just changed some lives right there."
Down Interstate 25 in Cheyenne, businesses were also grappling with the closure order. Laramie County enacted similar measures on Thursday, hours before the state's decision.
Poor Richard's, which saw an uptick in business during the legislative session, experienced an unusual drop in business on Sunday. The restaurant posted on Facebook on Monday that staff had begun increasing cleaning and the next day even advertised openings for all positions. Thursday's decision changed that.
Cassie and Jim Rauzi opened Poor Richard's 42 years ago — 43 in June.
"We've been through a lot of things, but nothing like this," Cassie said. "Made it through blizzards and huge snowfall and everything. Right now it's more important to keep everyone healthy and safe, and that's what we're striving to do."
She said a large portion of her 42 to 50 people on payroll are single parents depending on tips. Only two of them at a time will work with a rotating schedule during the shutdown. Outside of that, Cassie anticipated the kitchen staff will consist only of Michael Rauzi — kitchen manager, head chef and her son — as well as a prep cook and line cook as part of what she described as "a skeleton crew."
Seun Kipennett, owner of Korean House Restaurant, said she was scared for herself, her business and her 30 employees. They'll continue to offer take-out, but outside of that, she has no idea on what to do next.
Crooked Cup coffee shop had also made changes. They had altered weekend hours to 6:30 a.m. to 4 p.m., and owner Eloy Martinez said Thursday they would close earlier if business demanded it. He and his girlfriend operate the business by commuting from Fort Collins, Colorado, and while the situation in Cheyenne has changed significantly, they're also "at the mercy" of conditions in Colorado.
Martinez stated he expected their coffee offerings to remain the same, but their food menu has been condensed due to shortages. In Fort Collins, the grocery stores limit a gallon of milk to one per customer. He encountered no limit in Cheyenne and bought four gallons.
"We need the money, too, and we want to be here for people who need it," Martinez said.
Sheila Dixon is an independent contractor massage therapist who works in agreement with Bellanova Med Spa & Salon. She's seen her clients drop from four or five a day to just one.
Dixon had just started her own massage therapy business. It's been hard to financially develop through this tough time. Thursday's only client pulled up to the storefront as Dixon explained what really worried her.
"I'm certainly less concerned about getting sick than the financial ramifications that will affect me for years to come," she said.
Follow local government reporter Morgan Hughes on Twitter @morganhwrites