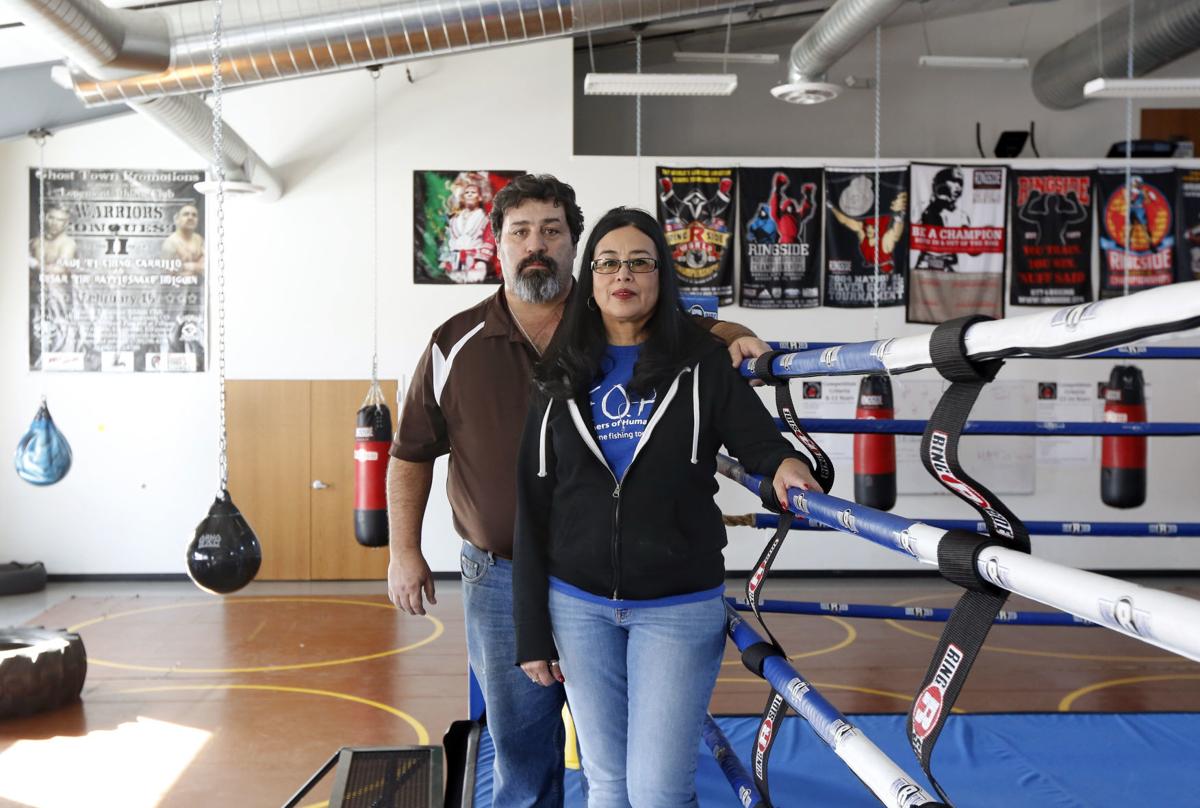 Gloria and Clayton Jensen are directors of the Casper Boxing Club. Clayton has been with the club for 30 years. He was also active in the Boys and Girls Club boxing program, where he boxed for 10 years. "Keeping him out of trouble," Gloria said. "Today, he is a coach and I came in as an administrator when we got married, and now I am a boxing official and coach."
We talked with Gloria about the programs there, who their target members are, and what the future holds.
What keeps you going after 30 years? The youth keep us going and the families. Parents come in and tell us what a difference it's made in their home, how we're impacting their lives. To see these kids actually graduate and move on to college, when we look around, we feel like we've done a good job. Some are business owners now. We can't save them all but we can sure take that little piece and help out.
Where are you located? We've been at 910 Barbara Street, adjacent to the Boys & Girls Club for almost four years now. We are a 501©3 but separate from the Boys & Girls Club.
And you have several programs? We currently have our youth program, Rock Steady boxing, women's fitness, the PAL program and Badges for Boxing.
Describe the overall youth program. We have had some high numbers since January, sometimes 40 kids are in the gym in the evenings. Monday through Thursday, they are here. The youngest might be 7 through 18, both boys and girls.
And Rock Steady Boxing? We are an affiliate of the program that is designed specifically for people who have Parkinson's Disease. They come four mornings a week at 10 a.m., Monday, Tuesday, Thursday and Friday. Right now, we have four adults. The program helps keep their degenerative disease at bay, helps them stay mobile and build muscles. It is a non-contact program.
And there is a women's fitness class? Yes, 6:30 p.m., Monday through Thursday. There is no contact in this class either.
Tell us about your new Badges for Boxing. It's a Police Athletic League national program. It's derived from Badges through Baseball, which is a program from the Cal Ripken Foundation. It's an effort to engage law enforcement with the youth in the community through athleticism, education and different things. The group meets once a week for boxing activities, community projects, food, fun and games.
And you host sanctioned boxing events throughout the year? Yes, we just had more than 15 bouts on Saturday night here, and we will have more coming up, so watch for information on those.
What is your membership pricing? We really believe our prices are discounted for what the youth receives. It's $35 a month for membership, which is up to four nights a week. Our cost is really about $200 per youth. We have a lot of volunteers in different areas throughout the year, as well as helping up put on our events.
For more information on a specific program or to volunteer, visit the Casper Boxing Club at 910 Barbara St. in north Casper, or call 307-259-3243.
Follow community news editor Sally Ann Shurmur on Twitter @WYOSAS
Follow community news editor Sally Ann Shurmur on Twitter @WYOSAS
Be the first to know
Get local news delivered to your inbox!