A mural at the new home of the Casper Children's Theatre will immortalize the faces of local theater figures and their supporters.
That's the vision of the nonprofit's leaders, who want to use the mural to raise funds for renovations to a newly purchased Durbin Street building a few blocks from Stage III Community Theatre.
After the past few years as a theater that traveled around town, the Casper Children's Theatre plans to move for the first time into a long-sought permanent home.
More than 100 faces are available for people to purchase for portraits of themselves, friends, family, heroes and even their theater mentors.
"Even in rehearsals or things like that, we want it to feel like the kids are never playing to anything but a full house," the theater's program coordinator Dominque Simmons said.
Casper illustrator Zak Pullen will create the mural inside the new building on the three walls surrounding the stage. The purchasers can choose their own likeness to appear in the mural or any other real or fictional person, Simmons said.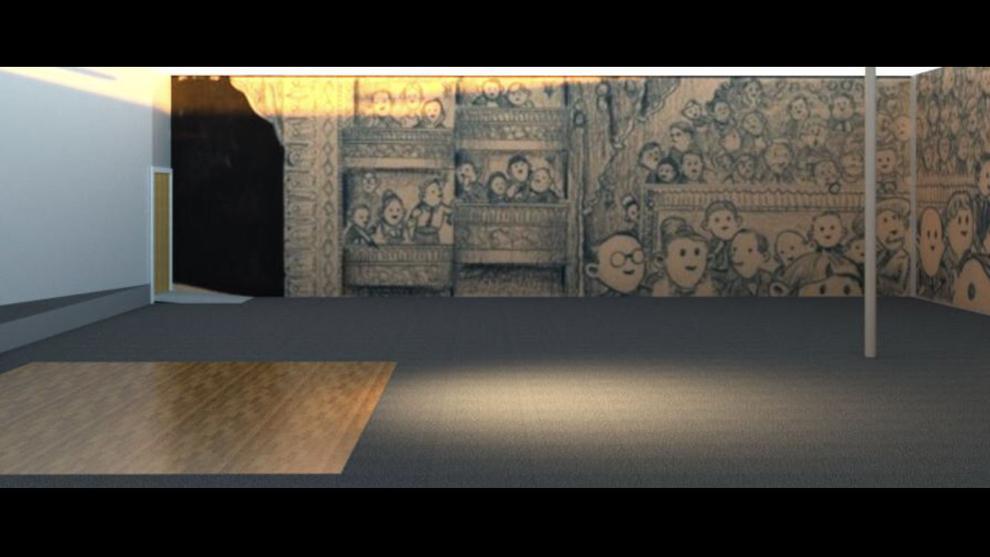 "And we would love as many local faces as possible because we're a community theater," she said. "The children's theater has been around for years and we would love the faces of those who have built the theater community of Casper for years and the ones who are carrying it on now to kind of be immortalized within this mural, so that our community will forever know their faces and know what they've done for us."
Casper Children's Theatre on its Facebook page started a campaign to raise money for portraits of theater teachers Dustin Hebert of Kelly Walsh High School and Zach Schneider of Natrona County High School. The theater leaders chose them because they're most familiar to the theater's participants, and many go on to be their students.
Simmons encourages community members to start their own campaigns for portraits of local theater greats such as longtime Casper College teacher and local theater cornerstone Tom Empey. There are countless possibilities, Simmons said.
"Because anybody who's been a part of theater — whether they're an actor and they're on the back end of it, or whether they have been a patron and been on the front end of it — have somebody in mind that impacted their theater experience. And we want all of those faces to be included in our mural."
The mural is part of the theater's campaign to raise $1 million in the next five years. Other donor options include naming rights for the stage, lobby and concessions stand, according to the theater website. Plans for three phases of renovation include seating, dressing room and restroom modifications and equipment for sound and lighting.
"And we really just want it to be a place that kids feel welcome, whether they are there to see a show or whether they're there to be in a show, when they walk through the doors, they know that this is a place for them to be," Simmons said. "It was designed for them. It was built with them in mind for their entertainment or for their education. Either way, when kids step through that door, they know they belong."
The theater plans to begin rehearsals next month to open the season in the new building with a play never yet performed in the state, "Matilda Jr. The Musical," Simmons said. Registration is open for the play for ages 8-18 as well for other shows for ages 4 to 18.
The new space will allow more workshops and classes, as well as more shows and longer runs of productions, Simmons said.
The theater moved in 2017 from its former home of 16 years rented at the Commissary Mall and has since held classes and performances at rented or borrowed spaces including high schools, the YMCA of Natrona County and NOWCAP Services, Simmons said.
"And because of their generosity and because they saw value in what we were doing, we were able to pursue our own building and move forward on our plan," she said.
Donors can buy a portrait on the balcony for $1,500, one in the mezzanine for $3,500 or one of seven private boxes in the Victorian theater scene, which can feature up to four people for $10,000. Two portraits depicted as ushers are also available for $4,500 each.
"Even if they've never participated in theater, if you are a theatergoer or you are a supporter of the fine arts or you've just lived in Casper your whole life and would like to be remembered in a sense," Simmons said, "this is the perfect opportunity for the community to really make their mark and make an impact."
Follow arts & culture reporter Elysia Conner on twitter @erconner