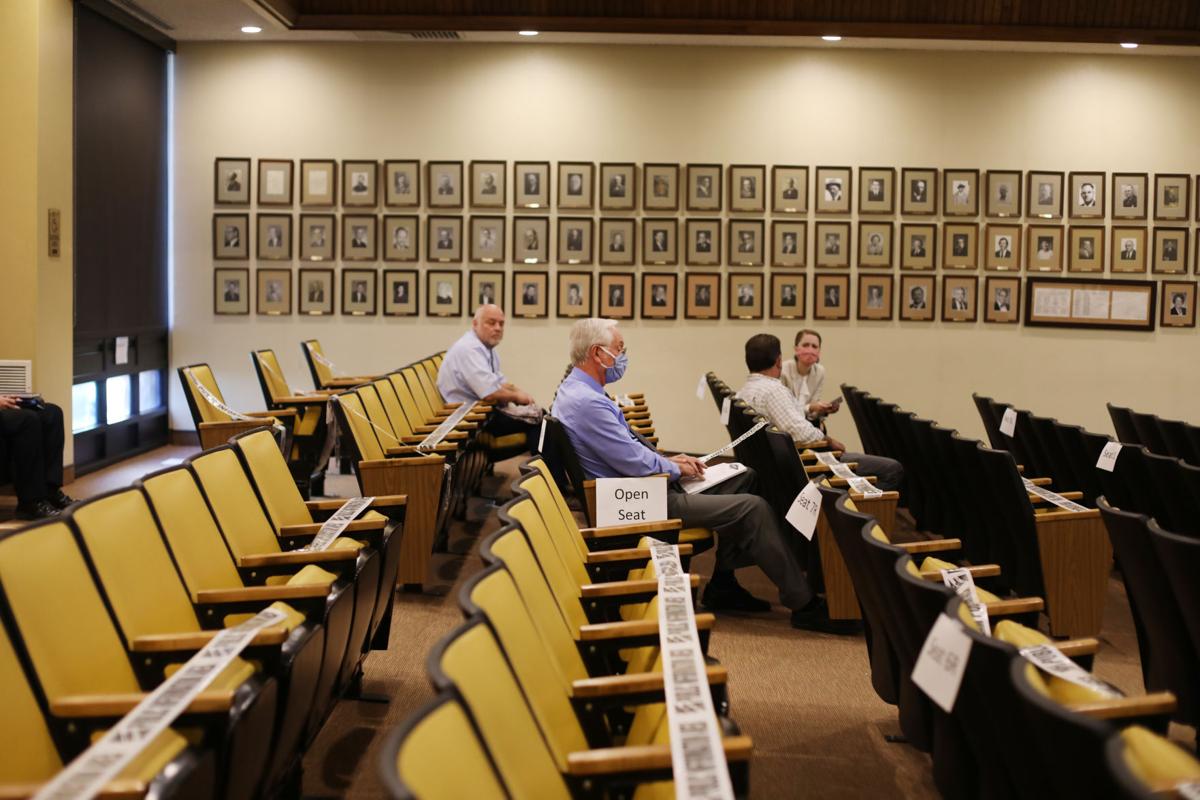 One thing is certain—the Casper City Council is in for a shakeup. Five of the council's nine seats are either open or vulnerable this election, meaning several new faces could soon be coming to the city's governing body.
Questions ranged from asking candidates' opinions on a local, special purpose sales tax, to their thoughts on police accountability in light of conversations that occurred across the U.S. this summer. Candidates also discussed their thoughts on city projects and spending, and how they would balance representing their ward and the city as a whole.
Candidates were given a minute each to answer questions, which proved insufficient a handful of times during the night. Still, the forum provided a glimpse into how each candidate would approach the job if they were to be elected.
Ward I
Four people are running for two open seats in Casper's Ward I. Three of those candidates were present for Thursday's forum: Amber Pollock, Gabriel Phillips and Margaret Bloom.
Pollock led Ward I in the August primary, collecting nearly 33% of the vote. Bloom came in second with 24%. Bruce Knell Jr., who did not attend Thursday's forum, came in third, and Phillips came in fourth in the primary.
In their responses to questions Thursday, Ward I's candidates distinguished themselves from one another in a few key areas, but also shared similar visions for the city. All three candidates touched on the need for the city to be diligent in its budgeting and conservative in its spending as Casper, and the state, face stark economic declines.
Pollock said she brought a younger perspective to the table. She said members of the council should have more of a digital presence to represent the community to outsiders searching Casper online.
Bloom and Phillips both said they were passionate about protecting the civil liberties of residents in light of restrictions imposed around the coronavirus pandemic. They both also said the city should spend less money.
Bloom said if the council promoted more volunteerism it could address a handful of city concerns without requiring more dollars being spent.
Phillips and Pollock both said they understood the need for municipalities to tax themselves, an initiative recently passed by the Wyoming Legislature. Both also said the police department could be an area where the city could save money by evaluating the duties of the department and identifying ways those duties could be offset by others in the city—such as nonprofits.
Ward II
Four people are running for two open seats in Casper's Ward II, all of whom were present Thursday. Those candidates are: Kyle Gamroth, Lisa Engebretson, Ken Bates and Edis Allen.
Gamroth led the Ward's primary, winning nearly 31% of the vote. Engrebretson came in second with just under 22% of the votes. Sitting council member Bates came in third, and Allen came in fourth in the primary.
The Ward II candidates offered a significant diversity of thought. Allen and Engebretson are small business owners, Gamroth is a young professional and Bates has already served one term on the council.
Both Engebretson and Allen referenced their small business mindsets in answering questions. Both said the council is currently lacking perspective from business owners, despite the governing body often making decisions that impact the business community.
The pair also opposed the idea of a local, special purpose sales tax that would be voted on by city residents similar to the vote for the 1% sales tax every four years, saying if the city needs money, it should look at alternative avenues outside of taxing residents.
Bates and Gamroth had a different perspective. Neither outright said they support a new tax, but said voters should have the opportunity to decide, which is why the tax should be on the ballot in the future.
Allen, Bates and Gamroth all referenced economic diversity, saying the city council should do a better job of embracing efforts by Advance Casper, which has worked to recruit new businesses to the city and create more opportunities for local entrepreneurs.
Ward III
Two people are running for one open seat in Casper's Ward III. Both candidates—Mike McIntosh and sitting council member Steve Cathey, were present Thursday.
Cathey led the primary election with 47% of the vote. McIntosh followed with just under 33% of the vote.
The pair did not have divergent visions for the city, but did address different focus areas when asked generally why they wished to be on the council.
Cathey, who was appointed to the body last year after a former member resigned, has urged fiscal conservatism at every opportunity. He stressed that need Thursday, when asked what city projects he supported. He said he felt the city shouldn't be spending on extra projects while staff are being furloughed—a move the city council approved in May while staring down a $3 million budget deficit.
McIntosh, too, touched on the city's need to tighten its belt, but focused his economic vision around economic diversification—though didn't have the opportunity to specify what that would look like. He said programs that better engage younger generations in the political process would also benefit the city. He referenced his own life as a Casper native who moved away from the city for some time to find work because it wasn't abundant in Casper.
Both candidates said nonprofit organizations could be able to fill gaps where the city can't afford to pay.
The general election is Nov. 3.
Follow local government reporter Morgan Hughes on Twitter @morganhwrites
Be the first to know
Get local news delivered to your inbox!