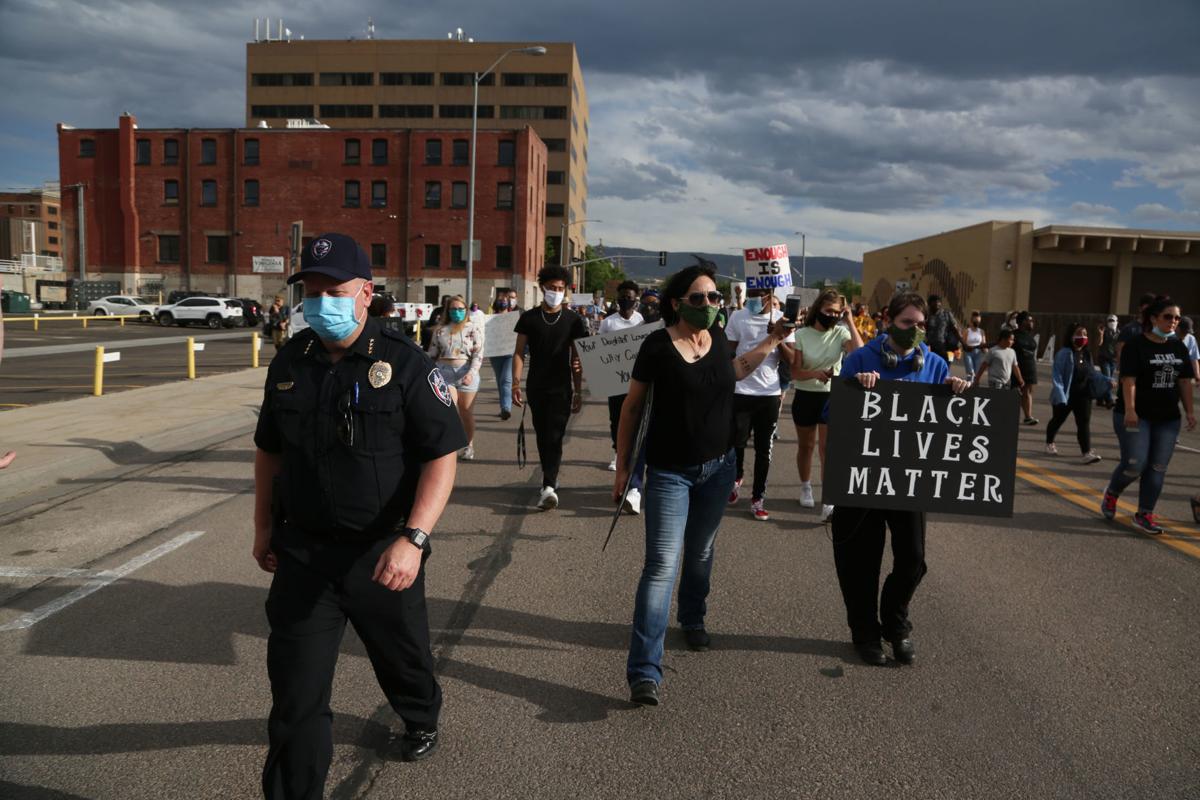 Casper saw three days of demonstrations last week in honor of George Floyd and in protest of police brutality around the U.S.
Floyd, a black man, died in late May after Minneapolis police officer Derek Chauvin knelt on his neck for nearly nine minutes as Floyd was handcuffed.
Casper City Council on Tuesday night briefly discussed Casper's response to Floyd's death, with split perspectives on the ways in which residents demonstrated.
The members did not discuss the demonstrations until the tail end of the meeting, during a portion where council members go around the table and can add whatever comments they like. Not all council members spoke on the topic.
Huber complimented Casper Police Chief Keith McPheeters, who made remarks during the vigil, and said he was pleased that the crowd was orderly and respectful. Huber took issue, however, with the groups of armed residents who patrolled downtown Friday night after the demonstration. Armed residents did the same Wednesday night.
Those residents told the Star-Tribune they were there to protect private property if violence were to occur either night after the demonstrations were over.
"I think there was a smudge on this event, frankly, and that is the number of people who were down there parading around carrying rifles, pistols, all sorts of firearms," Huber said. "Several of them in military-type garb, and they were there to quote 'protect everybody and protect the property.'
"The only thing I felt I needed protecting from was them," Huber continued.
He said the armed residents had the right to have their weapons, but he felt it was inappropriate.
"I was offended by that, I just was deeply troubled by that," Huber said. "I don't think I would be doing my duty as a public official if I didn't voice that."
Councilman Steve Cathey kept his remarks brief and about whether protesters were wearing masks.
"It's OK if we protest and don't worry about social distancing but everything else we've got to worry about social distancing and face masks and everything else," Cathey said.
He suggested the City Council stage their own protest during next Tuesday's regular council meeting by all meeting in person at City Hall. The council has been meeting via video conference as a precaution against spreading COVID-19.
Councilwoman Khrystyn Lutz also kept her remarks brief, but countered Cathey's.
She said the protests have not been the only large gatherings in Casper recently, invoking the Saturday night cruise event that has grown popular in town.
"You can't pick and choose; you have to be upset about the cruise night if you're going to be upset about the protest," she said.
Councilman Charlie Powell took his comments in a different direction. He complimented the demonstrators' decorum but said he was concerned about the national movement to "defund the police" that has accompanied similar demonstrations elsewhere in the U.S.
"We've seen municipalities move in that direction, I'm not in favor of that," Powell said, but added the city should collect data on how much it supports social services in Casper to show a contrast to the city's police spending.
Mayor Steve Freel concluded the meeting with his own thoughts on the week's demonstrations.
Freel said he took offense to how some Casper police officers were treated Wednesday, with some demonstrators during the march down Second Street insulting and agitating officers.
He said the city had had "some concerns going into Friday night," but those worries proved unnecessary.
"To everyone who showed up …. I couldn't ask for a better vigil to take place, the way people conducted themselves," Freel said.
Follow local government reporter Morgan Hughes on Twitter @morganhwrites
Be the first to know
Get local news delivered to your inbox!