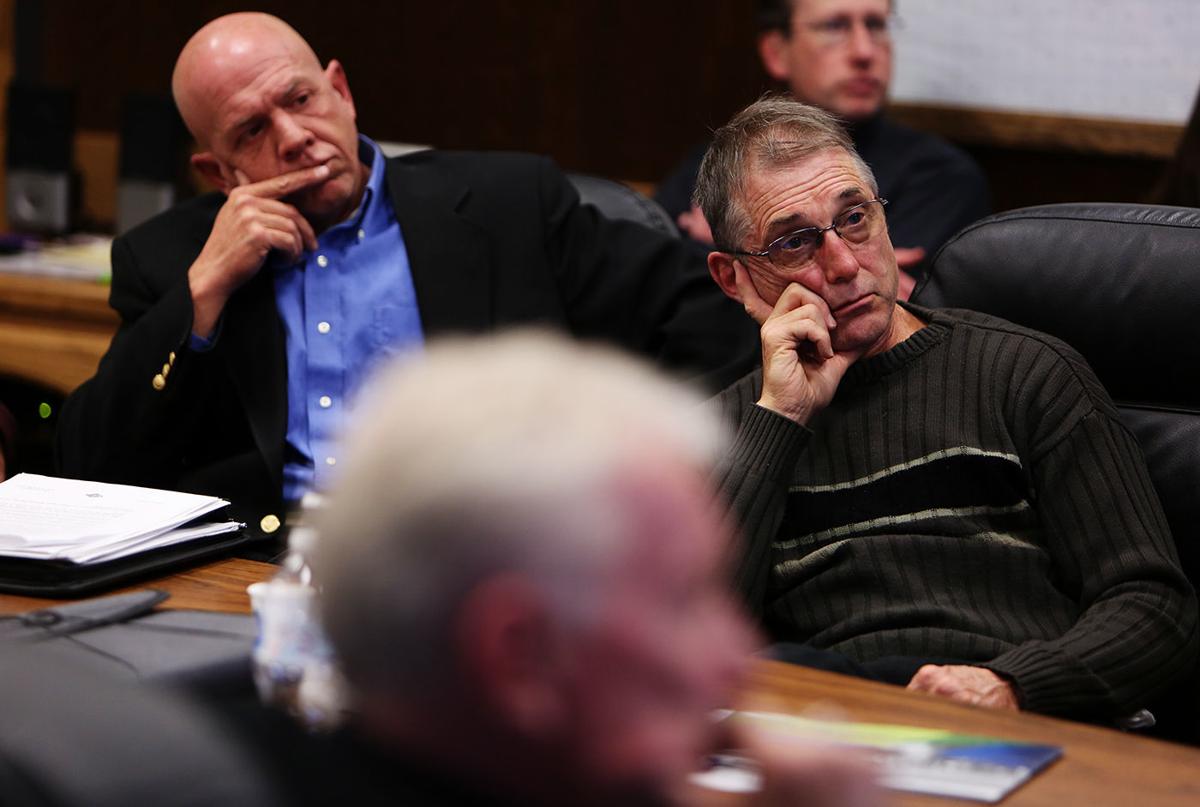 Casper's LGBT community received official support from the city's elected leaders Tuesday in the form of a resolution that condemns discrimination due to sexual orientation.
The anti-discrimination resolution approved by the City Council affirms "the right of LGBT citizens to live free of discrimination in all of its forms." The non-binding statement was proposed three months ago by the local chapter of Parents and Friends of Lesbians and Gays.
Councilman Dallas Laird, who voted in favor of the measure, said Wednesday that it was a "monumental moment" for the city.
"This kind of thing is about the hearts and minds of people and it's not something that you can legislate lightly," he said. "But I think you have to do the right thing, and I think it was a kind act."
Laird said he hopes the resolution will help members of the LGBT community feel safe and accepted in Casper.
Resolutions lack the teeth of ordinances, but PFLAG representatives told the Council the measure is still a meaningful gesture of goodwill toward the LGBT community.
Tuesday's four-hour meeting was a public hearing in everything but name: About 20 people passionately addressed the Council prior to the vote.
Faith and religion were at the forefront of the discussion, with those on both sides of the issue frequently referencing the Bible and the teachings of Jesus Christ.
United Church of Christ Reverend Dee Lundberg acknowledged that there are lines in the Bible that condemn same-sex relationships. However, she pointed out that there are also lines in the Bible that say those who curse their parents should be put to death and those who are slaves should remain slaves.
God gave us the Bible, Lundberg said, but "God also gave us a brain and a heart."
While some speakers, like Lundberg, supported the resolution, others objected.
Many of those who spoke against the measure said they did not support discrimination, but were worried the resolution will lead the city down a dangerous path.
Jeffrey Snyder said he thought approving the resolution will still send a "nod of approval" to state legislators to pass a statewide law. Snyder said he's afraid this will lead to discrimination against business owners who hold religious values that conflict with the law.
Elena Nachbar also cautioned the Council against approving the resolution, stating that it will cause "chaos and uncertainty." The teen expressed concerns the measure could one day lead to women being legally required to share dressing areas or bathrooms with transgender women.
The Council ultimately approved the resolution, although some members struggled with the decision.
Mayor Ray Pacheco, Vice Mayor Charlie Powell and City Council members Dallas Laird, Kenyne Humphrey, Jesse Morgan and Amanda Huckabay voted in favor of the measure. Those opposed were Shawn Johnson, Bob Hopkins and Chris Walsh.
Voicing support for the resolution has caused many of his constituents to question his faith, said Pacheco, a self-described devout Catholic. But he said he believes Jesus Christ wept when LGBT citizens were killed during a mass shooting at a gay nightclub in Orlando and that Christ stayed with hate-crime victim Matthew Shepard as he lay dying.
The mayor said supporting the resolution therefore does not conflict with his religious values, as they call on him to "protect the dignity and the sanctity of all life."
Powell, the vice mayor, also firmly supported the resolution and said it was a necessary step to ensure that LGBT citizens felt welcomed and accepted in Casper.
"Social norms can and do change …They change when people in positions of leadership take a stand," he said.
Pointing out that God is not mentioned in the U.S. Constitution, Johnson stated that he does not allow his religious values to influence his actions on the Council. He said he did not support the resolution because federal and state laws already prohibit discrimination against all citizens, and he does not believe separating people into different classes is beneficial.
Walsh was also opposed to the idea of making distinctions between different groups.
"We are all people," he said.
Laird, who has wavered greatly on the issue, tearfully told the crowd that he had decided to vote in favor of the resolution because God was "telling him" to vote for it.
The Council considered holding a formal public hearing on the issue, but that idea was voted down at a meeting on Feb. 6. Most members agreed that a public hearing was unnecessary because constituents on both sides had already shared their views. Concerns were also expressed about whether the debate would remain civil.
Lundberg said at the end of Tuesday's meeting that it was a "credit to everybody" that the debate stayed respectful.
"It's important to people on both sides and I respect that," she said.
Given that the issue is divisive, the reverend added that it was brave of Council to approve the measure.
Although attempts to pass an anti-discrimination bill through the state Legislature have failed, some municipalities in Wyoming, including Laramie and Gillette, have established resolutions or ordinances to promote equal rights and opportunities for LGBT residents.
Katie King covers the city of Casper.
Be the first to know
Get local news delivered to your inbox!