The first rule is what's said here stays here.
This is the most important rule and the foundation for everything else that goes on. It's everybody's favorite reason for coming. The comfort and thrill of anonymity.
The second rule is "no names."
This group, gathered around a paint-splotched table, is bad at this rule. Names flow pretty steadily, actually.
Names of crushes. Names of friends. Names of teachers. Of boyfriends and girlfriends, pets, cartoon characters. They're exchanged pretty freely here.
But it's a minor indiscretion — and forgivable, when you consider rule No. 3.
That this is a safe zone. A place to talk about your day and the people who were in it. A place to ask questions you can't ask anywhere else. A place to gather and discuss. A place to build up the base of themselves so once they get out in the world they know what to expect.
Boys & Girls Clubs of America calls it SMART Girls, short for "skills, mastery and resilience training." It's taught in one way or another to 90,000 girls a year in Boys & Girls Clubs across the U.S., including for a small group of girls in Casper.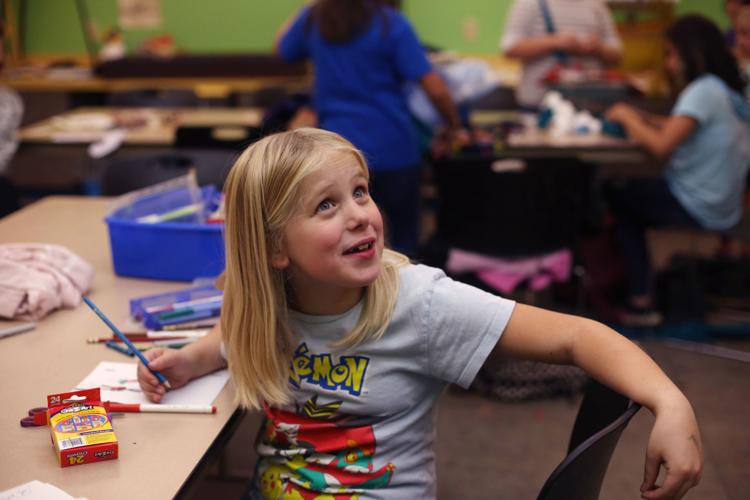 The facilitator's guide for the program calls it a curriculum: a targeted approach to helping girls embrace their uniqueness and resist those pesky tropes that linger around young women. The big-picture goal for SMART Girls, according to the guide, is that "a SMART Girl maintains a positive self-image. She practices good decision making regarding personal health and wellness, as well as relationships."
But for all its clinical applications, Cassie Murphy, Casper's SMART Girls facilitator, just calls it a space to learn unjudged.
***
Little boys peek in through the windows, trying to get a glimpse of the secret society forming in the Boys & Girls Clubs art room, but they won't be invited in.
So all they know of this group is what they can see through the window: a handful of girls of a variety of ages circling around a small, pinkish cardboard box with a hole cut from the top.
Murphy, the club's facilitator, pulls a folded slip of paper from the box, unfurls it and reads, "Why is sex a thing?"
The room erupts in feigned shock, giggles, "oohs" and "aahs."
This tends to be the main role of "the question box," to ask the salacious questions they can't or are too embarrassed to ask at home. It's anonymous. It's open to anyone and anything. And usually the questions are about boobs, a lack of boobs, periods, a lack of periods, sex, or something else tangentially connected to either boobs, periods or sex.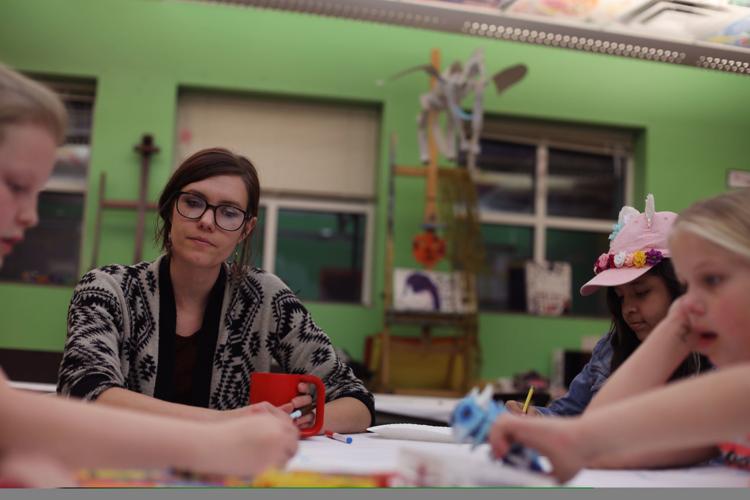 It makes sense. Most of what they know about the world is what other people are willing to tell them. So yeah, they talk about their bodies. About bodily stuff. Biology and all its so-called gross and embarrassing side effects. Things a lot of adult women aren't quite comfortable discussing.
"I really love how open it is," says Zoe Magee, a sixth-grader at CY Middle School and a member of the SMART Girls group. "Whenever we come into the room, we can ask questions we can't ask anywhere else."
Murphy decided this year to break SMART Girls into two different age groups. For the girls under 10 years old, Murphy just wants to get them acquainted with the idea of themselves.
She has the younger girls illustrate a diagram of the female reproductive system. She describes each organ's function in terms an 8-year-old could comprehend. When she talks about the egg leaving the ovary, she compares it to a "college student living alone for the first time."
"The uterus is the nicer apartment the egg moves into," she says.
Murphy's speech is measured. She's talking to kids and she knows it, but she's never patronizing or impatient. When the girls are particularly scandalized by a new piece of information, Murphy reminds them why they're there.
"If we didn't know what our insides looked like, that might be troubling, right?" she says.
The girls older than 10 get more detail, but they also have more control over the information they're receiving. Murphy lets them direct the curriculum because her goal is to arm them with the information they want to know.
But she isn't ignorant to how sensitive these conversations can be, or how tied they are to family value systems.
"To be safe I always start by saying, 'Follow your family values,' then I just stick to facts and scientific proof," she says.
If a question is particularly controversial or worrisome, Murphy will say, "If this is your question, come see me later and we can talk."
Plus, for girls to participate, their guardian needs to sign a permission slip, so Murphy isn't teaching anything the girls' parents aren't privy to. She works with reluctant or hesitant parents to ensure they're on the same page with the curriculum.
Sabrina Brown's daughter, Natailya, is one of the more constant faces in the SMART Girls group. Brown likes that her daughter has a community like this to turn to.
"When we were kids we didn't have that," Brown says. "I think it helps because they're secluded; that helps so they aren't scared to talk about stuff."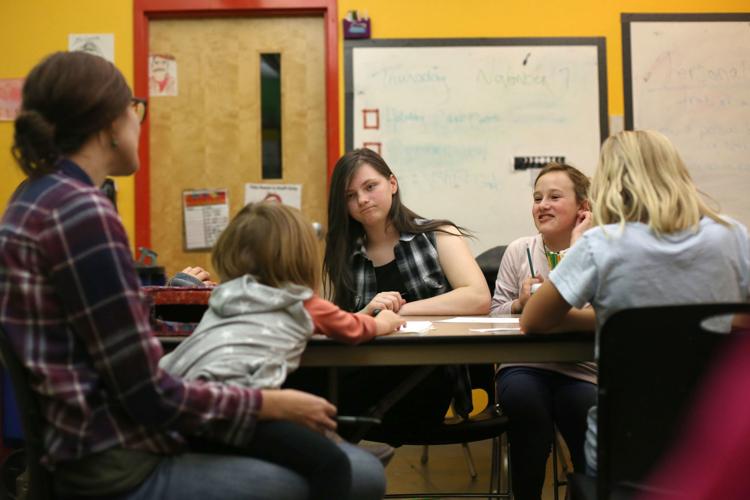 Still, Murphy says she understands that some people may read about this club and consider it a little radical, regardless of the parents' involvement or the fact that it's a part of Boys & Girls Clubs programming across the U.S.
"I think I look at it from a perspective of the struggles that I've had because I've not had this information," Murphy says. "If it looks radical, it looks radical, but I think I just want to give the girls the best opportunity to be the girls they want to be."
And so far the girls are receptive. When surveyed, they all agree the question box was their favorite part.
You have free articles remaining.
"It's not embarrassing when it comes from the question box," says Aria Sorenson, a SMART Girl and sixth-grader at Casper Classical Academy. "They're questions people want answered."
***
The stove is covered with black beans, and more are spilling over the lip of the too-tall pot every second.
Manor Heights fifth-grader Sadie Wolfson is doing the best she can, but the beans haven't thawed as much as Murphy thought they would by this point, so Wolfson is frantically hitting the bean iceberg with a wooden spoon to try to break it apart. The spillage is just a consequence of her efforts.
They're on deadline. A hungry roomful of parents waits upstairs.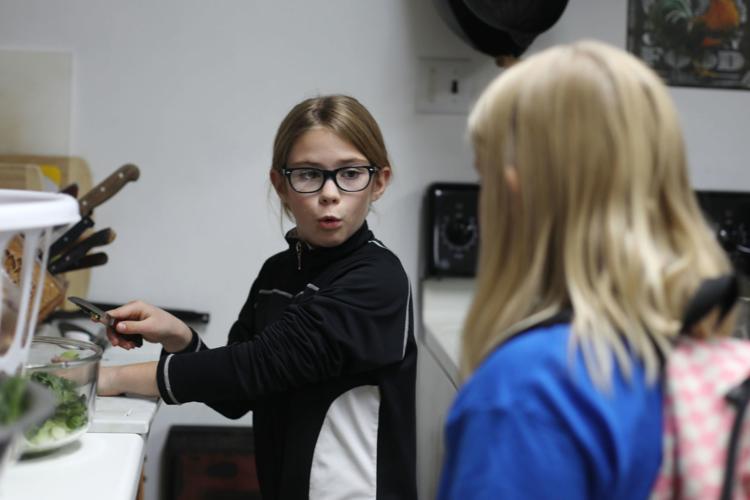 Murphy takes the girls on a community service field trip like this at least once a year. For this trip, the girls are making tacos in the Food for Thought kitchen and will be serving them to their parents and the rest of the community.
All around the kitchen girls are chopping and stirring. Murphy has a task for them all. The service element is important to her.
"A lot of the things we talk about are building community," Murphy says. "We talk a lot about accepting others. ... This allows us to expand that."
And while serving food to others is one way Murphy hopes to teach this lesson, the day-to-day SMART Girls activities revolve around this idea of community too.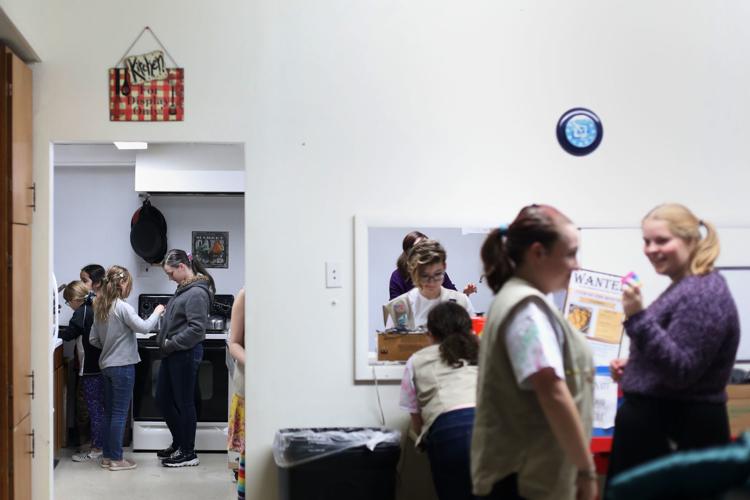 Melissa Johnson, whose daughter, AJ, is one of the younger SMART Girls, says she couldn't be happier with the program for this reason.
"It helps the girls, for one, with bonding. ... They're all different ages, all different attitudes," she says. "Being able to know everybody else is going through the same thing helps a lot."
Magee, the sixth-grader at CY, says the same and adds that it's nice to have a place to talk about these things. Not just to ask questions but also to hear other girls' thoughts.
"When you're going through something hard, it's nice to know you're not alone," she says.
***
Recently Murphy organized the girls around the table and laid wide blank sheets of paper before them. She asked them to write their mission statements on the paper. Not goals so much as their motivator for moving through life. She used the word "purpose" when describing the activity.
And so the girls planted their hopes and the paper bloomed with possibility. They hoped to be actors, world leaders, good daughters, kind. They punctuated these hopes with drawings of flowers and mermaids and armor.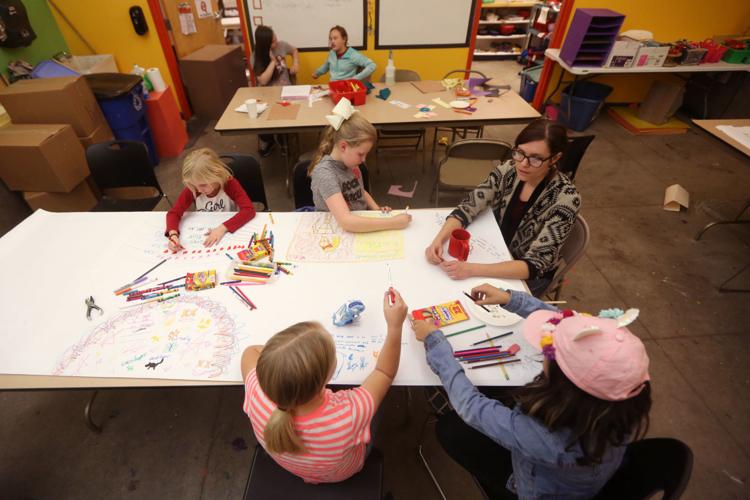 Some of the younger girls misunderstood the assignment. Their mission statements read more like birthday candle wishes. They hoped to speak to animals and have superpowers. But even the misunderstanding is illustrative of what SMART Girls is for.
It isn't just health class reformatted. They talk a lot about their bodies, but that's because those are the questions the girls have. They're going through the universal middle school torment of not knowing anything about themselves, their bodies included.
But the programming also seeks to help girls with their self-image, their confidence and their ability to pick and choose for themselves the kind of girls they want to be.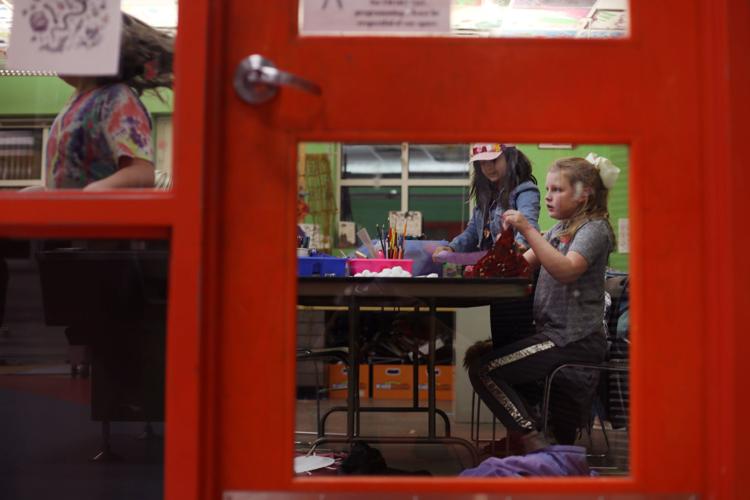 On the first day of SMART Girls this year, Murphy showed the club a TED Talk called "Meet Yourself: A User's Guide to Building Self-Esteem." In it, the speaker tells a story about her work with a group of girls, similar to Murphy's SMART Girls group. When asked to share something they liked about themselves, the girls in the story couldn't think of anything.
Murphy showed the talk because she wanted the girls to recognize what was happening in their brains when they thought something negative about themselves.
Then, Murphy asked the girls to draw themselves, but with a catch. She told them to exaggerate the parts of themselves they liked the best, so by the end of the exercise all the girls had a picture of their favorite things about themselves.
"I like when we talk about our strengths and weaknesses," Wolfson said. "I honestly thought what my weaknesses were and my strengths, and when I couldn't think of a strength Miss Cassie thought of some and that made me feel good."
She said it's a little easier now for her to remind herself what her strengths are. (She's kind and thoughtful and creative, she said.) And she wasn't the only girl who needed a reminder.
SMART Girls is not the most important part of these girls' days. Sometimes, it doesn't even register. They'll forget to write a question for the box or get distracted from Murphy's programming. The point is that it is a part of their day. They're getting information in such a normal way, it's not shocking or abrasive. That normalcy tends to be the key to any of this information getting through.
"It's kind of like a second home," Sorensen said.
Murphy just hopes the lessons stick.
"I want them to walk away feeling taller. To maybe see the things they didn't like about themselves, to see those flaws as something that's beautiful and a part of them," Murphy said. "We don't need to see them as flaws. They're just pieces of us. I just want them to walk away taller and stronger and feeling more confident to who they are."
Editor's note: Editor Joshua Wolfson was not involved with the editing of this story because of a conflict of interest.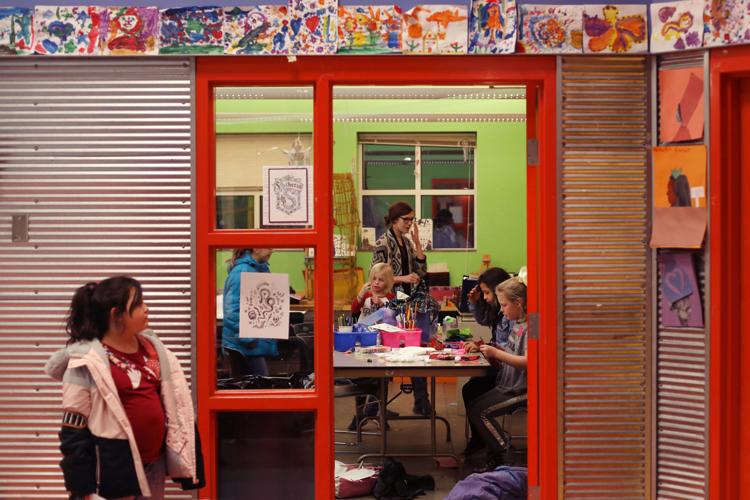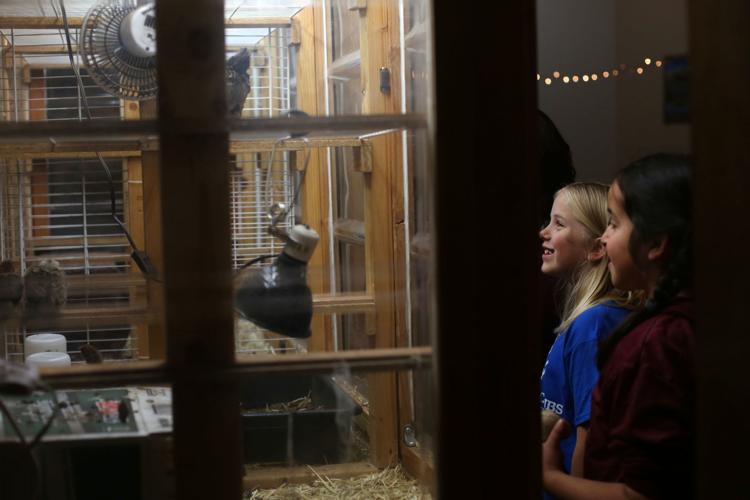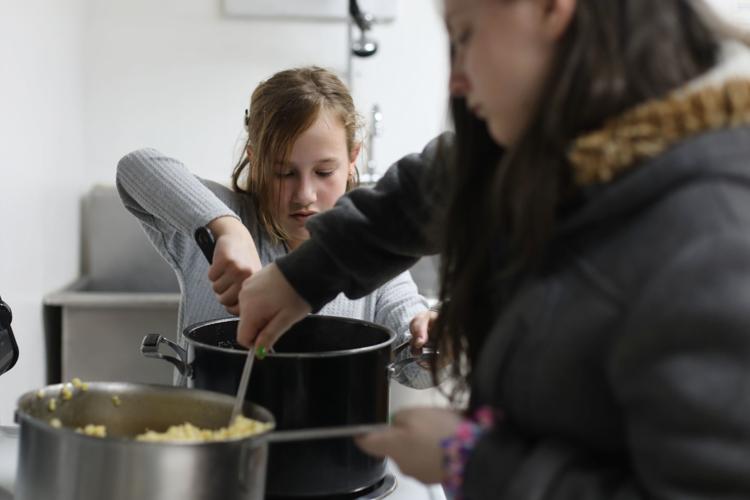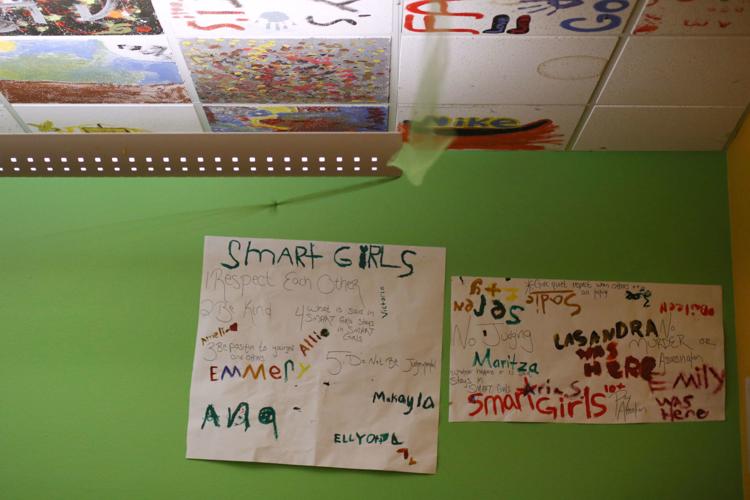 Follow local government reporter Morgan Hughes on Twitter @morganhwrites