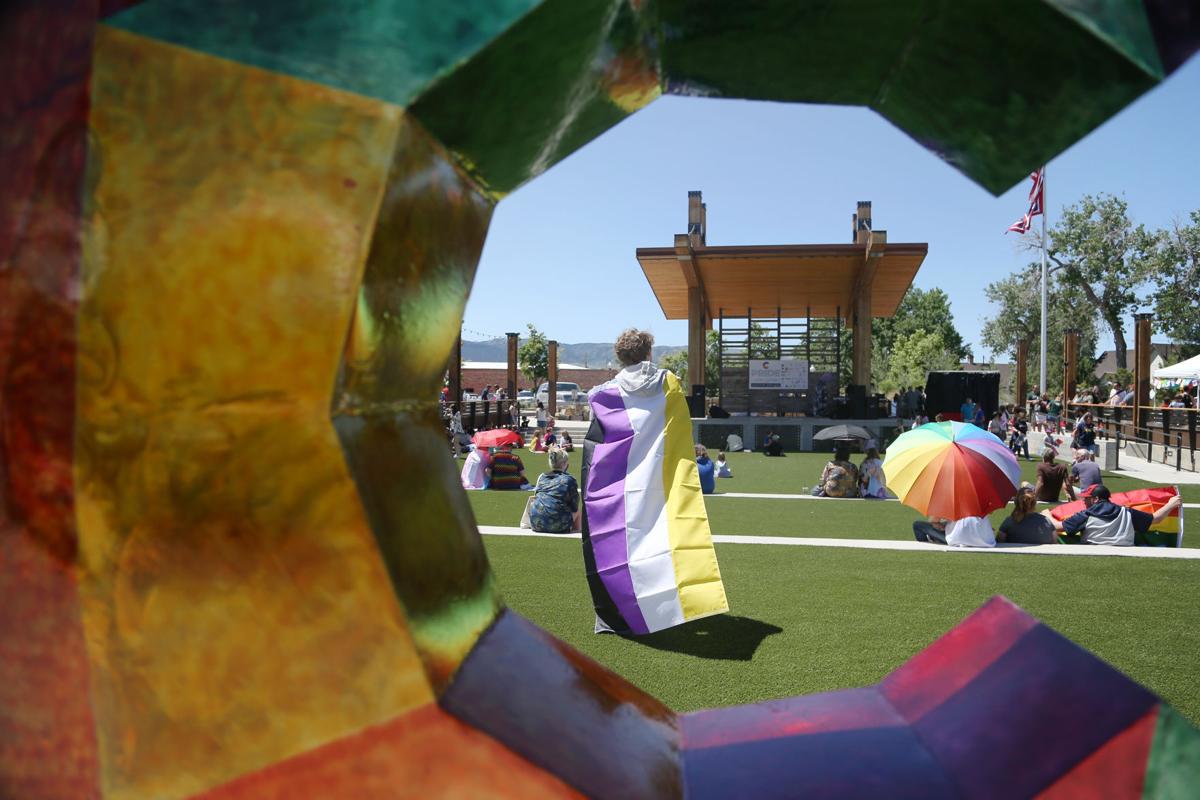 Casper's LGBTQ Advisory Committee is advocating for the city to adopt a non-discrimination ordinance, chair Darrell Wagner told the city council on Tuesday evening.
The committee also recommended that Casper join the Safe Place Program, an initiative developed in Seattle in 2014 that has since been implemented in hundreds of police departments in North America.
It fosters partnerships between police, local businesses and organizations to make reporting hate crimes easier and to provide more support to victims. Participating locations can display a Safe Place decal that lets people know they can report a hate crime there and remain inside until the police arrive.
The city passed a pair of non-discrimination resolutions in 2018, but the committee is pushing for an ordinance which would codify that pledge in law. Cities including Laramie and Jackson already have similar ordinances in place.
City Manager Carter Napier said Tuesday that city staff can begin drawing up that ordinance. The council also unanimously gave the go-ahead to begin looking into implementing the Safe Place program.
There are already more than 100 businesses in Casper that have indicated their support for the LGBTQ community, said committee member Kody Allen-Sambrano. The program could start with those, working with the police department to distribute stickers and educate employees on how to respond to hate crime reports.
Jill Jones, a teacher and ally on the committee, said the main concerns the committee identified in Casper were kids not feeling safe at school, people not feeling safe using their desired bathroom, fear of being fired or discrimination at work, and a lack of medical professionals who understand the needs of the LGBTQ community.
Wagner said the committee often hears from young queer people in Casper who say they don't feel safe here, and are just trying to "lay low" until they can move somewhere else.
"I see children struggle every day in school, I want to make a difference in their life," said Jones. "I want them to feel safe and loved."
Shannon O'Quinn, another ally on the committee, said they've met with the Natrona County School District and Casper College to begin discussing and organizing safe places for LGBTQ students on campus.
The committee also compiled testimonies gathered at this year's Casper Pride (the city's largest yet), which show ongoing discrimination in the state. One person said they worry about being fired for being LGBTQ, one wished to feel safe at school and another called for teachers to use trans kids' preferred names and pronouns.
A presentation shown Tuesday also cited several recent instances of discrimination against LGBTQ people in Wyoming covered in local and national news — pride posters being taken down at Natrona County High School, shirts with a homophobic and violent message being sold at a Cheyenne bar, a transgender magician receiving threats and cancelling her Gillette shows and more.
The committee was formed in February 2020, after a 6-3 vote in the city council. After being delayed during the pandemic, they've been meeting since November 2020 to formulate recommendations for the city to improve quality of life for its queer population.
According to statistics from the UCLA School of Law, 78% of Wyomingites think LGBTQ people in the state are discriminated against.
In recent years, the Wyoming Legislature has considered hate crime bills, but all efforts have been defeated.
Several council members said Tuesday that Casper can take action without having to wait around for the state to define and prosecute those biased crimes.
"We do need something at the state level, but in the meantime, we as a council can take steps to make it better for people here," council member Amber Pollock said.
Council member Steve Cathey pushed back on the proposal, voicing concern that punishing crimes against certain groups would unfairly privilege those groups.
"And I do not believe that that is doing anything to help us come together by saying that if I were to assault you, that deserves more punishment," Cathey said. "All that's doing is setting up a separate class, a separate class of punishment, and it is not bringing everybody together."
Hate crimes aren't just crimes against those groups, Pollock clarified, but are defined with evidence that shows the act intended to hurt someone based on some aspect of their identity.
The conversation Tuesday night also veered into the merits of gender-neutral bathrooms, before a point of order was called.
Follow city and crime reporter Ellen Gerst on Twitter at @ellengerst.