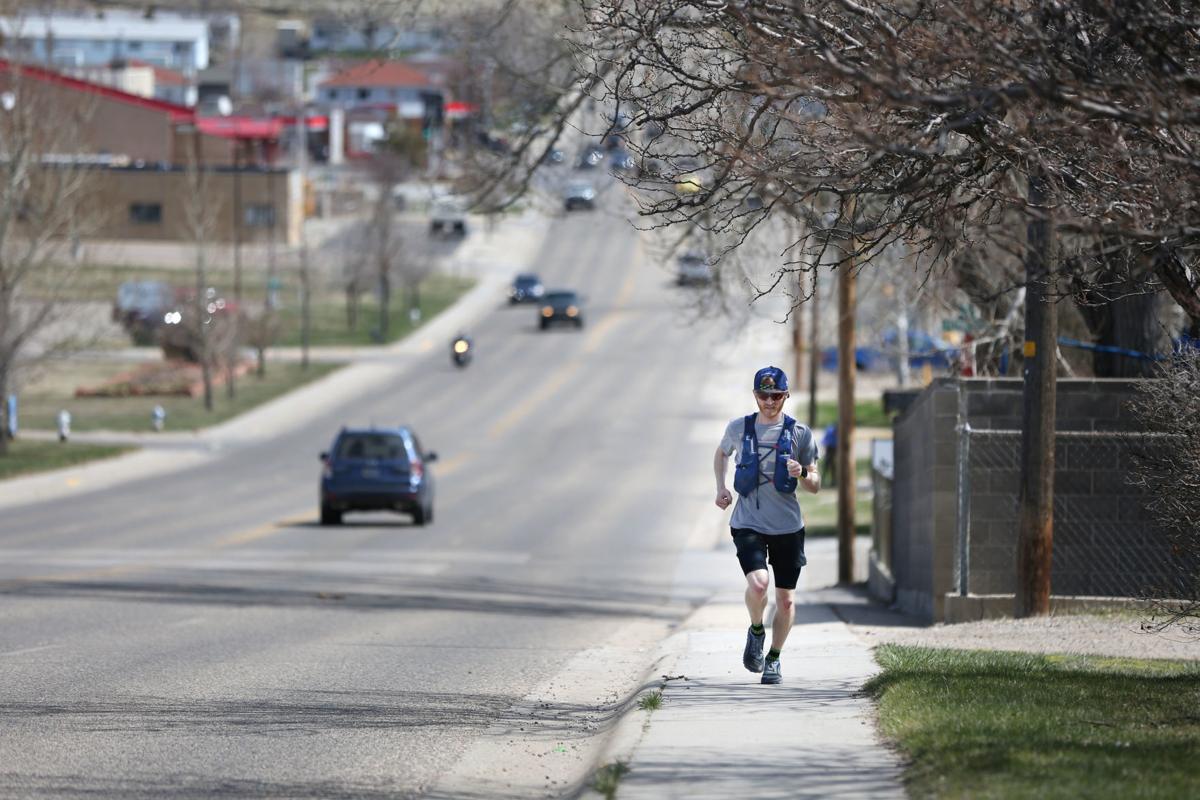 Cars zipped along Casper's busy 12th Street, some drivers honking as they passed Justin Kinner striding through each uphill and downhill. He followed wherever his feet took him, his unwavering stride propelling him around town.
At nearly every turn on Friday afternoon, the beaming sunlight encouraged Casper residents out of their quarantine. Families sat at Yesness Park. Washington Park teemed with the blissful laughter of the town's first 60-degree day for nearly six months. Mothers jogged behind strollers along the Platte River Trails, and a seemingly endless line of dogs strolled down their neighborhood sidewalks.
"Not that I was expecting it but I was definitely surprised with the amount of people I did see," Kinner said. "Whether I knew them or not, people tracking me and honking their horn out their windows, it was pretty inspiring to say the least."
The ultra runner was on hour eight of his 24-hour charity run. All week he raised funds to feed first responders affected by the coronavirus pandemic. From 7:30 a.m. Friday to 7:30 a.m. Saturday he received continually donations and tangible shows of support as he traveled through Casper. When he finally returned to the makeshift first-aid tent propped up in his front yard and manned by his parents, Kinner had run 106.04 miles, elevating over 8,300 feet and burning over 11,700 calories as logged by his Strava app.
And by Tuesday he removed the donation link on his 24-hour First Responders Run, having surpassed his intended goal of $7,500. In total, accounting for $450 worth of additional cash donations, he came closer to raising $8,000.
He personally ran five separate $300 gift cards to each fire station scattered across Casper. While his route was unpredictable, those stops were predetermined. They were the reason for the run. And, unsurprising to him, the departments matched his generosity.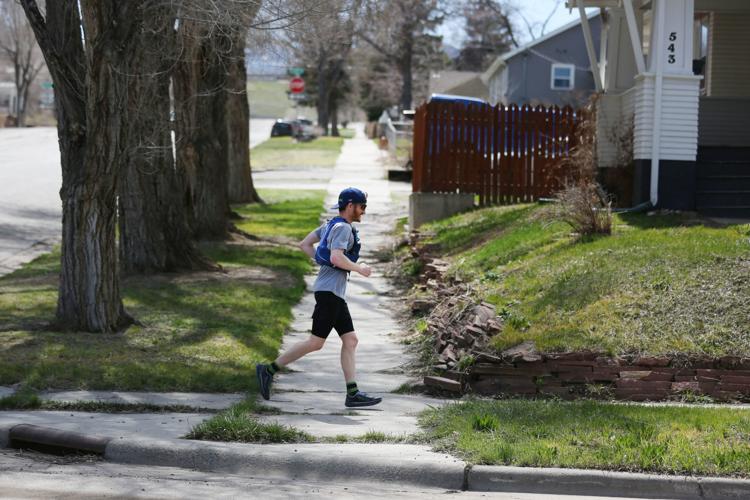 "It sounds like they'll be paying it forward and donating those cards to people in the community who need it more than they do," Kinner said. "It's real selfless how people on those front lines are."
In addition to community support — and the voluntary act of his parents operating the first-aid tent — Kinner also received powerful sibling support. His sisters who work in the medical field brought their children so Kinner could run alongside his nieces and nephews, who either matched his stride or peddled their bicycles alongside. While the brother that got him into ultra running was reluctantly stuck under quarantine in Colorado, they called each other and "virtually" ran together in a moment that Kinner said has already made for a great memory.
He was joined, in person, by two friends for the sundown portion of his run that drifted towards Natrona County High School during its celebration for "Be The Light," where officials illuminated Cheney Alumni Field and its scoreboard to honor first responders and the school's Class of 2020. That happened by chance as one of his friends said they should investigate why the field was lit. They enjoyed the running joke of "the Kinner race" as gray clouds floated overhead, another step in a running joke between them because Kinner's recent luck with ultra races hasn't included supportive weather. This race, however, brought the best conditions he's had in over a year.
"Stumbling onto the NC thing was pure bliss," Kinner explained. "Being able to do stuff like that and not being on a prescribed route was pretty freeing."
He enjoyed the solitude of running throughout the night. While the rest of Casper slept, Kinner continued to put one foot in front of the other, accruing miles in the dark.
"It's something I seek on a personal level," he stated. "I've always said that being a runner and doing 106 miles at once, it doesn't make you a better person than anybody else, but it makes me a better person.
"There's lots of opportunities to try and be the best version of yourself. Challenge yourself to be more active, read. Just don't let the current situation stop you from being the best version of yourself."
The sun rose over the eastern horizon and watched Kinner finish his run. He returned to home base and the finish line. His mother brought out breakfast burritos to a thankful audience.
He'd do it again. Nothing's stopped him before.
Follow sports reporter Brady Oltmans on Twitter @BradyOltmans
Concerned about COVID-19?
Sign up now to get the most recent coronavirus headlines and other important local and national news sent to your email inbox daily.