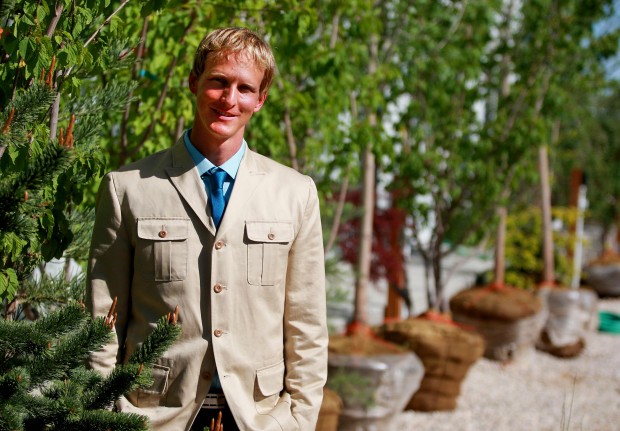 Aaron Rodolph launched his first lawn-mowing business with his father's lawn mower at age 12.
A year later, his father, Pete, showed up with a commercial lawn mower and announced his son would be paying back every penny of the $1,000 price tag.
By the end of the summer, Rodolph had paid his father back in full, plus bought the mountain bike of his dreams with his extra earnings.
Today, Pete works for his son, now 34 years old and running Rodolph Brothers Inc. in Casper. Rodolph's zest for business and knack for lawn care has grown the business from a one-man enterprise to a full-spectrum landscaping service that did $2.2 million in sales last year.
"What really impassioned me was creating things -- the building of landscapes," Rodolph said. "From mowing the lawns to being 50 feet up a tree to building landscapes, I learned the craft side of it first."
Rodolph's artistic visions made good business sense. He and his brother, Isaiah, joined a friend in 1998 to start Rodolph Brothers with some cash and a short-term credit line. Both the friend and Rodolph's brother sold out to Rodolph before 2001, leaving Rodolph th3e sole owner of the business.
He kept the plural name, he said, because running a business is such a team effort.
A small business standout
The U.S. Small Business Administration named Rodolph its Wyoming Small Business Person of the Year this spring, based on the company's staying power, response to adversity, community service and increase in sales and employment numbers.
Rodolph spoke Wednesday morning to a ballroom filled with local businessmen and women gathered at a Casper Area Economic Development Alliance quarterly breakfast. Rodolph thanked the business community for their guidance and support.
"You talk about tipping points," Rodolph said. "I was ready to end this thing in 2005."
A co-worker and friend who had been with the business nearly since its inception died that year on a restoration job behind Muddy Mountain, Rodolph said. He was killed by a falling tree after his saw ran out of gas and he looked the other way. 
"As a young, young man that was the most devastating thing that ever happened to me," he said.
You have free articles remaining.
Words from a local banker and commitment from a Rodolph Brothers manager kept Rodolph going. Bills needed paying no matter what, the banker said. There's work to do, said the manager, and people are waiting. 
It was their dedication that propelled him forward. That same year, Rodolph Brothers started renting their first out-of-home office in an old warehouse off Beverly Street. Rodolph Brothers now owns the warehouse and recently built a second warehouse to accompany it.
Walking through his company's outdoor nursery Wednesday morning, Rodolph paused next to a bristlecone pine tree. It's the world's longest-living organism, he said. The tree can live up to 5,000 years.
He tries to plant one in every landscape he creates.
"Because I guess when all this is gone, they'll be here," Rodolph said. 
In many ways, Rodolph's story is every small business operator's dream. He borrowed, built, invested and diversified his business with the help of family members and friends, and a few good bankers along the way.
He has come a long way from the days when he bicycled through the streets of his neighborhood, pushing a lawn mower down the street with trimmers balanced on the mower's handle.
But Rodolph still finds ways to give back.
Rodolph, a certified arborist, took his company's entire arborist division to Mississippi after tornadoes devastated the region in 2010. He and his wife, Nicole, adopted a son from foster care and are in the process of adopting a daughter. He serves on the board of the Court Appointed Special Advocates for children in foster care.
"What really stood out was the amount of giving back to the community that [Rodolph] has done," said Amy Lea, acting director for the Wyoming district office of the U.S. Small Business Administration. Lea oversees U.S. Small Business Administration programs and services throughout the state. Her district provides business training, access to capital and government contracting assistance to Wyoming small businesses.
As project coordinator at Casper's Small Business Development Center, Candy Lane helps small businesses find the professional resources they need, free of charge. Rodolph first came to her for business advice in 2004 and the two haven't lost touch since.
Lane nominated Rodolph for the U.S. Small Business Administration award early this year.
"Where Aaron is at today, with his leadership and his growing company, is really an ideal picture of what we as the Small Business Development Center are designed to do," Lane said. "And that is, advise that small business person and assist them and guide them in areas that they aren't familiar with."
Nearly two-dozen employees work year-round for Rodolph Brothers now. An additional 8-10 seasonal workers join the company during peak times. Rodolph has hired a marketing consultant, and the company is about ready to outgrow its current facility.
At its core, however, Rodolph Brothers is still built around what inspired Rodolph, the 12-year-old entrepreneur, in the first place -- doing what he loves, and doing it well.