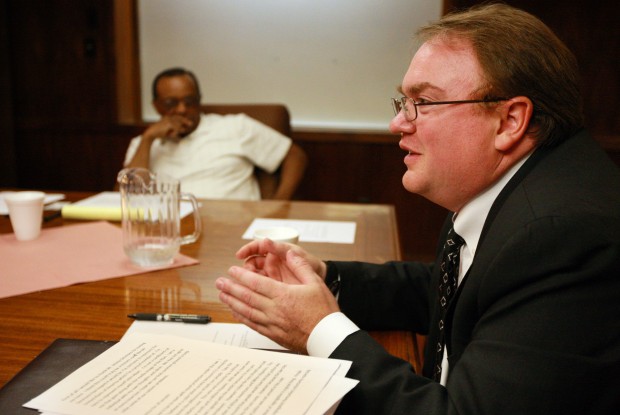 A Saturday meeting between leaders of the Casper branch of the National Association for the Advancement of Colored People and a Ku Klux Klan organizer didn't have the approval of higher-ups in the civil rights organization.
Rosemary Lytle, president of the NAACP Colorado Montana Wyoming State Conference, said she first knew about the meeting when reading the Star-Tribune's coverage of it Tuesday morning.
On Saturday evening at the Parkway Plaza Hotel and Convention Centre, under heavy security, KKK organizer
John Abarr met with leaders of the local NAACP branch — Jimmy Simmons, Keisha Simmons, Dale Leatham and Mel Hamilton — to discuss race relations, interracial marriage and segregation.
At the end of the meeting, and to the apparent surprise of the NAACP leaders who were present, Abarr signed an NAACP membership form and wrote a check for the $30 membership fee plus a $20 donation.
Lytle said she earlier told NAACP Casper Branch President Jimmy Simmons to not arrange the meeting.
"In fact, I did not give it it a green light when it was proposed," she said when contacted by telephone Tuesday.
"The appropriate chain of command would have started with my approval," she added.
Simmons indicated to the Star-Tribune on Saturday that he had faced some opposition from within his organization regarding the meeting, but had gotten something of an OK as long as long he hosted the meeting in Casper.
On Tuesday, Simmons was even more adamant that he had the right to arrange the meeting and didn't have to get permission.
"That's not how it works. I've been a branch president for 13 years; I have never asked for permission to give an event," he said.
Simmons said he notified Lytle in June of his intent to meet with the KKK.
"I gave her a heads-up the meeting was going to happen," he said. "If she thinks I was asking for permission, I wasn't."
As of late Tuesday afternoon, Lytle and Simmons hadn't talked since Lytle heard about the meeting.
Eric Wingerter, spokesman for the NAACP national headquarters, said local leaders aren't required to get permission from the national office before arranging meetings. He said as far as he knew, Simmons didn't request permission for the meeting from the national office.
"I just don't think that communication happened nationally, but I don't know for sure," he said. "Trust me, I've made some calls."
Wingerter declined to comment on whether the NAACP would accept Abarr's membership and donation, referring to the situation as a "local issue." Lytle also declined to comment on the membership application until she spoke with Simmons.