Casper neurologist David Wheeler has been named the 2019 national physician of the year by the American Heart Association for his yearslong effort to improve stroke care across Wyoming, the organization announced this week.
"He's one of a kind. He's an exceptional doctor," Dr. Amit Khera, a cardiologist and the president of the SouthWest Affiliate of the heart association, told the Star-Tribune on May 14. Khera also worked with Wheeler early in their careers. " ... If there were people as passionate as him in all walks of medicine, we'd be in a very different place in terms of care."
Wheeler told the Star-Tribune previously that he found out about the award in March. He will be honored in Dallas next month.
The founder of Casper's Wyoming Neurologic Associates, Wheeler is just the second neurologist to ever win the award, according to the association. He is a high school dropout-turned-Rhodes Scholar who received both his doctorate and medical degree from Stanford University. He worked in Massachusetts hospitals for his residency, internship and fellowship, before moving to Casper.
Wheeler currently sits on the board of the AHA's SouthWest Affiliate, which covers Wyoming. From 2007 to 2009, Wheeler worked with the association to improve heart attack and stroke care in Wyoming, which led to the creation of the "Mission: Lifeline Wyoming" program, according to an AHA release.
Wheeler has been instrumental in efforts to bring elite stroke care to all parts of Wyoming.
"Being interested in the overall health of the people who live all around us, we and others have been trying to figure out ways that the kind of care we can deliver at Wyoming Medical Center is more readily available to people who live in other parts of the state," he told the Star-Tribune.
Timely treatment
A person has a stroke when blood flow is cut off to a part of the brain and the brain cells begin to die. Blood flow can be cut off by a clot or by a blood vessel bursting or leaking, according to the AHA. Damage from strokes can range from trouble speaking to partial paralysis to death. To limit those adverse effects, time is key.
There are parts of Wyoming where there may not be a Stanford-and-Oxford-trained neurologist and stroke expert on hand. That's where Wheeler's telemedicine program comes in.
"There's all kinds of evidence that the sooner a neurologist gets involved in the care of a patient, the more quickly they'll get treated," he said.
In 2007, Wheeler earned grant money to create a telestroke — telemedicine meets stroke care — pilot program. The program worked great, he said, but after three years, when the grant money ran dry, the hospitals involved balked at forking out $10,000 a month to pay for it.
"From that point forward, we started doing most of our stroke care over the telephone," he said. "So the hospital finds out a stroke coming, as quick as possible they get their CT scans done and they call us."
Within 15 to 20 minutes, Wheeler would be looking at scans of that patient and could recommend a treatment plan to best care for the patient.
It was better than nothing, but the phone call system "had a lot of time lag," Wheeler said.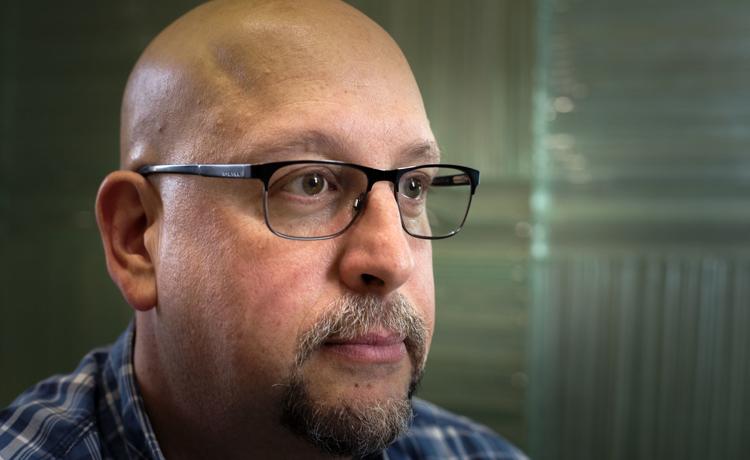 Fortunately, technology is cheaper now. Cameras and computers are more readily available. Using iPhones and Zoom — a more secure Skype — Wheeler restarted the telestroke program on a smaller scale a few years ago. He pushed for the project to be adopted by WMC, and his program is now up and running in hospitals in Douglas and Sheridan.
Since Wheeler spoke to the Star-Tribune in March, Thermopolis has joined the program, as well, with Gillette's hospital on deck. Another seven facilities are "keenly interested," Wheeler said.
"There are neurologists in other communities, but they don't typically take calls on a regular basis because they're usually solo," he said, explaining why his clinic is taking on so much of the stroke care work in Wyoming. "Some of them don't usually go to the hospital or they pick up the phone if they happen to be available. What you need to do good stroke care is 24/7, 265. Same level of care, no matter what time of day it is.
"We're aiming to offer that to as many places as we can."
Wheeler and the two neurologists in his clinic take turns being on call. They're each on call constantly for a week at a time (though Wheeler said most strokes happen during the day). He said his team receives five or so total calls from Douglas and Sheridan each week, up significantly from when the telestroke program first launch.
"There are countless people who've avoided death and disability because that program is in place," Khera said.
High school dropout
Wheeler turned onto the road that would lead him to become a nationally recognized neurologist and stroke expert when he dropped out of a Missoula high school at 16. He met his future wife three years later, and she convinced him to go to the University of Montana, which he did after he earned his GED.
"I did well in school and was kind of aiming toward a wildlife biologist or something like that. I wanted to be a park ranger," he said. "But I got really excited by physiology and neuroscience stuff."
He got pulled into neuroscience research, reigniting a childhood dream to become a doctor — a dream he'd given up on after leaving high school. He was a pre-med student who drew the attention of the Rhodes Scholar counselor at the university, who told him even if he didn't get the scholarship, it'd be a good learning experience and an opportunity for him to learn about himself.
He got the scholarship, of course.
"It was my first example of doing something not thinking it would turn out," Wheeler said, laughing. After two years in England studying at Oxford, Wheeler planned on being a physician-scientist. He went to Stanford, where he spent nine years working on his combined Ph.D.-MD. But his experiences seeing patients near the end of his time in med school shifted his focus. Treating people was rewarding. The researcher part of his life was a bit ...
After spending a few years training in Massachusetts hospitals, he and his wife looked back to the Rockies to settle down. At that time, he specialized in epilepsy care, and he went looking for somewhere that needed his skills.
"A big part of my motivation for becoming a doctor was really just about making the world better, improving the plight of my fellow man — that's genuinely where this comes from for me," he said. "The idea of going and doing something that's desperately needed in a place where they haven't really had that kind of care, that's good for me morally, and intellectually the idea of going to place (where) what I wanted to do didn't exist yet was exciting to me."
His first interview was at Wyoming Medical Center. He's been in Casper ever since, expanding his expertise into stroke care in the meantime.
Khera, the president of the heart association's SouthWest Affiliate, said that when Wheeler was still training, it looked like he was going to work in a lab and eventually win a Nobel Prize.
"Now, he's won a prize that's equally worthy," Khera said.
Wheeler made the "conscious decision" to return to the West and work in a rural setting, Khera said, describing it "a calling."
"You don't find enough people that do that."