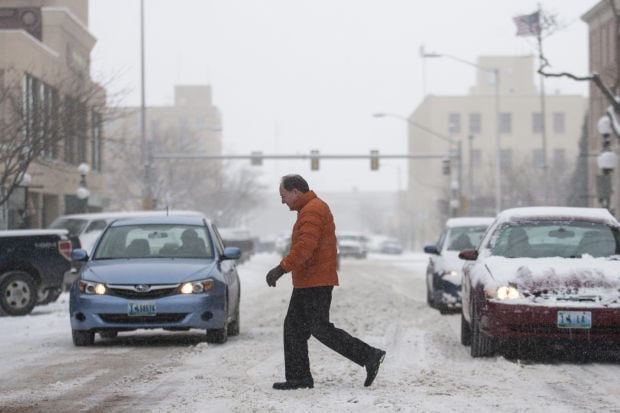 Once again, Casper is considering making the one-way streets running through downtown into two-ways.
The Casper City Council gave the go-ahead Tuesday for the Casper Area Metropolitan Planning Organization to conduct a study on whether the proposal is feasible or not.
The downtown streets in question would include Wolcott, Durbin, C and Market, which are all one-way right now. The proposal to turn those streets into two-ways isn't new — it has been brought up several times in the last 20 or so years. Concerns over cost and losing some parking downtown may have halted progress in the past.
According to MPO Supervisor Jeremy Yates, the streets were laid in 1979, when oil was booming and city planners anticipated a lot more offices and business crowding into downtown. After the industry busted in the 80s, the streets haven't quite had the traffic to justify the one-way pattern.
We're still pretty far out from anything happening — Wednesday's vote was just to authorize a Denver-based firm to look at the potential effects and impacts of making the streets two-way. After the study is completed, the city and the MPO can start making real moves.
A two-way flow is also generally safer than a series of one-ways, according to Casper Police Chief Keith McPheeters. He told the council during a pre-meeting on Tuesday that signage for one-way streets is often not adequate (especially for out-of-towners).
Some worried that changing the streets to two-ways would cause crashes while people got used to it, but McPheeters said that accidents are much less common on two-way streets than on one-ways.
"There is a cost to changing the public's habits," McPheeters said Tuesday. "But my opinion is that two-way traffic is probably safer in the long run."
Ryan Stepp, an owner of Donells Candies, said on Tuesday that the one-way traffic makes his customers — and anyone trying to shop downtown — take convoluted routes around their destination. He'd brought the issue up with City Manager Carter Napier months ago, Stepp said, and was happy it's now being discussed.
Donnells, at the corner of Second Street and the one-way Wolcott Street, doesn't have its own parking, so customers have to get lucky on the street out front or navigate the one-ways of Wolcott and Durbin to find a spot.
Stepp also said he's noticed the one-ways causing traffic on Center Street, and forces people to go a roundabout way to get to high-traffic destinations like the post office.
I've done my fair share of driving around the block, doubling back or taking the long way on Wolcott or Durbin, and my initial reaction tells me this would be a great change.
But I'd love to hear your thoughts — do you think making these streets two-way would benefit downtown businesses and drivers? Let me know — you can drop me a line at (307) 266-0544 or send me a note at ellen.gerst@trib.com.