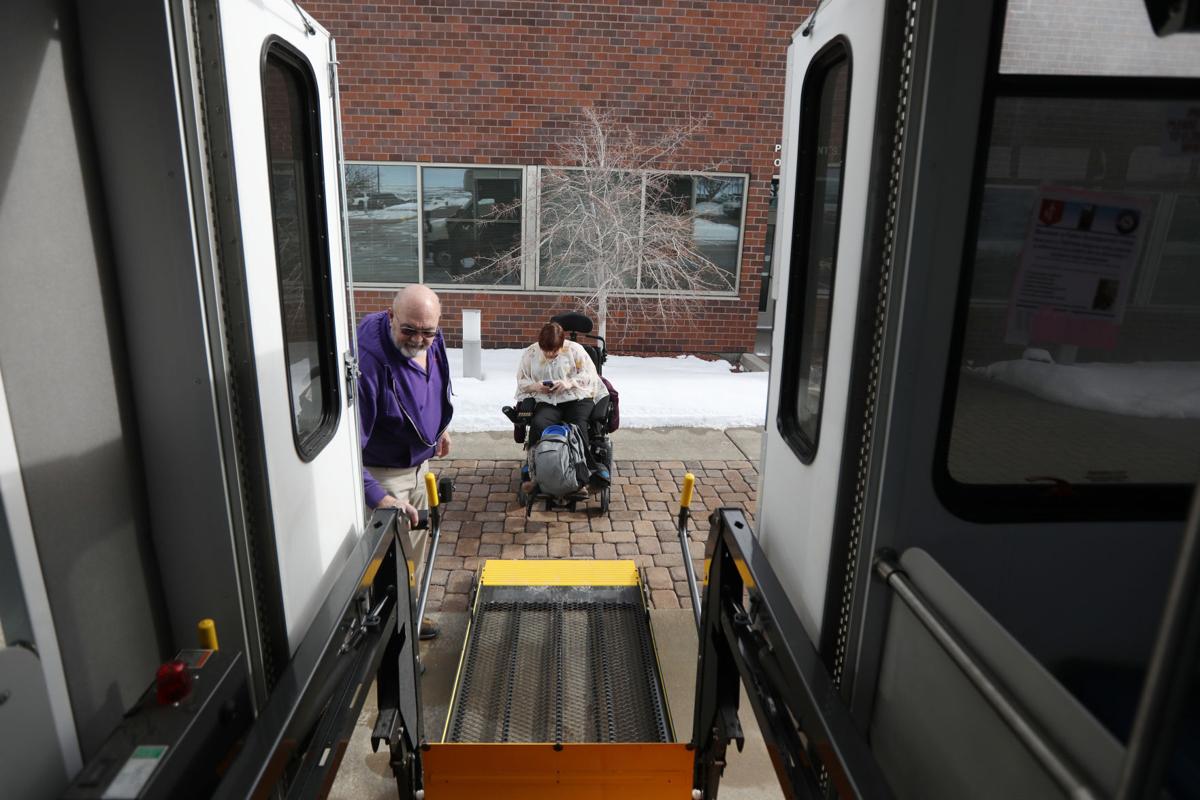 Representatives from Casper's Council of People with Disabilities appeared at Tuesday's City Council work session to present findings from a citywide transportation survey and to consult with the council on ways to make transit better and more accessible for the city's disabled citizens.
The CCPD gathered data in a 10-question survey between June and September and analyzed the results to come up with a few key projects to focus on in 2021. Among them are expanding rideshare and taxi access for people with disabilities, compiling transportation resources and pursuing relationships with rideshare companies and medical providers to improve accessibility for health care visits.
"From the council's inception, transportation has been recognized as a key quality of life issue," CCPD Quality of Life Subcommittee chair Zulima Lopez said. "Access to reliable, affordable transportation is critical. It allows people with disabilities to care for themselves and to be independent."
Grand plans to hold discussions at senior centers and other places serving disabled populations were dashed as the COVID-19 pandemic worsened in the late fall. But even with a lower response to the survey than the council hoped, Lopez said they still felt the 32 responses they did receive were representative enough to move forward when the alternative would be delaying these changes even more.
One of the most pressing issues brought in front of the council Tuesday is how to clear snow and ice from walkways, with the CCPD looking at partnering with city work groups or businesses to provide the labor. Even if Casper's transportation system gets someone to their stop, obstructed sidewalks could prevent them from actually getting to their final destination.
CCPD member Masha Flinn attended the meeting with Lopez and spoke to the council about her experience with obstructed walkways as a wheelchair user in Casper.
"I don't have snow tires, so I tend to lose traction on ice, making it virtually impossible for me to move," said Flinn. "I then have to call a friend or family member to come where I'm at and help me get unstuck … they don't always have the time to come help me."
The survey found several other pertinent areas for improvement based on the experiences of Casperites with disabilities. The biggest barrier to using transportation was found to be the lack of service on weekends and evenings, according to 75% of respondents. Fifty-seven percent said that scheduling or arranging rides was too difficult, and 46% said existing modes of transportation don't go where they need to be.
The majority of people surveyed, around 84%, said they utilize transit primarily to get to medical appointments and service providers.
"Most of our trips, I'd say about 75% on CATC, are for medical services," Casper Area Transportation Coalition executive director John Jones said. He said the coalition has provided an average of 45,000 rides per year between The Bus and door-to-door service since 2017.
When asked how they thought transportation accessibility could improve, 75% of survey-takers said they wanted to see a centralized contact for all transportation questions and arrangements in Casper. Sixty-two percent said it would help if service providers, like medical offices, also assisted in arranging rides.
Right now, CATC is essentially the only affordable option for anyone looking to get around without their own vehicle. With fixed-route buses that allow minor deviations and door-to-door service by appointment, executive director John Jones said all of CATC's services and fleet are accessible to everyone. But there are a few gaps.
"It doesn't run on Sundays; it stops in the evenings," said Lopez. "There's a big gap in nighttime and weekend hours, and we have had members of the disabled community say that it's a challenge. You can't take advantage of a lot of activities or events, or go to church on Sunday."
Jones said he hasn't heard much demand for door-to-door Sunday service — CATC hasn't offered it in years, he said, because ridership was so low. On all other days, service stops at 5:30 p.m. Ideally, Jones said CATC would be able to offer same-day service for its door-to-door customers, who are primarily members of Casper's disabled or elderly populations. But he said that's not a possibility right now, with a limited fleet and pockets still hurting from the pandemic.
While its operations are primarily funded by grants and fundraising revenue, CCPD requires cooperation from city services, CATC and the Metropolitan Planning Organization. Vice Mayor Ray Pacheco joined CCPD as the City Council representative Tuesday as the council's board assignments for the year were finalized.
"We kind of sit in our own little worlds so we don't really understand unless we have somebody in our lives with a disability," Pacheco said. "I for one on council think we really need to look at this seriously."
Pacheco and other members of the board voiced their support for CCPD, moving to prepare further recommendations in the coming weeks. Lopez said their immediate next steps will be to meet with representatives of the parks, streets and code enforcement divisions to get a "big picture view" of the city and hear potential solutions.