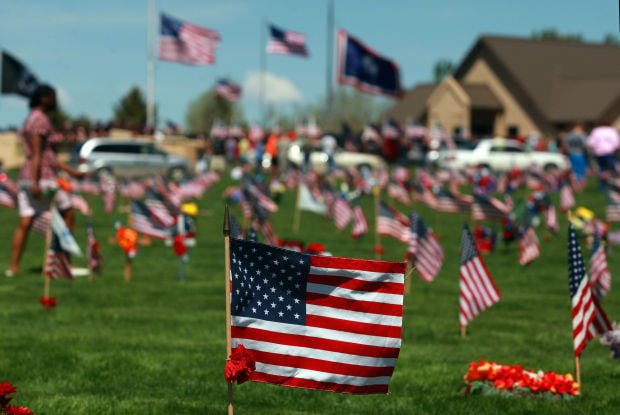 An Army non-combat veteran who runs a genealogical research business needed a project for a service organization. Her husband, Sgt. First Class Jeffrey Mansfield, who will be on his third deployment when their 25th wedding anniversary rolls around in 2020, encouraged her to look into a national effort. They met while both were stationed at Fort Bragg.
On Wednesday, under the coordination of Tammy Mansfield of Sheridan, numerous nonprofit groups will see their efforts end when the orphaned ashes of 23 veterans are interred in an 11 a.m. ceremony in the chapel at the Oregon Trail State Veterans Cemetery in Evansville. This is just the first of what she intends to be many similar ceremonies honoring veterans from all over the state.
She knows she will cry. It's been a long time coming, with the bureaucracy of the federal government combined with the protocol of caring for the dead among the hurdles. We chatted with her about the background and the ceremony.
Tell us how all this got started. I'm the state president of the Wyoming State Society Daughters of 1812. It started in Wyoming in 2017. It's a lineage and service organization. We promote the history of the War of 1812 and service to vets and patriotic education. We currently have about 90 members statewide.
You have free articles remaining.
How did you get connected with the Missing in America Project? My husband and I, for about a year and a half, have been researching veterans in the Sheridan Municipal Cemetery whose graves are not marked and getting them headstones. We should do this Missing in America thing, he said. Then when I became president of the state society, I needed a project. Our group volunteered with MIAP right away, but it became a very slow process. The Missing in America Veterans Recovery Program is a federally recognized veterans organization for the identification, location, verification and movement of veterans and their families. To date, 19,876 cremains have been found nationally since 2006, with 4,500 veterans identified and 4,130 interred.
What do you hope people take away from the Wednesday service? (Here, Tammy starts crying.) It's always worth making an effort for somebody else. It's always worth making an effort for veterans who you don't necessarily know.
The tagline of MIAP is "The veterans languishing on shelves need us." Can you explain that a little bit? Yes, all of the headlines you see are about "forgotten veterans." Federal rules change quite often. In the past, before 2013, the funeral home had to have a family member come to get those people, and if you cannot find them or no one is willing to, then they would just stay there, literally on the shelves in funeral homes. In 2013, the government changed the rules so that veterans service organizations can now claim those remains and take responsibility for them, and that's what this ceremony is for.
These veterans were all at Kane Funeral Home in Sheridan, but this is just the first of what we hope are many ceremonies like this. I wanted to start in Sheridan to figure it out and now we're hoping it will go a lot smoother. My ladies in Laramie County and Natrona County are working on their veterans there, and there are some veterans who fall in a different category here in Sheridan at Champion Funeral Home and we are working on those as well.
Note: The route to the final resting place for these 23 veterans starts at 7 a.m. on Wednesday, when the Patriot Guard Riders begin the escort from Kane Funeral Home. Military honors and interment with the Natrona County United Veterans Council and other groups participating begins at 11 a.m. in the Tom Walsh Chapel at Oregon Trail State Veterans Cemetery. The public is welcome to attend.
Follow community news editor Sally Ann Shurmur on Twitter @WYOSAS
Follow community news editor Sally Ann Shurmur on Twitter @WYOSAS