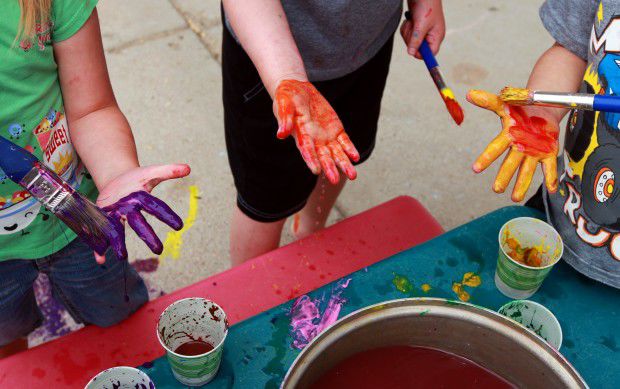 With most school districts across Wyoming closing to limit the spread of the novel coronavirus, child care providers braced themselves for an influx of calls from desperate parents needing a place for their children to go. So far, most providers say those calls haven't come and their clienteles have actually dropped significantly.
The Natrona County School District announced Sunday night it would close until April 6, following the recommendation of Gov. Mark Gordon and state Superintendent Jillian Balow. Several child care options around town have closed as well, including the Prince of Peace Lutheran Church Preschool, the Boys & Girls Clubs of Central Wyoming, the YMCA of Natrona County and the Casper Child Development Center.
But with recommendations from the White House and the Centers for Disease Control and Prevention to limit group gatherings, and to stay home if possible, most providers say parents are watching their kids themselves or partnering with friends to share child care responsibilities.
The Casper Housing Authority's child care center, Kids Kampus, has seen a 50 percent reduction in attendance this week, according to Courtney Stufft, who runs the day care.
Stufft said a few people have called looking for a place their children can go during the day, but for the most part, the facility is quieter than usual. Kids Kampus usually sees about 55 kids per day, Stufft said, but this week they've had only about 25. Staff hours have been cut to align with the recent demand.
Lisa Burgess, who runs the Neighborhood Child Learning Center on Eighth Street, is seeing a similar pattern.
"I was expecting, because of the Boys & Girls Clubs, we'd hear more," she said.
But business has actually taken a hit. Her day care, which accepts infants through elementary students, is still open able to accept new kids. But she hasn't gotten a single call from a guardian in need.
"That's what we're kind of shocked about," she said.
Alicia Brimmer, who runs Alicia's Day Care in east Casper, also said she's shorter on kids than expected.
"I should be full, but it seems kids aren't coming," she said.
She thought she'd be inundated with phone calls, but so far only the Wyoming Medical Center has called, looking for child care for hospital staff.
Brimmer said she will still accept drop-ins but will need to screen children for fevers or coughs before she can take them.
The hospital also called Linda Fittje, who operates Daffodil Darlings Daycare. Fittje's entire client base is teaching families, she said. So right now she's completely empty. She said she could take some children in the short term but would typically be full.
A WMC spokesperson said the hospital is monitoring the child care situation among staff but could not provide further details.
Other providers around town are taking their lead from the school district and aren't accepting new students until the district reopens. The Learning Junction Children's Center, Giggles & Wiggles Preschool, and AppleTree Learning Center all fall into this category.
As of Tuesday evening, 11 people in Wyoming are known to have contracted COVID-19, a respiratory illness caused by the coronavirus. Eight of those cases are tied to an assisted-living facility in Lander. The other two cases, both in Sheridan County, are connected to one another.
Many providers said they suspect their numbers are low because of parents who want to keep their children from being around other kids in order to limit their households' exposure to the virus.
Foundations Early Care & Education is still open, "for now," director Stephanie Rino said. But she too is worried about how the situation may shift.
"I think there are so many unanswered questions right now," she said. "It's almost an hour-to-hour situation."
Rino's program takes infants but also offers a before- and after-school program, which she is now running all day for the families that need it. But she said she hasn't gotten calls looking for care, either.
She's worried the school district will remain closed longer than three weeks, and what that might mean for her ability to stay open.
Child care providers are adapting elsewhere in the state as well, with closures throughout the state.
On the Wind River Reservation, where schools provide a number of critical resources for children, organizations are delivering meals to children in light of schools and day cares closures. One tribe is strictly enforcing a curfew for minors.
In Casper, many providers in the community are taking extra precautions for now and hoping for the best.
Star-Tribune staff writer Chris Aadland contributed to this report.
Follow local government reporter Morgan Hughes on Twitter @morganhwrites
Concerned about COVID-19?
Sign up now to get the most recent coronavirus headlines and other important local and national news sent to your email inbox daily.