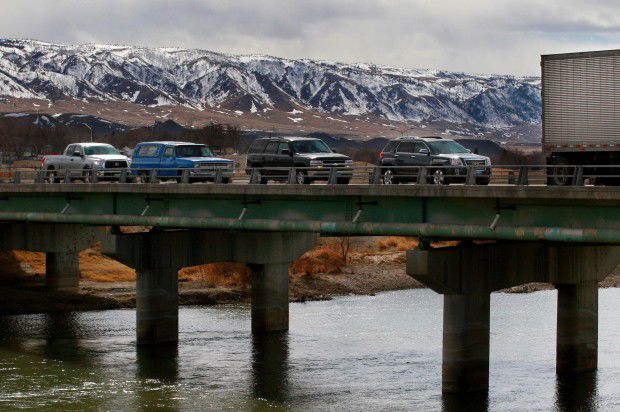 Beautifying Casper's gateways has been a longtime goal of city leaders, and the City Council is hoping to get some help from the Wyoming Business Council to do so.
City staff asked the council to approve an application for a $500,000 grant from the Wyoming Business Council's Community Enhancement Grant fund to create a sort-of gateway park at the First Street entrance into the city. The grant requires a 25 percent match from the city.
The required match, plus whatever extra the project costs, will likely need to be paid for by additional grants or private foundations, according to a memo from Jolene Martinez, the project's leader and assistant to Casper City Manager Carter Napier.
"We feel confident we would be able to get the match money," Martinez told council during their Tuesday night work session.
The project would include a welcome sign, a new pathway along the river from about the BNSF bridge to just before the Poplar Street bridge, park benches, light fixtures, picnic tables, a new boat ramp off B Street and a parking lot.
The project is tentatively budgeted at $786,000, but Martinez said the budget may change, depending on how council members feel about certain elements of the project.
Right now, council members are simply approving submitting a grant to the business council, and no money has been allocated for the project yet.
You have free articles remaining.
The beautification goals overlap with other ongoing efforts to create a more cohesive city aesthetic. The Casper Area Metropolitan Planning Organization has been working on a project to add wayfinding signage around the city, directing tourists and other visitors to the area's key points. And the city's Old Yellowstone District council has been discussing new signage rules as well.
Martinez references these other efforts in a memo to Napier regarding the grant application.
"Though many studies and strategic plans have identified this area as an important gateway, it remains a distinct negative visual break from the work that has been done in the surrounding area," the memo reads.
Council approved submitting the application during its Tuesday work session, but will still need to formally approve the application at a regular meeting.
If the gateway project is funded, it would coincide with the city's current river restoration efforts underway along First Street. The city's hope, according to an earlier Business Council grant application, is to leverage the riverfront for economic development the same way Denver has by restoring the South Platte.
The city estimates the combination of the gateway park and the river restoration along First Street will boost surrounding property values by 5 percent by 2027 and boost recreation by 50 percent by 2024.
The gateway project would piggyback off the river restoration to build out the riverfront to be more accessible in that area.
Follow local government reporter Morgan Hughes on Twitter @morganhwrites