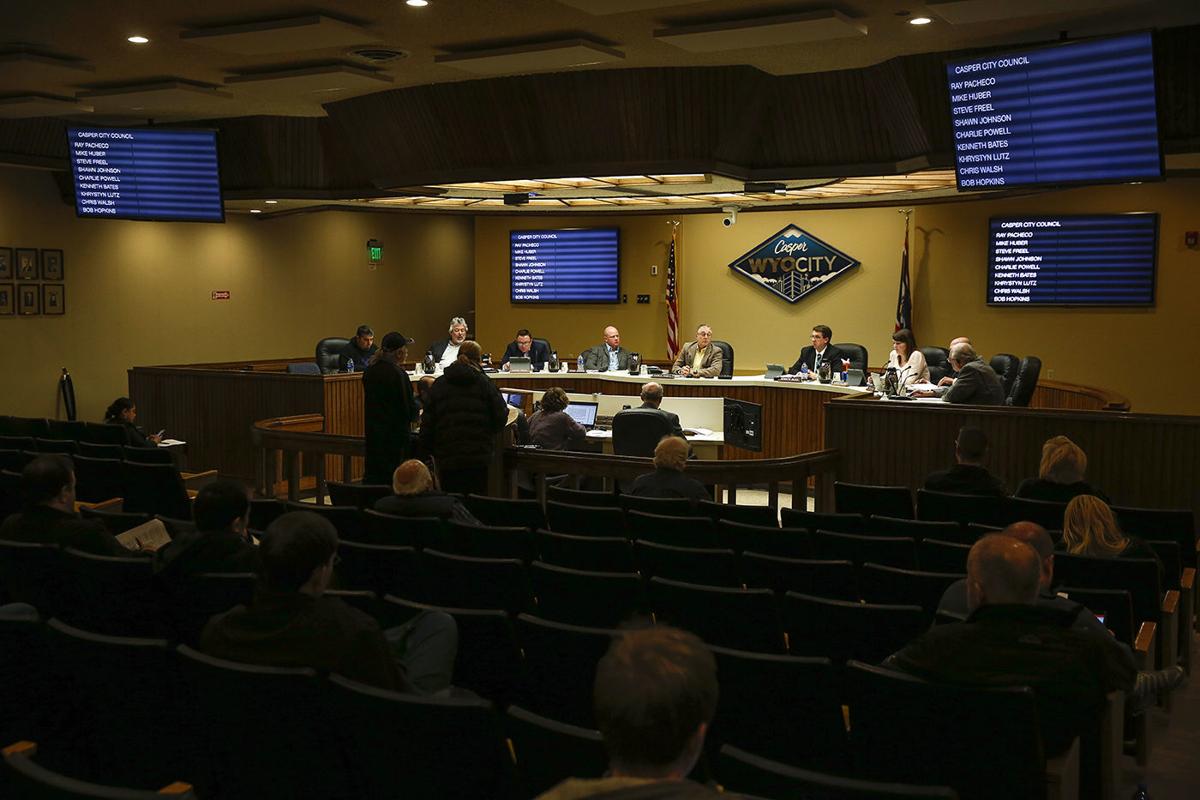 The Casper City Council is holding special work sessions this week to discuss the fiscal year 2020 budget.
In recent years, the state's economic downturn resulted in an early retirement program and budget cuts, but Mayor Charlie Powell said this year he is "cautiously optimistic" about the city's revenue picture.
"We still want to be very cautious," he said, but he doesn't anticipate any significant budget cuts this year, or reserve fund spending. Powell said his major priorities for this year's budget are paying off a $1.7 million debt to the state and balancing the city employee health insurance fund, which Powell said earlier this year was a primary goal of his.
The $1.7 million debt to the state comes from a clerical error made by a Rock Springs company in 2013, when Casper was given sales tax funds meant for Rock Springs and Green River.
"We've got some plans for how we can make that up," Powell said. "It's not a crisis situation."
One way the city may address that debt is by postponing some capital construction projects, though Powell said it would not mean postponing projects the city has already committed to.
He said rebuilding the city employee health insurance fund may require a line item in the budget.
The health insurance fund has been a contentious topic for the Council. Claim costs have increased to the point where the city had to spend much of the health insurance reserve fund to make up the difference, leaving a $2.5 million deficit in the fund.
Since 2011, the city has raised health insurance premiums twice, once in 2014 and once earlier this year, despite a more than $2 million increase in claims in the same time frame. Powell said the issue is less with not raising the premiums and more with the unpredictability of claims.
An attorney general's opinion issued earlier this month, which ruled municipalities could join the state health insurance pool, may be one answer to the city's trouble on that front. Powell said it is something city officials are considering.
But even with the health insurance deficit and the $1.7 million debt, the budget is in good shape, Powell said. The city may be able to revive some positions eliminated by past layoffs and there may be room for additional spending when it comes to wages for city employees, he said.
You have free articles remaining.
He said the city has been unable to change the compensation package over the last few years, and he would like to look at fixing that. At the Council's May 14 work session, the Casper Police Department submitted a proposal to restructure its compensation model, creating a new position within the department to both incentivize officers and provide more services to the community, according to the proposal.
The proposed model tackles a challenge almost every department in the city has faced: After five years with the city, advancement opportunities — and with them, raises — stall out, and employees can only receive cost-of-living wage increases. This both hurts recruitment and retention, particularly in the police department, Police Chief Keith McPheeters told the Star-Tribune last week.
The Council will consider approving the police department's proposal, which Powell said he was supportive of, as well as look at implementing similar changes in other city departments, though that discussion is still in early stages and will likely require more research.
Council member Steve Freel said he supports the police department's proposal, but wouldn't approve similar changes for other departments until seeing detailed plans for those departments.
"I'm supportive across the board of making sure we're paying our employees what they deserve to get paid," Freel said. "But I'm not going to give you a thumbs up to implement something I haven't seen."
As for other budget issues, Freel said he is looking forward to seeing how the process goes.
"I think it's going to be a learning experience," he said, this being his first year on the Council.
Freel said if it's possible to earmark money for certain recreation projects, like funding a new lift at the Hogadon Ski Area, he would support that. But, he said his primary goal is ensuring the budget is balanced and there is not any unnecessary spending.
Bob Hopkins, a longtime council member, said he thinks this year will be routine.
"I don't see anything right now out of the ordinary," he said.
He anticipates ending the 2019 fiscal year ahead, and he said he would like to see that money put back in the reserve fund.
The Council is expected to vote on the budget either later this month or early next month. Wyoming state statute requires all cities to have an approved, balanced budget by mid June.
Follow city reporter Morgan Hughes on Twitter @morganhwrites.