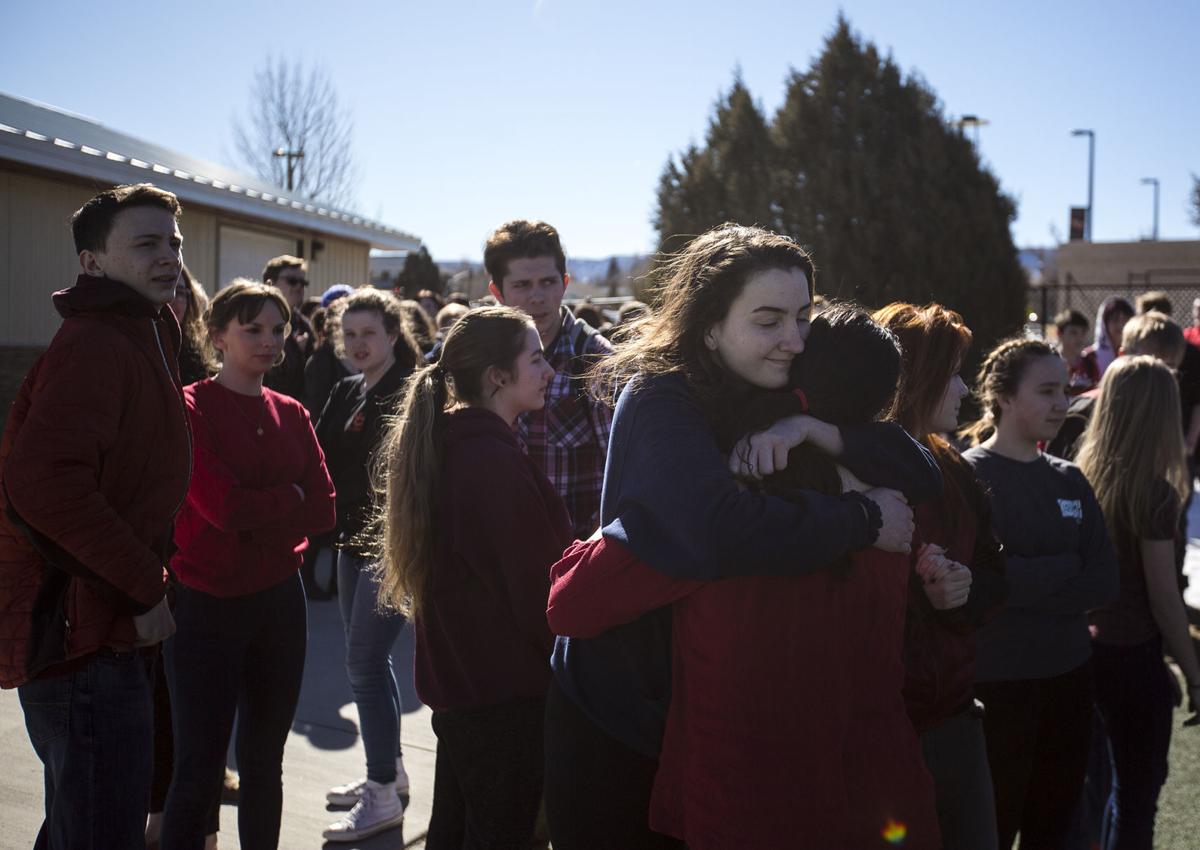 The march planned for Wednesday to demonstrate against police brutality in downtown Casper is expected to be peaceful and not include protesters from outside the state, an organizer of the event and city officials said on Tuesday.
The anticipated march comes in response to the May 25 police killing of George Floyd, a black man who died when a white Minneapolis police officer knelt on his neck for more than 8 minutes. The march, which is led by Casper Youth for Change, will take demonstrators from David Street Station to Casper City Hall. Once at City Hall, event organizers will lead those gathered in peaceful demonstrations, like taking a knee and observing a moment of silence for Floyd and others who have been killed by the police, Casper Youth for Change spokeswoman Rhiannon McLean said.
"We are mourning the loss of this man," McLean said, so there are plans for "a lot of peaceful ways to exhibit that."
McLean told the Star-Tribune on Tuesday that the march will be a peaceful expression of solidarity and mourning, and that there are no plans to escalate the event into violence or destruction, contrary to rumors circulating online.
A series of social media posts claimed that members of antifa — which is a term commonly used for a loose collection of militant far-left groups that have endorsed violent protest methods in the past — had been bused into Casper to bolster the community protest.
McLean said that is not true. Organizers have not sought to recruit additional marchers from out of state, she said.
"I and no one who is associated with the protest has called anyone from antifa," McLean said.
Police Chief Keith McPheeters by phone the same afternoon said that his agency had investigated social media claims that people had been bused in from out of state in connection with the protest. The investigations did not indicate the posts were legitimate, though he noted that the agency has taken every tip seriously.
"As of this time, we have no credible evidence that any of that is in fact truthful," McPheeters said. In a later phone call, he said a barrage of misinformation pertaining to the protests had been passed in social media posts: "They're a bit like weeds that are coming up after spring rains."
No indications of destructive behavior
Casper Police Department spokesperson Rebekah Ladd said Tuesday that this encouragement from the department was simply an act of caution and not in response to any evidence the department has that destructive behavior will happen Wednesday.
"We know these have the opportunity to turn violent," she said.
When asked about citizens' concerns about downtown property, McPheeters said his agency could handle its task.
"The citizens of Casper kind of look to the police department for their protection and safety," he said. "And we're fully responsible for that."
The chief said that counterprotesters could diminish legitimate grievances raised by people at Wednesday's march. He said the agency's goal is to "provide a venue" for people to present their concerns about police brutality.
"There's going to be a time and place for people to express their opinion — this is one where people are expressing their dissatisfaction with law enforcement nationwide," McPheeters said. "We want to make sure people can do that without fear of reprisal."
Casper Mayor Steve Freel said Tuesday some downtown business owners had asked if they would be allowed to stand outside their storefronts with firearms during the march. Freel said residents are allowed to openly carry firearms and won't be prevented from doing so, but that he discouraged business owners from following through on the idea.
"Even though you have the right to do that, leave it to law enforcement to uphold the law," Freel said, adding that people openly carrying firearms could escalate an otherwise calm situation.
McLean was adamant about the march remaining peaceful and nonviolent. She said if the police at any time for whatever reason say the demonstration must be disbursed, they will comply with that request.
In response to the police department urging downtown businesses to take precautions during the march, McLean is encouraging protesters to shop local before and after the event, "to show (the business owners) we're not here to hurt anybody."
Organized by young people
The march itself was not McLean's idea, she said. The flier promoting the Wednesday protest was actually created by "a young man" who after posting it online decided to step back from the protest, she said.
Concerned that things could go awry without any leadership or organization, Casper Youth for Change stepped in and are now the current event organizers.
Tuesday, a group of young people marching in downtown Casper included a Casper Youth for Change organizer, but McLean said the group was not involved in organizing the protest, which numbered about 30 people.
Casper Youth for Change is the grassroots effort of a handful of students from Natrona County High School. They formed their group after the mass shooting at Marjory Stoneman Douglas High School in 2018.
Casper Youth for Change organized a school walkout, where students left their classes in protest of current gun laws and the overwhelming number of mass shootings that have occurred in the U.S.
"We do have a few protests under our belt," McLean said, explaining that the organization feels confident in its ability to maintain decorum and safety Wednesday.
McLean was unable to say how many people she expects at the march.
"With any event, you have to assume less people will show up than are talking about it," she said, but based on social media and rumblings around town, she's hopeful the turnout will be significant.
The city of Casper expects the demonstrations to remain peaceful, but it has been preparing for a worst-case scenario around the protest, Casper City Manager Carter Napier said. He wouldn't go into specifics about what those preparations looked like and declined to say whether Casper police officers would be armed with rubber bullets or tear gas canisters, as has been the case at other protests in response to Floyd's death.
"We certainly are preparing for an event that could be aggressive and plan to work with the organizers … to ensure everything is peaceful," Napier said.
He also said the statement issued by the police department Monday encouraging businesses to close during the protest had perhaps been misinterpreted. He said the city is in no way mandating that businesses close during the protest.
Hearing from the community
Napier stressed that the city is supportive of the march, so long as it does not devolve into property damage or violence.
"If our community has things they need us to hear, we need to be able to hear them," he said when asked about the march ending at Casper City Hall. He also said city employees would be allowed to participate in the march, unless it became violent.
Freel, the mayor, has also voiced adamant support for the march scheduled Wednesday.
"As far as the protest itself, and any of these protests, I'm absolutely 100 percent behind them," Freel said. "I agree with everything that has unfolded across the United States and the reason behind it."
As a former police officer — and once second in command of the Casper Police Department — Freel said he felt the officers involved in Floyd's death "should pay the price." Derek Chauvin, who killed Floyd when he knelt on his neck, is the only of the four officers involved in Floyd's detainment who has been arrested and charged with a crime. All four have been fired.
While supportive of the protest, Freel said he worried about outsiders coming into the city and "taking advantage of the situation" to agitate and escalate the peaceful demonstration.
"I'm concerned, you bet ... because you never know what's going to happen," Freel said, though he added there is no evidence that that would be the case.
Some Wyoming residents have posted plans online to counterprotest the Wednesday march while carrying firearms. Napier said that act would also be allowed, so long as decorum could be maintained.
"Indeed, counterprotesting is also a protected method of expressing one's views, as is the bearing of arms," Napier said.
Be the first to know
Get local news delivered to your inbox!