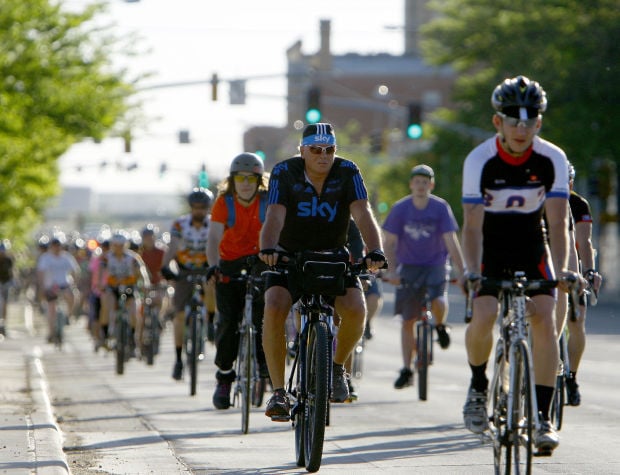 More than a year after the death of a cyclist in downtown Casper, the city is dedicating new on-street bike lanes.
The Casper Area Metropolitan Planning Organization is hosting the dedication ceremony at 4 p.m. Tuesday on South Durbin Street behind the Natrona County Public Library.
Following the death of Matthew Harker in May 2014, city officials called for more education of both cyclists and drivers. A bike and pathways master plan was put into action, calling for just over 100 miles of street improvements to make cycling in Casper safer. Included are a couple of dozen projects to complete, at an estimated cost of about $2.1 million, in the next half decade.
The city in July hired local firm Civil Engineering Professionals to help carry out the plan.
The Casper City Council in March approved creating the bike lane on Durbin Street from Casper College to downtown. Work began in August. The street was changed from a four-lane road to a two-lane road with a bike lane on both sides of the street.
"Bike lanes in Casper are a step in the right direction, but there also needs to be education and enforcement as a holistic community approach to keeping cyclists safe," said Matthew Harker's wife, Stacy Harker. "A bike lane wouldn't have saved my husband, but I am hoping it creates more awareness overall, encouraging cycling enthusiasts and families to get out and enjoy what Casper has to offer."
Tia Leschin, owner of Crazy Pedaler Bicycles in downtown Casper, said she will attend Tuesday's dedication ceremony. 
"I think it's an excellent move," Leschin said, of the new bike lanes. 
Cyclists who attend the ceremony are encouraged to ride on the new bike lanes on Durbin and Center streets during the ceremony.
Follow crime and courts reporter Lillian Schrock on Twitter @lillieschrock.