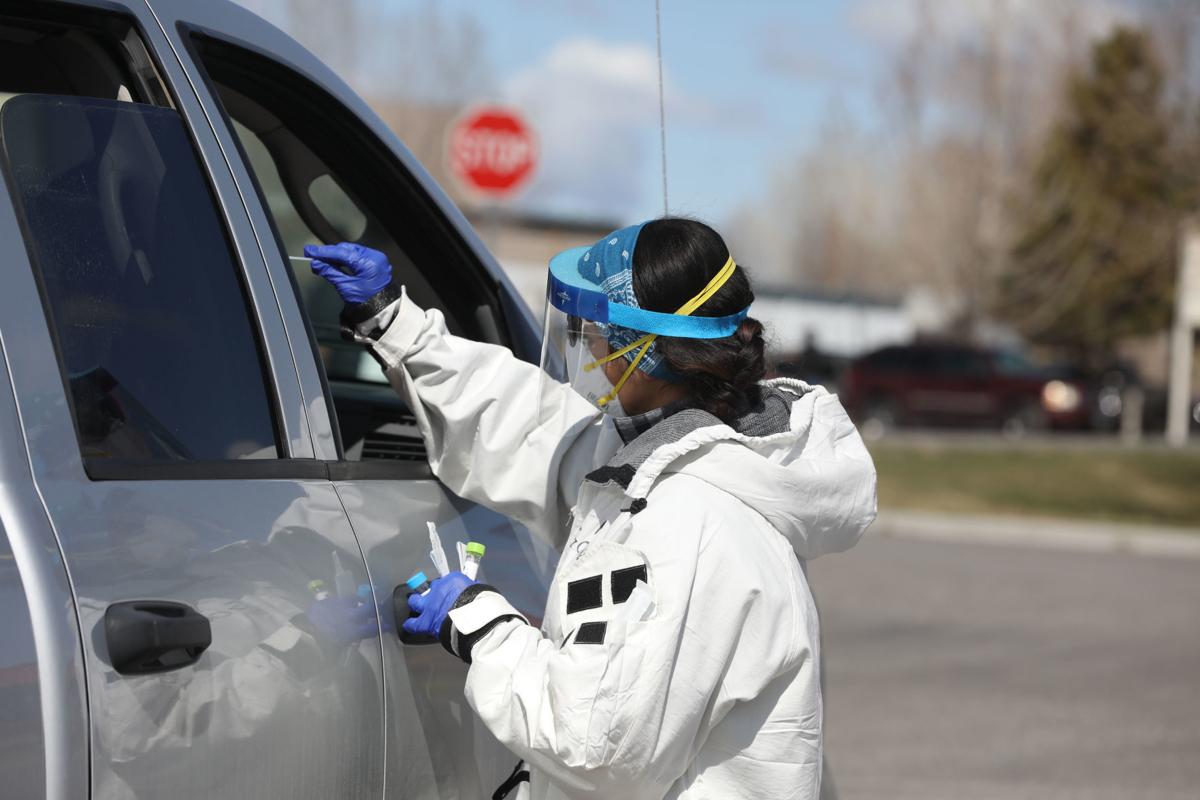 The total number of coronavirus cases in Wyoming grew by 42 on Friday, with the number of confirmed cases rising by 27 and the number of probable cases rising by 15, according to the Wyoming Department of Health's daily update.
The newly confirmed cases come from Big Horn, Fremont (five), Johnson, Laramie (six), Natrona, Park (three), Sweetwater (seven), Teton and Uinta (two) counties.
Thirty-seven new coronavirus recoveries were also announced: 31 confirmed and six probable. There have now been more than 1,000 fully recovered patients in Wyoming, when including both confirmed and probable cases.
Probable cases are defined by officials as close contacts of lab-confirmed cases with symptoms consistent with COVID-19, the disease caused by the novel coronavirus.
A patient is considered fully recovered "when there is resolution of fever without the use of fever-reducing medications and there is improvement in respiratory symptoms (e.g. cough, shortness of breath) for 72 hours AND at least 7 days have passed since symptoms first appeared," according to the Wyoming Department of Health.
The 31 confirmed recoveries and 37 total recoveries are both the second highest single-day totals in their respective categories. The 42 total cases are third most in a single day, and the 27 confirmed cases are tied for second.
There are now 1,368 cases — 1,079 confirmed and 289 probable — and 1,033 recoveries — 812 confirmed and 221 probable — recorded in the state, as well as 20 deaths.
As of Friday, there have been 42,402 COVID-19 tests completed in Wyoming, an increase of 2,248 from Wednesday: 20,912 from the Wyoming Public Health Laboratory and 21,490 reported by other labs.
More than three-fourths of patients have fully recovered.
Patients have tested positive for coronavirus in all 23 of Wyoming's counties. Wyoming has the third lowest recorded number of coronavirus deaths of any state (Alaska and Hawaii), and its death rate (3 per 100,000 residents) is fourth-lowest to Montana, Alaska and Hawaii, according to the New York Times. The state's infection rate (229 in 100,000) is seventh-lowest among states, also according to the Times, which includes probable counts where they exist.
Less than 11% of Wyoming's cases required a hospital stay. In 24.8% of the cases, health officials don't know if the patient was hospitalized.
The virus has disproportionately affected people of color throughout the United States, a trend that is also reflected in Wyoming's data. More than 53% of confirmed cases in Wyoming are white, 28.5% are American Indian, 13.5% are Hispanic, 1% are Black, 0.6% are Asian, and 0.5% are Native Hawaiian/Pacific Islander The racial identities of 5.8% of confirmed cases in Wyoming are not known, and 3.5% of confirmed cases identified as other races. According to 2019 census estimates, Wyoming's population is 83.8% white (not Hispanic/Latino), 10.1% Hispanic/Latino, 2.7% American Indian/Alaska Native, 1.3% Black, 1.1% Asian and 2.2% two or more races.
In 49.8% of the cases, the patient came in contact with a known case. Community spread has been attributed to 19.1% of the cases. In another 10.4% of the cases, the patient had traveled either domestically or internationally. The Health Department attributes 5% of cases to communal living. In 8.8% of Wyoming's cases, health officials don't how the person was exposed to the virus, and 10.3% of cases are pending investigation.



Cases in Wyoming by county (probable in parentheses)



Deaths in Wyoming by county



Health Department data(tncms-asset)f0608226-6ece-11ea-bd05-00163ec2aa77[3](/tncms-asset)



COVID-19, the disease caused by the novel coronavirus, is a respiratory illness. Its symptoms include cough, fever and shortness of breath. Symptoms appear within two weeks. If you have contact with a person who has COVID-19, you should self-isolate for 14 days.



Follow the Wyoming Health Department's tips
Stay home when sick and avoid contact with other people unless you need medical attention.
Follow advice from the Centers for Disease Control and Prevention on what to do if you think you may be sick.
Follow current public health orders.
Follow commonsense steps such as washing your hands often and well, covering your coughs and sneezes, and cleaning and disinfecting.
Nursing homes, assisted living facilities and other healthcare facilities should closely follow guidelines for infection control and prevention.
Older people and those with health conditions that mean they have a higher chance of getting seriously ill should avoid close-contact situations.
Concerned about COVID-19?
Sign up now to get the most recent coronavirus headlines and other important local and national news sent to your email inbox daily.