About 20 people took to Casper's Pioneer Park at noon Thursday to protest what they believe to be government overreach in response to the coronavirus outbreak.
One demonstrator at the protest, organized by a local libertarian group, held a sign demanding Gov. Mark Gordon let the state work. Other signs read "Defend liberty" and "Don't flatten the economy."
A police SUV idled for a few minutes nearby before pulling away, while another policeman observed from a vehicle parked outside of the new courthouse.
Gatherings of 10 or more people in Wyoming are currently prohibited by a public health order issued by Gordon and state Health Officer Dr. Alexia Harrist. Protests are not listed among the order's exemptions, though additional exemptions can be requested from county health officers "if demonstrated ... that people at a gathering will maintain at least six (6) feet of space between one another, and that effective cleaning will be performed before and after the gathering."
State-issued orders in response to the pandemic have also temporarily closed all schools, as well as many non-essential businesses such as bars, gyms and museums. Restaurants' dining rooms are also closed, though delivery and takeout is still permitted.
Natrona County District Attorney Dan Itzen earlier this week told the Star-Tribune that he had advised local law enforcement agencies that they could issue misdemeanor citations under the law prohibiting the willful violation of public health orders. Itzen said, though, that law enforcement hoped to first gain compliance through educational efforts. He said Wednesday afternoon that he was not aware of any citations yet issued under the law but noted that he would not necessarily hear about them until court hearings were pending.
Sheriff's Sgt. Sean Ellis, who serves as a spokesman for the county's coordinated response to the pandemic, said Thursday afternoon that he did not know of any citations issued for violations of directives applicable in Natrona County.
At the Thursday protest, people who didn't hold signs for passing cars to read instead circled in groups of three or four, talking. A woman driving by shouted from the window of her SUV: "Go the f—- home."
Economic worries
Dale Shelden said that an economic collapse occasioned by business closures would cause more deaths by suicide than the virus would directly kill by infection. He acknowledged, though, that increased risks to elderly people meant nursing homes should take increased precautions.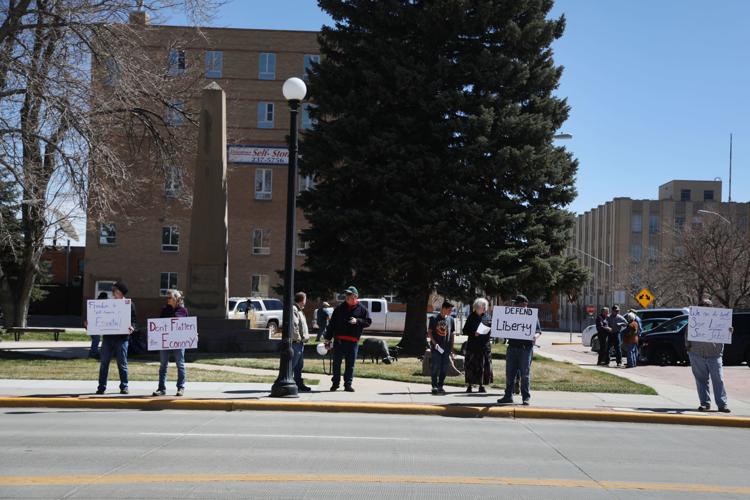 Protester Jeff Yetter told the Star-Tribune that personal sacrifices would be required to effectively prevent deaths, but that he didn't think government intervention was the most effective method. He noted the descending price of oil — which is partially attributable to decreased consumption under COVID-19 sheltering orders — would wreck Wyoming employment prospects.
"There's no such thing as equal liberty in a situation like this," Yetter said. "I don't think that Casper is gonna recover."
The Natrona County Campaign for Liberty encouraged the protesters to gather in a letter from state coordinator Cathy Ide posted to Facebook.
The mission of the Natrona County Campaign for Liberty, according to its Facebook page, "is to promote and defend the great American principles of individual liberty, constitutional government, sound money, free markets, and a noninterventionist foreign policy, by means of education, issue advocacy, and grassroots mobilization."
The national Campaign for Liberty was founded by former Texas congressman and Republican presidential candidate Ron Paul.
Challenging protesters
A number of counter-protesters planned to meet at the park while staying in their cars, including former Democratic legislator Debbie Bovee. She said she got word of the protest and immediately emailed all Democrats on her mailing list to tell them.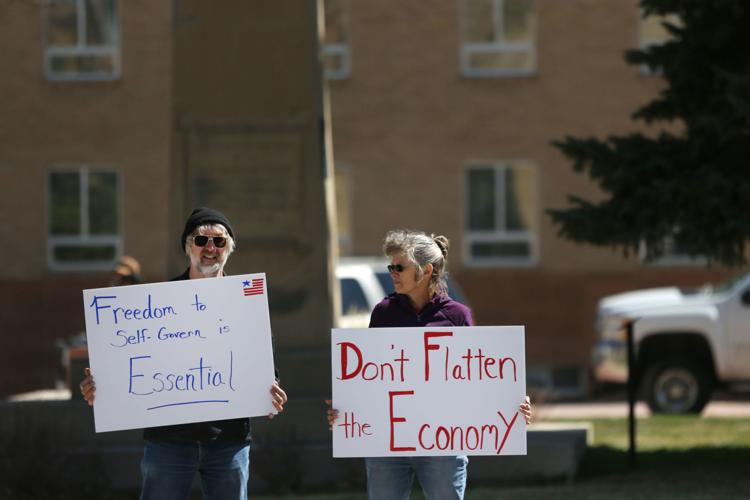 "I just told them, 'If you want to drive by with a sign, let 'em know you don't appreciate it,'" Bovee said Thursday. "There was nothing organized in it at all."
In an email chain ahead of the protest, opinions were split on how to proceed, she said, with some saying it wouldn't be good to give the group attention. Others suggested it would be effective to surround the park with signs. However, Bovee said she believed it was important for them to show up and to not let the message go unchallenged.
"I just think that group of people are endangering the citizens of Natrona County," she said.
In an interview with the Star-Tribune Thursday, Ide said the demonstration was in part inspired by recent cease-and-desist orders issued in two separate states against the company Hobby Lobby, which had violated orders shutting down non-essential businesses in the states of Texas and Colorado, as well as the mass closures of businesses on main streets across Wyoming.
"You drive through Casper, it's like a ghost town compared to what we usually are," she said. "You don't have the usual hustle and bustle, and it's just sad. Our effort was more geared toward getting Wyoming back open to business and to rescind (Gordon's) order."
The letter she posted on Facebook, which calls the coronavirus "the Chinese virus," refers to a recent public health directive for Teton County residents to stay home and states that orders closing public spaces are totalitarian.
"Those of us who respect our U.S. Constitution and believe in defending citizens' rights of self-responsibility — to go to work or stay at home, to wear a face mask or to walk outdoors in fresh air, to gather in worship or practice social distancing — realize that if we stay silent and allow this kind of government overreach, we may lose our cherished freedoms forever," the letter states. "America was founded upon personal responsibility and self-governance. We rely on honest science, honest data, and hard facts. We do not rely on media-driven hysteria and conflicting reports."
Ide said that while she was not trying to downplay the seriousness of the virus, her effort was intended to display a growing sentiment of dissatisfaction with the closure of the state's economy.
"I think a lot of people are frightened to even take a public stance," she said. "I visit with so many people, and a majority of people I talk to want to get back to work. They are completely opposed to this limited shutdown. It just affects people psychologically, it gets you down and depressed, and you don't like to see this happen in our community."
The Natrona County organization's rhetoric closely resembles that espoused by the national organization in recent communications to its membership. In a blog post on March 16, Paul called the COVID-19 outbreak — which has produced more than 450,000 cases and 16,000 deaths in the U.S. alone — a "hoax" perpetuated by government leaders to deprive Americans of their freedoms, rather than protect public health.
"That is not to say the disease is harmless," the letter read. "Without question people will die from coronavirus. Those in vulnerable categories should take precautions to limit their risk of exposure. But we have seen this movie before. Government over-hypes a threat as an excuse to grab more of our freedoms. When the 'threat' is over, however, they never give us our freedoms back."
The Natrona County chapter of Campaign for Liberty has attracted some attention for their political organizing activity in recent months. In the fall, the organization found itself at the center of some internal controversy within the Natrona County Republican Party. Ide, a member of the county's executive committee, canvassed parts of the city in October with door hangers and flyers opposing Casper Republican Rep. Jerry Obermueller's proposal for a corporate income tax, a move that raised questions among some local Republicans about improper lobbying activity. A formal complaint was never filed.
Concerned about COVID-19?
Sign up now to get the most recent coronavirus headlines and other important local and national news sent to your email inbox daily.