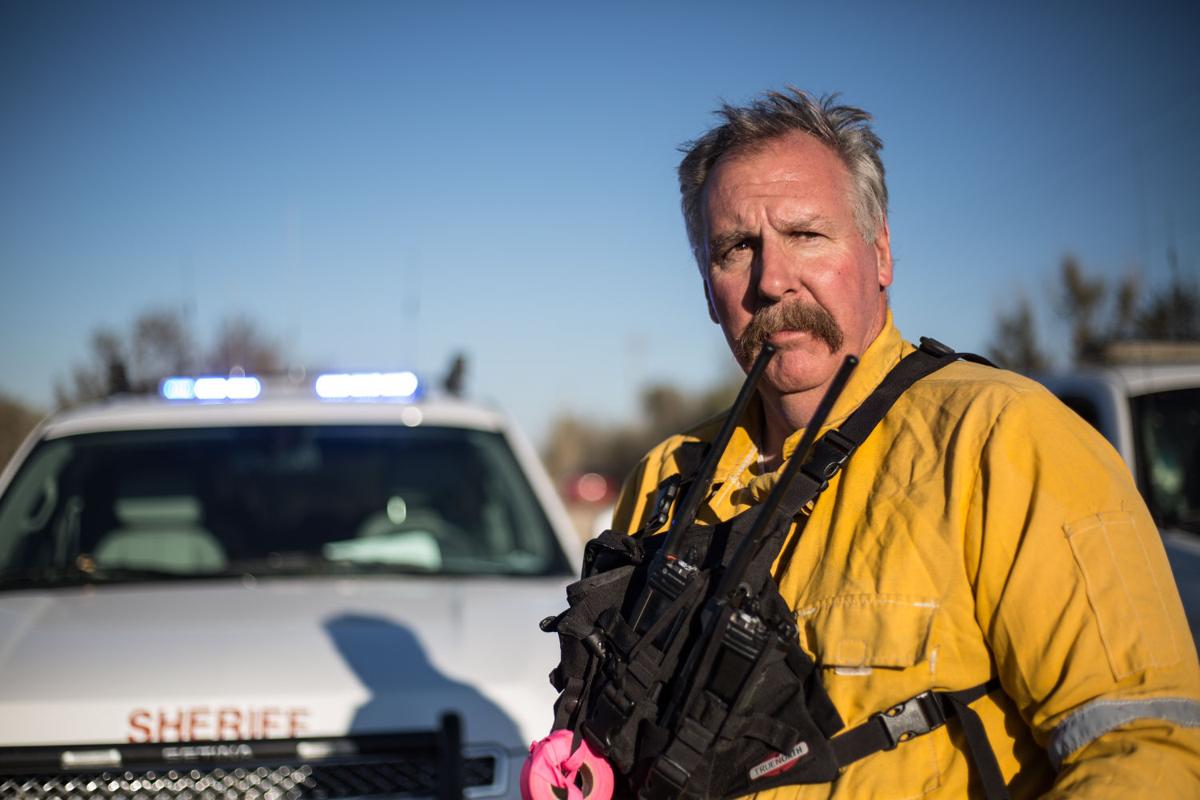 A Natrona County wildfire that destroyed 12 homes, killed countless livestock and pets and displaced more than 1,300 people began Saturday in a woodchip pile at the Casper landfill.
The exact cause remains unclear and may be difficult to determine. Video cameras facing the piles that ignited are down due to construction, said City of Casper Regional Landfill Manager Cindie Langston.
The fire was not the first woodchip blaze at the Casper facility. A fire a handful of years ago at the landfill caused little damage but prompted a change in city policy. Casper officials have requested that the Wyoming State Fire Marshal's Office conduct a formal investigation into the cause of Saturday's blaze.
What is known is this: At 6:20 p.m. Saturday, after landfill employees had gone home, a separate camera recorded images of flames coming from a pile of woodchips. Someone called 911, and the Casper Fire Department went to the blaze.
"(Firefighters) called for additional units and started hitting it with water," said Casper Fire Chief Kenneth King. "There was lots of fire."
The piles of woodchips continued burning throughout the night as firefighters dumped 300,000 gallons of water on the blaze. Bulldozers tore down wet sections on top of the piles trying to reach the burning centers, King said.
Three firefighters, one engine, one brush truck and at least two bulldozers stayed with the fire during the night. The flames were knocked down, but the pile continued to burn.
"We never left the scene. We never left our post," he said.
King still worried it could spread into nearby grasses, and as a precaution the next day, firefighting trucks waited on the north side of the landfill to prevent any flames from escaping from the woodchip area.
At 1 p.m. Sunday, wind speeds hit 56.9 mph. King doesn't know if radiant heat from the pile ignited nearby grass or if a spark flew from the burning pile because of thick smoke, but by 2 p.m., the blaze left the northeast side of the landfill.
"We had two brush trucks waiting to stop it, and they were overtaken immediately to where they had fire behind them and they didn't know it," King said.
Casper firefighters had already called for more help from Natrona County and Evansville. As the fire spread toward Evansville Road, some fire crews left the landfill fire to join those fighting the grassland blaze.
King said weather forecasts predicted wind, but firefighters were not expecting sustained winds as high as 55 mph.
High winds combined with thick, dry grass and hot temperatures to produce the strongest fire conditions, said Natrona County Fire Marshal Bob Fawcett.
Fire officials began notifying residents as soon as they knew the blaze was headed toward homes, but evacuation notices take time, he said. Emergency text messages went to those signed up for the service. An area siren announced the blaze. From there, firefighters and law enforcement had to go door-to-door in a rural area to evacuate.
Questions
A fire moving as fast as 55 mph is unusual, Fawcett said, and hard to stop.
But even as a timeline of events emerged, some residents questioned whether more could have been done to prevent the blaze.
The woodchip pile fire seven years ago started in the same place, but occurred in the winter. With snow on the ground and no wind, firefighters stayed until it burned out, separated and was covered with dirt, King said.
Woodchip piles can spontaneously combust, he said. The biomass inside a pile decomposes and can reach high temperatures, causing the material to catch fire.
The piles can also ignite if something metal such as an accidentally discarded wrench or other tool from the public goes through the wood chipper. Tree limbs and other compost can be brought to the landfill by anyone in the city for free, Langston said.
Since that blaze, landfill officials changed some of their woodchip policies. Piles had been as high as 45 feet, Langston said. Now, they are no longer higher than 16 feet. Extra woodchips are hauled off and mixed with sludge from the water treatment plant, she said.
The Casper City Council recently approved a $2 million composting area expansion to allow for more piles and wider fire lines in between. That expansion may help in the future, she said.
Langston may consider monitoring temperatures in the piles routinely to anticipate when they are reaching dangerous levels. Landfill operators can also turn off the woodchipper during windy times.
Langston, asked if woodchip piles would be reduced in size as a response to the fire, said she the sizes currently meet those required by law. City officials will discuss whether or not to shrink them in the future.
King doesn't think in the end anything could have been done differently to prevent the fire from spreading through rural Evansville. High winds created an impossible situation.
"I think if there was no wind, we would still be fighting a woodchip fire today," King said. "But we would be containing it to the landfill."
Follow Managing Editor Christine Peterson on Twitter @PetersonOutside.