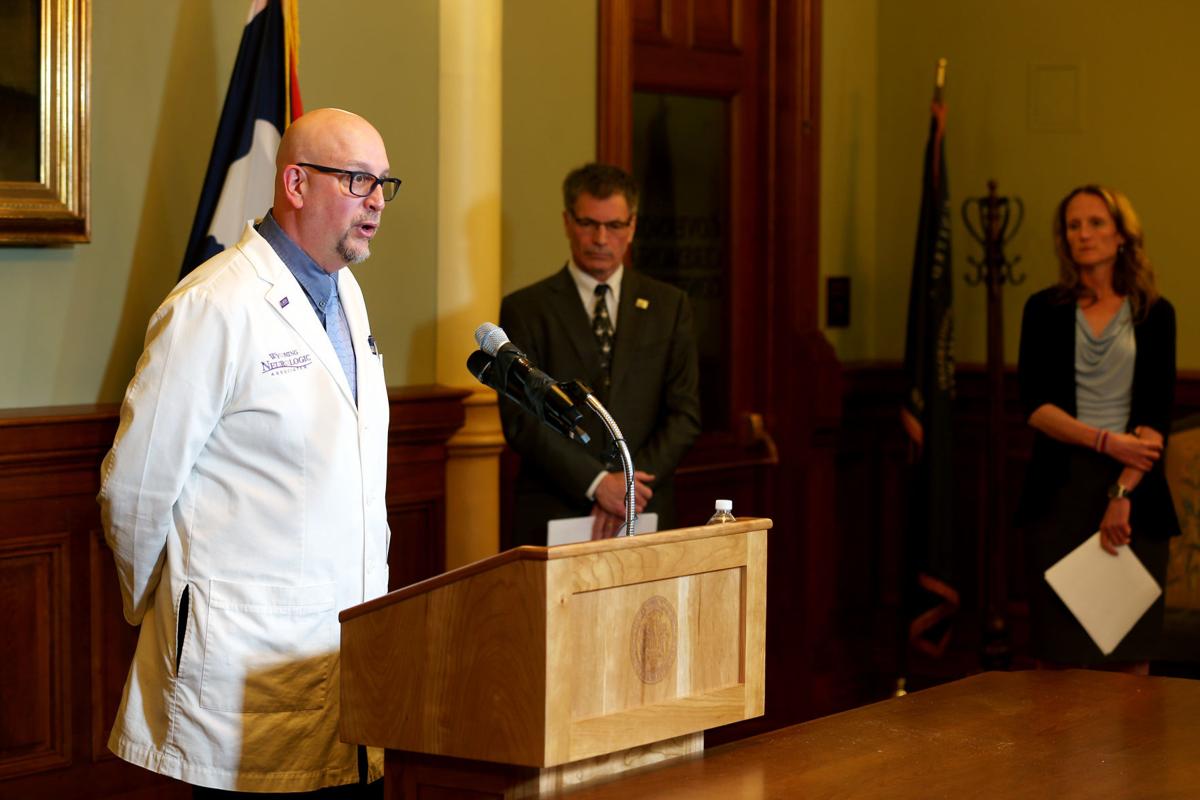 Gov. Mark Gordon is still resisting a shelter-in-place order for Wyoming, despite the medical society urging him to shut down the state and the number of known coronavirus cases roughly tripling in a week.
"The point we're trying to make here: Essential businesses need to continue, businesses need to continue, and people need to respect the guidance that we've given," Gordon said at a Monday afternoon press conference, referring to a recommendation that people stay home.
"If we don't act now, it's certain we'll use up available supplies in weeks," said Dr. David Wheeler, a Casper neurologist and the head of the Wyoming Medical Society. He spoke after Gordon at the press conference and urged that the governor adopt the very order Gordon had just expressed opposition to.
The medical society had sent a letter to Gordon on Friday calling for a shutdown to avoid what Wheeler called the "horrific effects" of the virus' spread.
Virus cases grow
The rise in Wyoming cases has accelerated rapidly over the past week. On top of the confirmed cases, health officials across the state have told their communities that they assume there are far more cases than they can confirm with their limited testing capabilities.
On March 23, there were 29 known cases in Wyoming. As of 5 p.m. Monday, there were 96. There have still been no deaths in the Equality State, and 24 of those patients have fully recovered. There have been at least 16 hospitalizations.
Wyoming is increasingly an outlier in not having a shutdown order. Gordon said last week that he was doing his best to avoid such a move, which would effectively clear the streets and add teeth to the governor's previous recommendations that people stay indoors. At his press conference Monday, Gordon said his recommendation was virtually the same as orders elsewhere, which have a broad list of exemptions for businesses that can stay open.
But Wheeler disagreed and said a recommendation was not the same as an order. Before Gordon ordered schools closed, for instance, he recommended school districts do so themselves. Most did, but some didn't, and they remained open until there was a mandate.
"Now's the time before it's too late, let's try to make the peak smaller," Wheeler said, describing a conversation he had with Gordon last week. "He understood that but wanted to lean more heavily on the people to make the decision for themselves and told me if it does reach point of shelter in place, it will be universal: no exemptions."
Wheeler said that it was probably too late to issue the order and have its full effect on blunting the spread of the virus. But it's better than not having one at all.
"We hope that we don't wait until the ERs are full of gasping people because by then it's too late," he said. "A shelter in place, we won't avoid catastrophe if we don't get ahead of it. Every municipality that (hasn't issued an order), they wait too long, you lose two times as many people as you would've."
Closure orders
Gordon has taken action previously. Earlier this month, he issued orders closing schools, most businesses and prohibiting gatherings of 10 or more people. He's repeatedly urged people to stay home and work remotely as much as possible. Late last week, he extended all of those orders further in April and suggested Monday that another extension was likely.
"It is clear that COVID-19 has arrived in Wyoming and is most likely present throughout the state," he told media Monday, referring to the respiratory disease caused by the new coronavirus.
He acknowledged, as he has in the past, that Wyoming faces the same testing shortages that other states have. Dr. Alexia Harrist, the state health officer, said at the press conference that the sharp increase over the past week was due to "increased testing and increased disease."
There have been some actions to alleviate some of the shortages, which also extend to masks, gloves, gowns and other protective equipment health care workers need to stay safe. The state lab, for instance, distributed more than 2,000 sampling kits — the swabs that go into your nose and the special tubes that take the swabs to the lab — across the state. Both state and national stockpiles have been tapped for more equipment.
In an email sent to news organization WyoFile and posted to Twitter, the state's director of homeland security wrote that more than 61,000 masks, 24,000 gloves, 1,700 face shields and 3,200 isolation gowns had been distributed across the state.
The state has not received any new ventilators, however. The devices are used in COVID-19 cases who are in critical condition. Harrist said the state was working with federal partners to get more. Wyoming Medical Center, the state's largest hospital, had 18 as of earlier this month. An added problem is having staff trained and capable of managing the equipment.
"Certainly having more ventilators would allow us to take care of more patients," she said, adding that some Wyoming patients have been "extremely ill" and required lengthy stays in intensive care units.
New cases
The number of confirmed COVID-19 cases increased by nine Monday, with new patients identified in Fremont, Laramie, Teton, Sweetwater and Sheridan counties. That amounts to a 23-case increase from the end of day Friday.
The new cases are from four of the five most affected counties — Fremont, Laramie, Teton and Sheridan have the first, second, third and fifth most cases — and a county that had previously had only one case: Sweetwater. More than 1,800 test samples have been run between the state and private labs. Twenty-four patients have recovered.
Fremont County continues to have the most cases of anywhere in the state, now with 24. Last week, officials there said that more than 400 people in the county had symptoms and are in self-isolation, with presumed — but not confirmed — positive diagnoses. Testing shortages continue across the state.
"We assume that it's out in the community now," Fremont County health officer Dr. Brian Gee said Friday, adding that the hundreds of residents with COVID-19 symptoms who have seen health care providers should assume they have the sickness because rates of other illnesses like flu in the county are low.
In a Monday afternoon press release, county officials wrote that there were 13 cases in Lander, one in Riverton and 10 in Ethete.
Laramie County is now up to 21 cases. Teton County is edging closer, with 17 cases, many of which were identified in the last week. Officials there have said that there's now evidence of community spread —meaning the disease's movement between patients there cannot be traced to a singular source.
Natrona County is now at nine cases. Officials said last week that while most of the eight cases identified by Friday could be traced backward, two could not, suggesting possible community spread.
In a press conference Monday, a health department spokeswoman here said it's unclear how the latest patient contracted the virus, making three new cases here that appear to be the product of community spread. The new case is a woman in her 60s
"Since now approximately one-third of our cases in Natrona County have unknown exposure, we can no longer say that all positives relate back to two known sources or clusters," spokeswoman Hailey Rodgers-Bloom said. "There is a possibility we are now facing community spread of illness."
Two hundred and twenty-eight tests from Natrona County have been processed. Twenty of those are still pending at the state lab, seven have been positive (two other Natrona County patients were tested elsewhere), and the rest have been negative.
Sheridan County, where two of the first three cases were identified earlier this month, is now up to six.
Sweetwater County has two cases. The second patient, a Green River man in his 20s, was tested by a private lab. The man is in good condition and self-isolating at home, according to the county. The first Sweetwater County patient, a man in his 40s, is also in good condition, and his quarantine ended last week.
Fifteen of the state's 23 counties now have confirmed cases of the virus.
The number of COVID-19 cases has spiked over the past week, jumping from the high 20s to now the mid-90s. Health experts say the quick rise is partially an indication of more disease in the state but also Wyoming's increased testing capacity. In previous days, providers and health officers across the state say it's difficult to get a true indication of the virus' presence here because of testing limitations.
No deaths have been reported.



Total cases in Wyoming by county
Hot Springs: 0 (previously counted as 1)



This graph shows the rate at which confirmed cases in Wyoming have been announced, as well as the number of patients who have fully recovered.
Keep in mind, however, that state and medical officials say the true number of COVID-19 cases is surely higher than the official number due to testing limitations.



The Wyoming Department of Health has published the following data:
As of Saturday morning, there have been 1,826 tests performed for coronavirus in Wyoming.
Wyoming Public Health Labratory: 1,389
CDC: 1
Commercial labs: 436






COVID-19, the disease caused by the novel coronavirus, is a respiratory illness. Its symptoms include cough, fever and shortness of breath. Symptoms appear within two weeks. If you have contact with a person who has COVID-19, you should self-isolate for 14 days.



Follow the Wyoming Health Department's tips
Stay home when sick and avoid contact with other people unless you need medical attention.
Follow advice from the Centers for Disease Control and Prevention on what to do if you think you may be sick.
Follow current public health orders.
Follow commonsense steps such as washing your hands often and well, covering your coughs and sneezes, and cleaning and disinfecting.
Nursing homes, assisted living facilities and other healthcare facilities should closely follow guidelines for infection control and prevention.
Older people and those with health conditions that mean they have a higher chance of getting seriously ill should avoid close-contact situations.