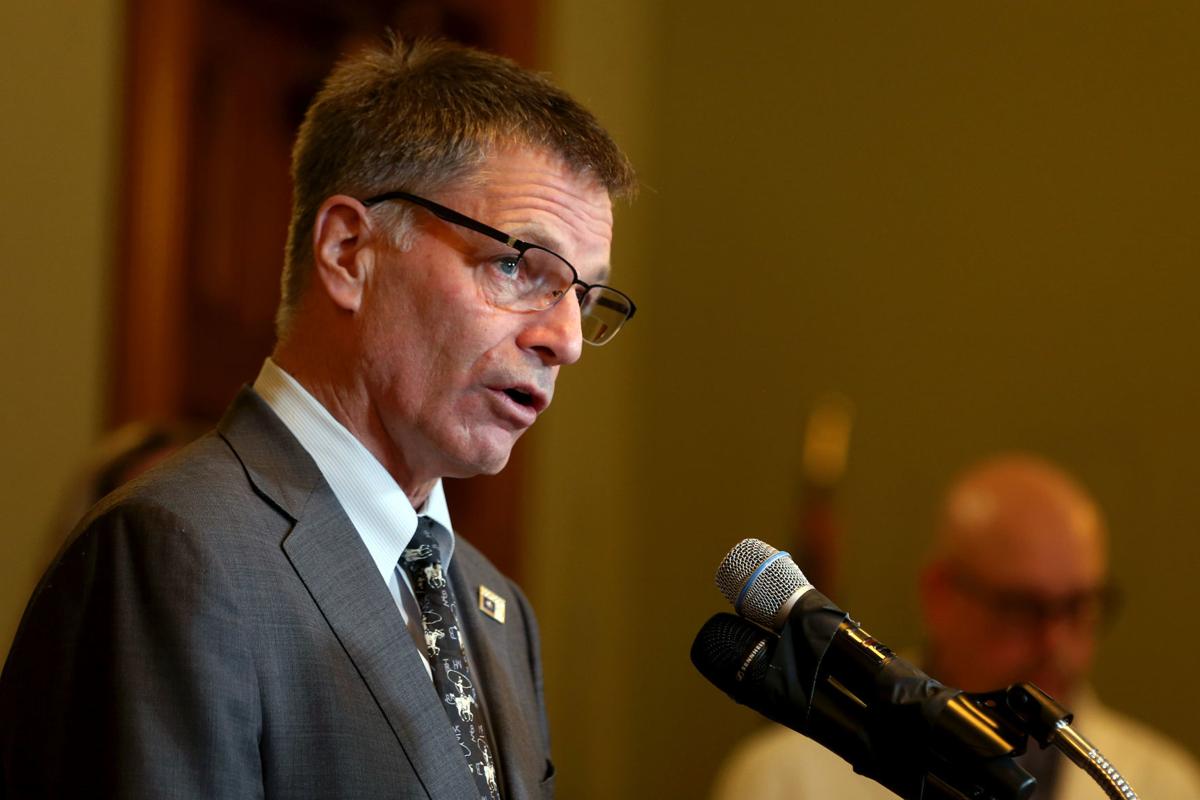 Gov. Mark Gordon on Friday extended his public health orders through the end of April, keeping schools and many non-essential, public businesses closed for an additional two weeks. He again urged people to stay home and avoid contact with each other as much as possible, as cases in Wyoming have jumped by 70 patients in four days.
He also directed "any individual coming to Wyoming from another state or country for non-work-related purpose to immediately self-quarantine for 14 days," a new restriction intended to slow the spread of the novel coronavirus, which has killed 6,600 people in the U.S. and sickened a quarter million so far. There have been more than 160 cases in Wyoming.
"The decision to extend these orders was made to save lives and keep people at home," Gordon said in a statement Friday afternoon. "We are seeing community transmission of COVID-19 occur around the state and we will continue to see more confirmed cases in the weeks to come. This action will help lower the rate of transmission and protect both our healthcare system and the healthcare workers we all rely on."
Before any of those orders, Gordon declared a state of emergency.
Initially, the orders mandating those closures and restrictions had been scheduled to last into early April. Last week, he extended them to April 17 and has now pushed them through the rest of the month. Many school districts had already begun operating under the assumption that school would not continue in its traditional form for the rest of the year; indeed, districts were required to submit plans to that effect for state approval.
At a Friday press conference, Gordon forcefully repeated what he and others have said for weeks: that people need to stay home of their own accord, that they need to limit their trips out, should wash their hands and not gather in groups.
He said his message — everybody should stay home — was in line with the medical professionals who'd advocated for shelter-in-place orders. Gordon has said that such orders elsewhere have been riddled with exemptions that make them largely the same as his recommendations to stay indoors.
"If you're waiting for me to issue a shelter in place order, you have Dr. (David) Wheeler and Dr. (Mark) Dowell who say should stay home, and I'm telling you to stay home, what're you waiting for?" he said, referring to two Casper physicians who've called for a closure order. "Are you waiting for 'Mother, may I?'"
"The importance I wanted to emphasize is this is a serious crisis," he added later. "It's going to stretch our resources to the limit. Every individual is going to have to step up."
Gordon said the peak of the virus' activity would likely be in May. Dr. Alexia Harris, the state health officer who spoke after the governor, shied away from predicting deaths or hospitalizations.
"We do know that in Wyoming specifically, beds for critically ill patients, ICU beds, ventilators, are limited," she said. "And so what I am concerned about, yes, is having enough of those specific types of beds if we have a large surge of illness among those who develop severe illness and require hospitalization."
14-day quarantine
While there is still no shutdown order, Gordon's directive on quarantine for people returning to the state is new. In his statement announcing the extensions and the new mandate, Gordon wrote that "travel from another state or country is a source of COVID-19 infections in Wyoming." His directive, according to the announcement, is designed to discourage out-of-state visitation during the pandemic.
"Visitors from neighboring states have strained the resources of many Wyoming communities so we are asking them to do the right thing to protect the health of our citizens and the resources of our rural healthcare facilities," he wrote.
His order applies to any individual who comes into the state in the future, as well as to anyone who's arrived here recently. Those who previously came here need to self-quarantine "for the remainder of a 14-day period, beginning on the date of their arrival in Wyoming, or until their departure from Wyoming — whichever is sooner."
Health officials across the state and country have warned that the fight against the virus will require extreme social distancing and that Americans should prepare for the long haul. They've repeatedly cautioned against loosening up these restrictions too early, even if the virus' spread appears to be slowing or even declining.
Dowell, the Natrona County health officer, has said in the past that cases the state is seeing now are likely a week or two old, given the incubation period of the virus and how long a patient can go without experiencing symptoms. Once the virus' peak begins to level off, he has said, the state will need to continue its restrictions for at least several weeks to ensure the disease doesn't come roaring back.
As of Friday evening, there were 166 identified cases of coronavirus in Wyoming. However, the actual total of infected people is almost certainly much higher, given testing limitations, health experts say. Many people with COVID-19 don't have symptoms, meaning they can pass it off to someone else without even knowing it.
Seventeen of the state's 23 counties have at least one confirmed case. At least 13 percent of Wyoming patients with the coronavirus have been hospitalized, and 37 patients have fully recovered.
Wyoming was the last state to reach 100 confirmed cases, though it has more COVID-19 cases per capita than more than a dozen states. It is currently the only state without a coronavirus patient who has died.
Correction: Gov. Mark Gordon said the peak of the virus would likely be in May. A previous version of this story misattributed the quote.
Concerned about COVID-19?
Sign up now to get the most recent coronavirus headlines and other important local and national news sent to your email inbox daily.