Pharmacy technician Lindsay Freeman captains the vessel — one of the few staff members brave enough to drive the behemoth. When she reaches her destination — a parking lot across from the Poverty Resistance thrift store, she deftly maneuvers through the narrow opening in the curb.
Once parked, it takes a few minutes for the van to level, for the awning to unroll, for the generator to kick into gear.
When the mechanical whir stops, they're ready for patients.
In all fairness, Freeman and Healthcare for the Homeless medical director Jennifer Helmer aren't actually treating people here on this day (though they will be at a different location). This is more of a practice run to show off their new ride — a fully-equipped medical clinic on wheels.
Wyoming consistently ranks as having among the highest health care costs and greatest barriers to care in the nation. For Casper's homeless and housing insecure communities, that can often lead to chronic illnesses going untreated, or trips to the emergency room for routine procedures.
The 12th Street Healthcare for the Homeless clinic on Lifesteps campus can provide many of those services, but someone still needs to be able to get there.
This is where the mobile clinic comes in. The idea is to treat people where they're at, while educating them about the other services available at the 12th Street location.
"We hear a lot of our patients are, you know, they go to the emergency room, they have nowhere else to go," Freeman said. "We're trying to be able to meet that need so that they're able to see that they can get the help."
Healthcare for the Homeless has been providing travelling services for some time. They do clinics at the Wyoming Rescue Mission several times a week, including with a mental health counselor. But they hope their newfound mobility will help them connect with more people across the city.
Mobile medicine
You would not necessarily know you were inside an RV designed for medical care upon entering. The interior looks similar to that of most vacationers' vehicles, save for a few doctor's-office-esque posters taped to the cabinet.
The actual clinic hides behind a thin door, which opens to reveal all the dressings of a sterile doctor's office.
The Natrona County Community Action Partnership, which oversees the 12th Street clinic, purchased the van with federal pandemic relief dollars in January but weren't able to begin operating it until June.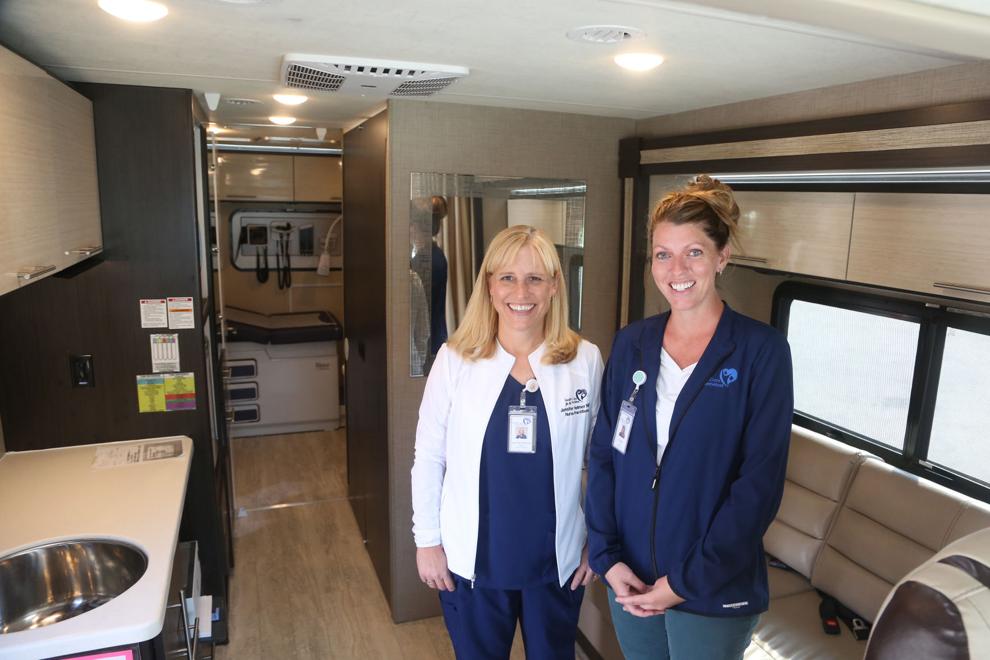 So far, they've been using the RV in a limited capacity, but have visited the Wyoming Rescue Mission, the Central Wyoming Counseling Center and the Casper Re-entry Center.
"That's been going really well because sometimes it was really hard for those people to be able to get here to the clinic because of transportation," Helmer said.
Eventually, they'd like to be able to park at various locations around the city and invite any housing insecure member of the public to visit them for care. Helmer said they might begin doing that later this summer, but they need more experience first.
"People don't tell you when you buy an RV all the things that go along with it," Helmer said. "You know, we thought we were just gonna drive around and help people, but there's this learning curve."
Vaccination station
A condition of receiving the federal relief money was that the van must be used to combat the COVID-19 pandemic, which Helmer said they're more than eager to do — particularly by inoculating residents against the virus.
Vaccine uptake in Wyoming is low. The state ranks fourth-last nationally, and fewer than 33% of residents are fully vaccinated, despite shots being available to the general public since late March.
While local and national surveys have shown a large proportion of Wyomingites haven't been vaccinated because they don't want to be, Freeman said that isn't likely the case for many of Casper's unhoused.
"I don't know that it's always hesitancy," she said. "Most people I would say in Wyoming that don't want the vaccine … transportation isn't always the barrier, but with our population it is more."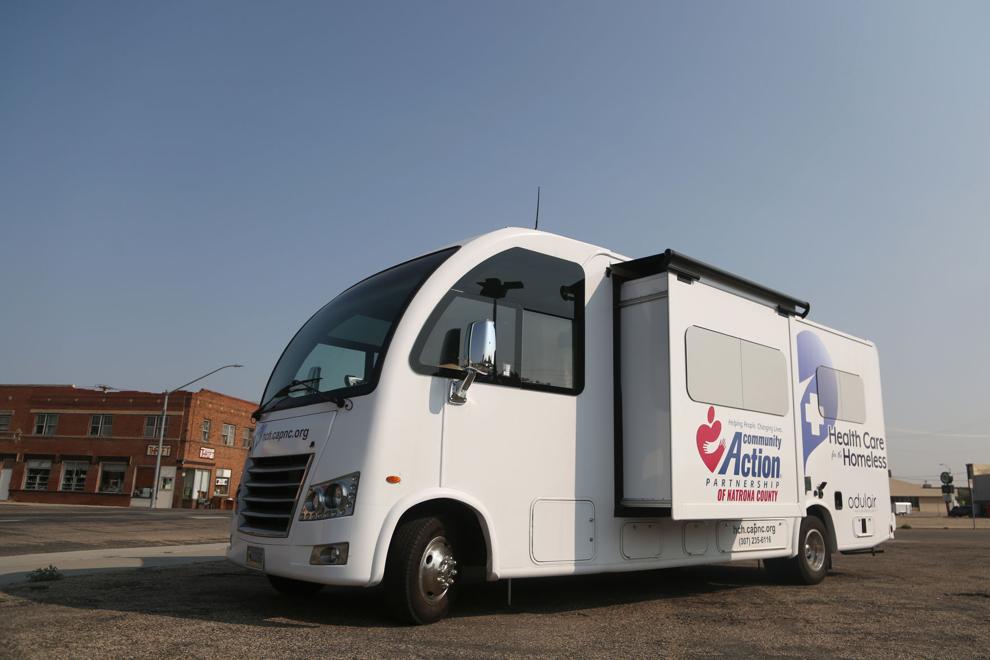 So they think the ability to take shots on the road will have a genuine impact.
"That's why we're creating kind of fun events and being at events where our target population will be at so that there isn't a barrier," Helmer said.
The 12th street clinic, too, will soon be able to store vaccines on site, which Helmer hopes will also increase uptake.
To qualify for Healthcare for the Homeless' services, a person must be homeless or at risk of homelessness, but that covers a broader array of people than some may realize.
If someone is living in a hotel, staying with a romantic partner or a friend, if they're transitioning out of prison or rehabilitation centers—they would all qualify for services. When someone is shown to qualify, they're certified to receive care for at least one year, and they don't lose that certification until they've had stable housing for a full year.
The clinic can provide "any primary care practice," Helmer side, ranging from treatment for chronic conditions like diabetes and hypertension, to acute illnesses like sinus infections and respiratory viruses.
The hope is once someone begins treatment at the van, they'll continue it at the better-equipped 12th Street clinic.
"We can provide services and hopefully keep people out of the emergency room, and keep people healthy so that (their health) isn't causing a barrier," Helmer said. "Maybe we could even provide services so that they can get back to work where they couldn't work before."
Healthcare for the Homeless is planning a ribbon cutting ceremony to launch the mobile clinic Aug 6 at Conwell Park. The following week, they plan to offer COVID-19 vaccines at a Casper Housing Authority block party.
Anyone looking for more information about Healthcare for the Homeless can visit hch.capnc.org.
Follow health and education reporter Morgan Hughes on Twitter @m0rgan_hughes