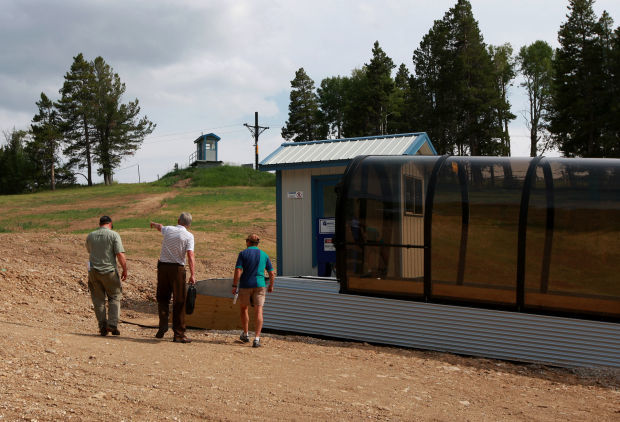 The skiing season at Hogadon Basin Ski Area closed Sunday after a successful run.
"We had a very good season this year," Superintendent Chris Smith said. "We had good snow and good attendance."
Smith said 220 inches of snow fell on Hogadon this season.
That's not to say there aren't any problems at the city-owned lodge. Although the facility underwent extensive renovations about two years ago, Smith said some guests still have complaints.
The dirt parking lot is an irritant to many visitors, he explained.
"That's probably one of the No. 1 complaints that we do have at Hogadon," he said, explaining that the dirt turns to mud in the spring. "It's horrible. We have to shampoo the lodge carpet on a regular basis to keep the mud down."
Although the skiing season just ended, the lodge stays open throughout the rest of the year as an event venue for weddings or other private parties. Guests do not enjoy traipsing through the muddy lot, Smith said.
The lack of air conditioning can also be problematic in the warmer months.
"It can get uncomfortable if you are in a tux and you're dancing," he explained.
At the Casper City Council's Tuesday work session, City Manager Carter Napier advised the council to slate $315,000 and $104,000 in the city's upcoming annual budget plans to pave the parking lot and install air conditioning, respectively.
The Council previously stated that it wanted to increase the lodge's usage and Napier said he believed this would be a step in the right direction.
"We do believe that enhancements in the parking lot and enhancements from the air conditioning standpoint make sense with regards to the particular goal," he said.
Napier said a paved parking area would also be safer for the guests, particularly elderly visitors, and would bring the facility into compliance with its own code, which requires businesses to have some paved parking spots.
"We should not have a parking lot that doesn't meet our own codes," Mayor Charlie Powell said.
Councilman Chris Walsh said he didn't object to either suggestion. But the councilman said he resented being told that the parking lot needed upgrades in order to comply with city law. Walsh said he believed the primary reason was to make it more popular with guests.
"Why do we have to throw out this smokescreen instead of saying if we want summertime use it would be beneficial having it where a person can walk, and not go through the mud?" he asked."... It lights me on fire when I'm treated like a fool."
Napier apologized for causing any offense but ultimately stood by his statement.
"There is no way in this world I would try and treat any of you like fools," he said. "That is not my interest or intent, but I do believe we are not in accordance with our own ordinance."
The council members ultimately approved both suggestions.
Tim Cortez, the director of the Parks and Recreation Department, said Thursday that the city's code requires all businesses in Casper to have a certain number of paved parking spaces. The exact number depends on the business's size and type.
Cortez explained that paved spaces make it safer and easier for customers and emergency vehicles to access businesses in Casper. He said city officials have determined that the appropriate number of paved spots at Hogadon would be 50.
Follow city reporter Katie King on twitter @KatieKingCST
Be the first to know
Get local news delivered to your inbox!