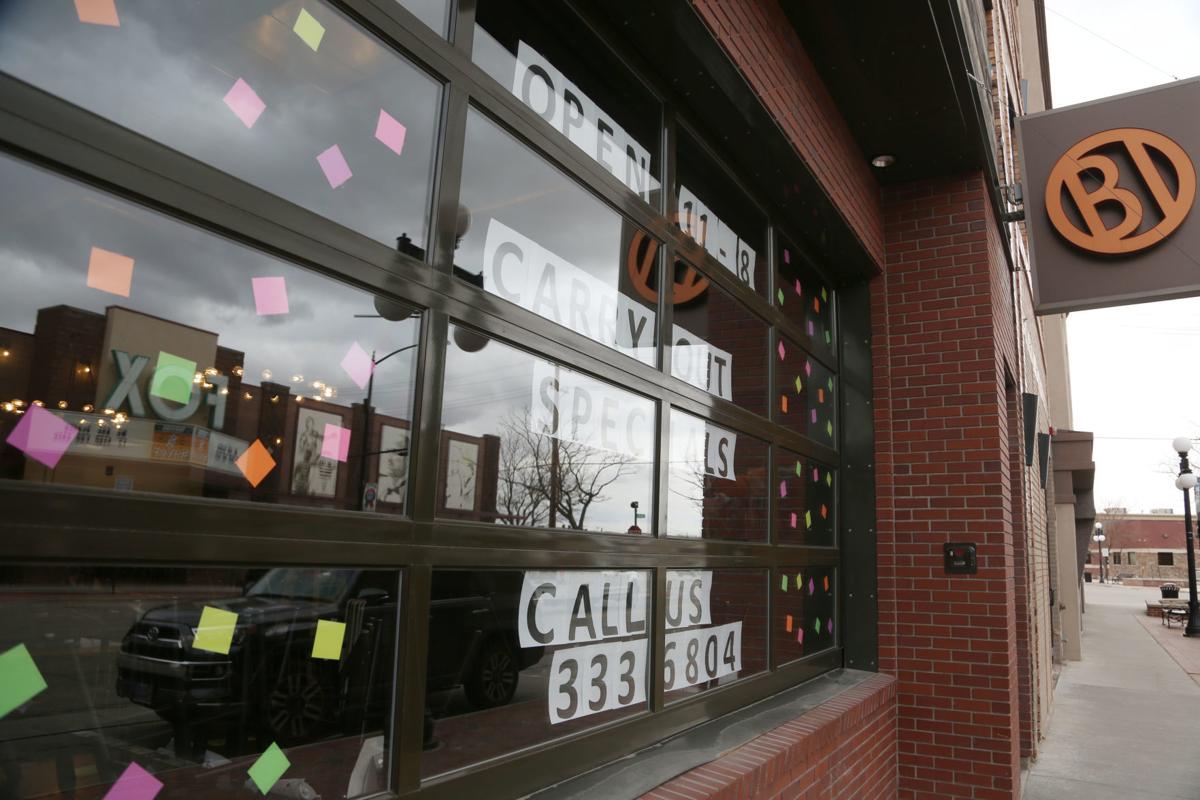 Natrona County residents will likely be allowed to eat inside of area restaurants beginning later this week, the latest step taken by health officials to loosen restrictions put into place to slow the spread of the novel coronavirus.
Eric Nelson, the Natrona County attorney, announced the pending change at a news conference Tuesday afternoon. He said that the proposal — which would be less restrictive than a state order that only allows restaurants to offer carryout services — must get state approval but that officials here anticipate that it'll be OK'd by Friday. He said the request will come with restrictions, like how far diners must be from each other and which staff members can touch what.
He said the order's exact details will be released later this week.
The news comes 24 hours after the county announced that state health officer Dr. Alexia Harrist had approved a separate request from Natrona County to allow outdoor, in-person dining, with similar restrictions. Several other counties have requested and been approved for similar restaurant reopenings.
Zoey Aldahash, owner of Casper's Sweet Zoey restaurant, said the news couldn't come soon enough.
"We're getting very slow, day by day," she said of takeout and delivery orders. "Like today was super slow."
Aldahash opened Sweet Zoey, a Mediterranean eatery, in August. She operates from a small shop in Casper's Sunrise Shopping Center, and things in her first few months were going well. Aldahash has tried to keep that momentum even as public health orders have forced her dining room closed by offering special promotions and trying to work with local food delivery services.
She was excited to hear Tuesday that she may soon be able to welcome customers back through her doors, but she's not sure very many will be allowed in at first. With her small shop, she estimates she could allow four tables at a time spaced out through the small room. For now, she'll take it, she said.
"We're still trying, we have to stay alive," she said.
As of Tuesday morning, there have been 38 confirmed and 10 probable cases of the coronavirus in Natrona County, a number that has remained steady for a few weeks now. Dr. Mark Dowell, the county's health officer, told the state last week that the caseload here has flattened and that the availability of more testing supplies will allow officials here to respond broadly to any further spread here.
Dr. Ghazi Ghanem, the other county health officer here, said the pandemic was a "once-in-100-year event," adding that the community's response has slowed the spread of the virus here. He said the clusters associated with the Wyoming Behavioral Institute — where the majority of Wyoming's cases have been linked — has stabilized.
He said the county had a "nice decline" in confirmed cases, even as the number of tests administered in the county holds steady. The nearly two weeks that have passed since the most recent case was announced, a period of time that represents the incubation period of the virus, was an indicator to officials that things can be loosened.
But he warned that previous restrictions can be reestablished, should the virus come roaring back in the coming months and leave officials "with no other choice."
"COVID-19 is a virus that probably will not go away," he said. "It probably will reemerge with us again sometime in the fall. Right now, though, what we are looking for is a gradual decline and to keep our numbers low so we can go from one phase to the next and the next."
Testing has confirmed more than 440 cases of the coronavirus in Wyoming. Health officials have also reported more than 150 probable cases — patients who have not been tested but are both showing symptoms of COVID-19 and were in close contact with a confirmed case.
Seven people have died after contracting the virus, including four Fremont County residents whose deaths were announced on April 21. Three were from the same immediate family.
To limit the virus' spread, Gov. Mark Gordon and Harrist ordered the closure of schools and many businesses where people congregate, including bars, gyms and hair salons. Those orders were initially put in place in mid-March and extended until this month, when gyms and personal care establishments were able to reopen with restrictions. Statewide, restaurant dining rooms have also been closed, but takeout and delivery are still permitted. Several counties have moved to open restaurants in various ways.
Last week, Harrist extended orders closing schools and prohibiting gatherings of more than nine people and in-person dining at restaurants. But she loosened restrictions on the saloons and tattoo parlors and said that individual counties could begin to loosen things up — or tighten them further — depending on their needs.
Several counties — Park, Platte, Sheridan, Lincoln, Niobrara and Washakie, in addition to Natrona — have moved forward with plans that will reopen restaurants or religious services.
Concerned about COVID-19?
Sign up now to get the most recent coronavirus headlines and other important local and national news sent to your email inbox daily.